Reston — In honor of the 53rd anniversary of Reston's founding by Robert E. Simon Jr.,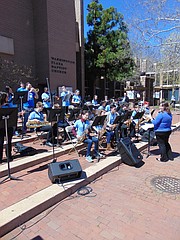 Founder's Day was celebrated on Saturday, April 8 at Lake Anne Plaza. The day included remarks by local dignitaries, a public art walk, musical performances, oral history interviews, an author talk and book signing as well as children's activities.
"Founder's Day is a way for us to celebrate Reston's history and our founder, Bob Simon. Founder's Day is always right around Bob's birthday, which is April 10. We bring people to Lake Anne Plaza, the oldest part of Reston, and have speeches about Bob and the Reston community and musical performances from local schools and community groups," said Beth Didiano, Executive Director of the Reston Historic Trust.
In 1961, Simon purchased 6,750 acres of land situated between the nation's
capital and the new international airport, and began plans for a new town bearing his initials: RESton. The plan called for seven village centers, each serving a village of 10,000 to 12,000 people and providing retail and plaza areas for community gatherings.
Simon died in September, 2015 at the age of 101.