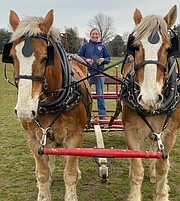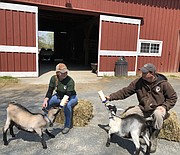 The little piglets born at Frying Pan Farm Park in Herndon have no children clamoring to see them. Neither do the bottle-fed baby goats. "We miss our visitors; we miss them very much," said Park Manager, Yvonne Johnson.
Fairfax County Park Authority operates Frying Pan Farm Park interpreting life on the farm from the 1920s to the 1950s. According to Johnson, fuzzy yellow chicks, grunting pink piglets, calves and other barnyard animals still take center stage and demand care.
"There are core people, and they rotate days of the week and shifts. It's pretty much seven in the morning until five at night. Morning feeding takes a little over two hours for two people. That's a lot of buckets and hay and custom blending feed. There is changing the feed when mommy is pregnant; another mommy's given birth, and another mommy's babies are getting bigger and eating more, so she needs more food."
According to Johnson, it takes two full-time staff members and two part-time staff members to pull off the ongoing care. The problem is, she said, the Park cannot easily find people in Fairfax County with the necessary skill sets. "It is hard to find people who know how to do this and it's a seven-day-a-week operation." One of the current challenges is, if somebody in the first cohort gets sick, they've exposed the other three people. "They are all going to have to go into quarantine," Johnson said. She added that they have a backup cohort, and precautions are established to safeguard animal care.
Johnson said that the farmer created a 30-minute video sorting through all the chores and drafted extensive lists of what everybody's eating. "He's put extra written instructions in the different buildings and the different parts of the buildings, so if the second cohort that doesn't have years of experience has to come in, they'll have that extra written reminder-don't forget to close the door to the chicken house, so the fox can't get in," Johnson said.
Frying Pan Farm Park is a farm for the people. "We farm for the visitors who come to see us. We farm for the children to come and learn about the animals. We're keeping all the operations going, and we're looking forward to when we can reopen," said Johnson.
To prevent the spread of COVID-19, all Fairfax County Park Authority parks and amenities are closed to the public until further notice. Trails remain open. Staff at Frying Pan Farm Park continues to monitor the farm and works in conjunction with the Fairfax County Police Department.