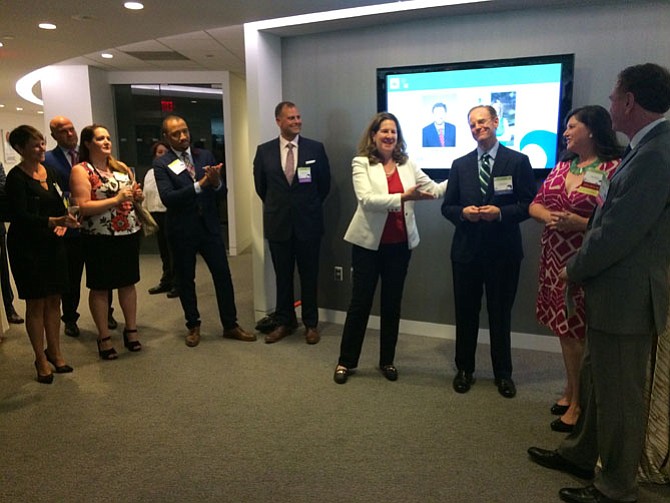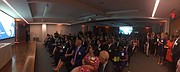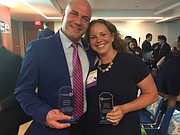 When Alexandria Chamber of Commerce Chairman Dak Hardwick was trying to sell the idea of 40 Under 40 last year, it wasn't obvious to everyone. He recalls one meeting in which a participant asked a question that took Hardwick by surprise.
"Are there actually 40 people under 40 in Alexandria worth recognizing?" the person asked, according to Hardwick.
The answer is clearly yes. Not only were there 40 people last year, but the chamber recognized another class of 40 Under 40 last week at the United Way building in Old Town. And next year's ceremony is already in the planning stages.
"This community begins and ends with people like you," Mayor Allison Silberberg told the honorees. "People who work hard in our business community, our nonprofit community, people who work hard for our children and our veterans."
This year's class of honorees includes everyone from the principal of T.C. Williams High School to the public information officer for the Alexandria Police Department. It includes teachers and architects, religious leaders and nonprofit executives, activists and lawyers. It even includes the Appetite columnist for the Gazette Packet.
"I'm just glad I made it in before I turned 40," said former School Board member Kelly Carmichael Booz, who is now with the American Federation of Teachers.
Winners were evaluated on professional and scholastic accomplishments, community and volunteer impact as well as their goals for lasting impact in Alexandria. The goal is to recognize men and women under the age of 40 in a variety of fields, including business, technology, nonprofits, civic life, public service, education and the arts. This year's event was sponsored by Potomac Conference Center.
"By honoring their successes, we hope to inspire others to take the lead and work to ensure tomorrow's Alexandria is a top place for business and careers," said Joe Haggerty, president and CEO of the chamber.