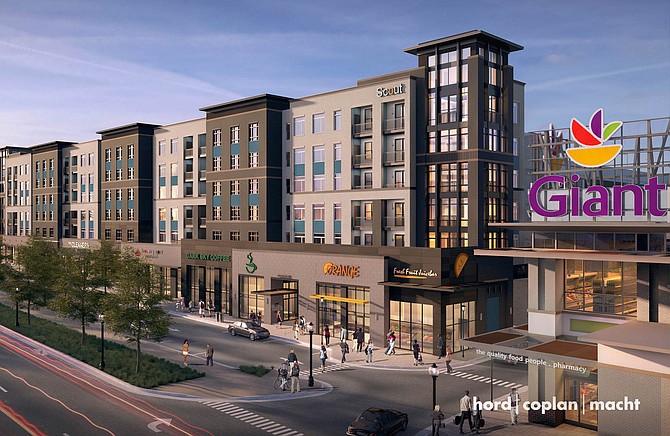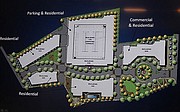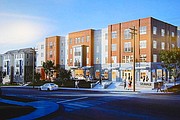 With an eye toward the future, several development projects are either proposed or in the works in the City of Fairfax. Below are details about some of them:
Scout on the Circle

This mixed-use development will replace an obsolete strip mall with 400 Class-A apartment units, 29,000 square feet of retail divided between two buildings, plus a Giant Food store – which will be a 54,000-square-foot, full-service, grocery store with pharmacy. Two parking garages are also part of the project.
Dubbed a "transit-oriented development," it's located at Fairfax Circle and flanked by Fairfax Boulevard (Route 50), Lee Highway (Route 29) and Pickett Road, so it will have easy access to and from major highways. And once the lease agreement was signed with Giant, the project's construction schedule was accelerated, and the apartments are now being built along Fairfax Boulevard.
CBG, Clark Builders Group, is constructing the all-rental apartments, and 6 percent of them will be affordable housing. Two buildings will have retail uses on the first level and five stories of residential above. There'll be some 3-bedroom apartments, but most will be 1- and 2-bedroom units. Parking-garage entrances will be from Route 50 and from a back street.
Fairfax Gateway
Work has now begun on an 8.33-acre site to turn part of the Kamp Washington triangle between Fairfax Boulevard and Lee Highway into a modern, community-serving, mixed-use project. It's the Fairfax Gateway project and will contain 403 multifamily apartments, 24 of which will be affordable dwelling units. The apartment mix will be 43 studios, 179 one-bedroom, 169 two-bedroom and 12 three-bedroom.
Also planned are 21,249 square feet of commercial space, including 4,000 square feet dedicated to the nonprofit CASA (Court-Appointed Special Advocates). The remaining 17,249 square feet of commercial use is proposed as a restaurant, plus ground-floor retail and office space. There'll be a six-story parking garage, plus on-street parking, as well as a pool and a dog park.
The project also contains a through street with a connection at the Bevan Drive signal at Fairfax Boulevard, plus a new, un-signalized entrance on Lee Highway. The community's road network will then correspond to the future redevelopment of the rest of the Kamp Washington triangle, while treating the section connecting Lee Highway to Fairfax Boulevard with several traffic-calming elements to reduce cut-through traffic.
Also planned are trails connecting to adjacent properties, plus open space including a 5,600-square-foot contemplative space next to the Jermantown Cemetery. Fairfax Gateway will maintain this space and the cemetery for 30 years. And the utilities will be underground. The new neighborhood is estimated to yield 53 students, but developer FF Realty IV LLC has proffered $200,000 to the City schools in mitigation.
Fairfax Shopping Center/Point 50

Fairfax Shopping Center is being revitalized and will be renamed Point 50. This development will include a Whole Foods 365 grocery store, plus a restaurant and two other retail uses in three separate buildings. And Fairfax officials hope this project will be a catalyst for future residential and mixed uses in the City's Northfax area.
The site is 6.27 acres along Fairfax Boulevard and Eaton Place. Regency Centers LLC will replace the existing, outdated, 68,500-square-foot shopping center with 48,200 square feet of commercial uses – a 30,000-square-foot grocery store and retail buildings of 5,000, 7,000 and 6,200 square feet.
Three access driveways will be along Fairfax Boulevard, with another at a traffic light at University Drive. An access will also be added for the Whole Foods. There'll be no access to Eaton Place, but the University Drive Extension will provide it.
Paul VI Site Redevelopment

In 2020, Paul VI High School will move from its 18.5-acre home in the City of Fairfax to a much larger site in Loudoun County. And developer IDI Group Cos. will then redevelop this land along Fairfax Boulevard after the school leaves. The property also includes two adjacent single-family lots on Cedar Avenue.
IDI will build 266 residential units – 115 townhouses, 144 condos in a four-story building, and seven single-family homes. The plan also contains 20,000 square feet of retail in two buildings, plus 24,000 square feet of commercial and/or community uses in the retained, original portion of the school building. Fifteen of the townhouses along Fairfax Boulevard will be live/work units with retail on the bottom.
Some 40 percent of the condos will be one-bedroom, with the remainder mostly two-bedroom, plus some three-bedroom. The townhouses will be three- and four-bedroom and average 2,400-2,500 square feet. The single-family houses will be between 2,700 and 3,500 square feet. IDI will build the condos and commercial portions, and a development partner will construct the townhomes,
IDI will also add a shared-use path along McLean and Cedar avenues and a 10-foot-wide walkway along the Fairfax Boulevard frontage. The site will also contain pocket parks and a village green.
Drivers will access it all via an existing entrance from Oak Street and four points along Fairfax Boulevard. No vehicular connections are proposed between the site and McLean, Cedar or Keith avenues. A service road will run the length of the Fairfax Boulevard frontage, and Fairfax Boulevard will have slow-lane parking.
In addition, IDI will contribute $133,000 to mitigate impacts to City schools, provide 60 parking spaces for Pat Rodio Park and underground McLean Avenue utility poles. The site-plan process is expected to take 8-10 months and work can't begin until the school is vacated next summer. Construction is anticipated to take about three years.
Capstone Collegiate Communities
Aimed at providing housing for GMU students, Capstone Collegiate Communities will be constructed on 6 acres bounded by Democracy Lane and University and Layton Hall drives. Entrances will be from Democracy and Layton.
It will replace an existing office park with two, connected, four- and five-story multifamily buildings containing 275 housing units. Ranging from studios to one, two, three and four bedrooms, some may be double-occupancy, provided the number of building residents does not exceed 825.
Each rental unit will come fully furnished and will have a common living area, kitchen, washer and dryer, plus one bathroom per bedroom. And no more than four unrelated people may occupy a single unit. In addition, a swimming pool is proposed for an internal courtyard.
Some 737 parking spaces will be provided – 680 in a parking garage, plus 57 on-street and surface spaces. Parallel parking will be along Democracy and on a future, private street, and all streets will have sidewalks. And Capstone Collegiate Communities LLC will contribute $30,000 for two bus shelters.