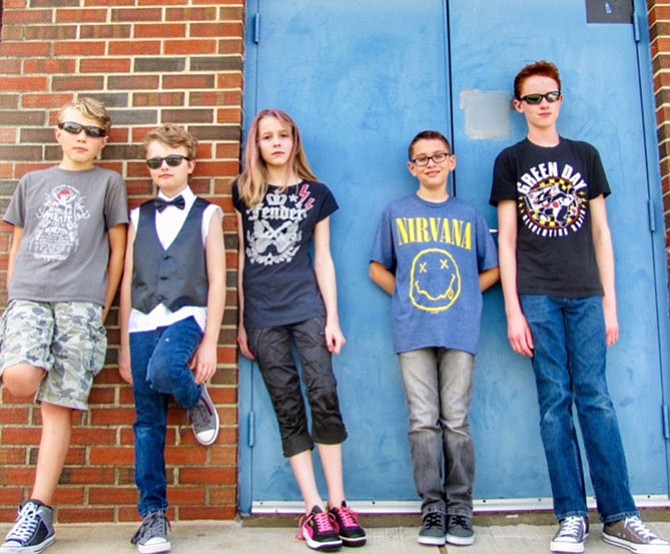 If you go…
Benefit Concert
Saturday, Sept. 23, 7-9 p.m.
Moose Lodge Lorton
9612 Fernedge Lane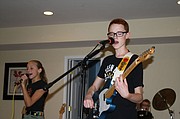 When teenage musicians in the "Magnetic Toxins" were coming up with a name for their band, they didn't just throw out some remotely related caustic words with shock value. Instead, their name related to teenage tendencies that took some thought.
The name "is kind of like younger kids are attracted to things that are not good for them," said Ryan Bonanno, 13, guitarist and vocalist in the five-member band based in Lorton who are performing their next benefit concert for the Lorton Community Action Center on Sept. 23.
"I think it's really cool we can be in a band," said Anderson Bonanno, 10, who is the drummer most of the time. The other "Toxins," include Christian Moreno, 10, Maddie Powell, 11, and Hunter Malecki, 13.
The big time band "Green Day," is a big influence, said Anderson, who plays the guitar now and then, and Christian jumps in at the drum set. Their September concert at the Lorton Community Action Center is the second time they played the benefit show, but Ryan said the group liked the shows because "they wanted to give something back," he said.
Green Day, No Doubt, U2 and other 1990's rock and grunge are their influences, but Maddie was wearing a Rolling Stones t-shirt for one practice, so
If you go…
Benefit Concert
Saturday, Sept. 23, 7-9 p.m.
Moose Lodge Lorton
9612 Fernedge Lane
there are others although the band doesn't know any 1970's era music yet. "I really like Green Day and my parents bought a CD," said Christian. "Big Bang," "Just a Girl," and "Waiting," are some of the songs they hammer out on stage, and in the basement, but they do try writing some as well. Themes include life, school, homework and "something I'm annoyed at," said Anderson. Taylor Swift? "No!" said Christian, "that would be against the rule of the band," added Ryan.
Anderson has sported eye makeup at one show and Maddie had blue hair, so even at their early stages of rock, they're pushing the envelope. The movie "School of Rock," starring Jack Black is big to the Toxins. "We love that movie, that's one of the reasons we formed the band," Ryan said.
At this age though, too young for a driver's license, or the maturity to buckle down and practice, the band knows the parents play a big role, even though they jokingly call them the "roadies."
"We rely on our parents a lot in this band," said Christian. "Since we're all kids, we need them to be there," added Anderson. On stage or in their own circle, "me and Maddie try to keep everybody in check," said Ryan. Hunter and Maddie are on their neighborhood swim teams too.
The parents are aware of the hierarchy but do admit that learning music and being part of something like a band brings maturity and togetherness. "I think they're focused," said Erin Moreno, Christian's mother and homeowner where the band practices. "I love how it teaches them to work together," added Andrea Bonanno, mother of Anderson and Ryan.
The musicians all took lessons at Lorton Music on Ox Road, and may pursue it in high school so cutting the music program in school, a suggestion by the Fairfax County Public Schools in the past, is not a good idea, said Katy Powell, Maddie's mother. She called the possibility "a major tragedy," she said.
Christian's uncle created the graphic that is on the drum set and a tee-shirt that is for sale at these shows. In addition to the contributions the Toxins collected at the first Lorton Community Action Center benefit last year, which totaled about $1,000, plus a tip jar was set out for the band. "Remember our first concert we got paid?" one of them said. That brought on smiles all around.