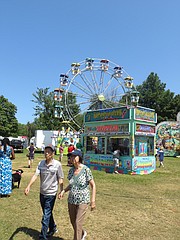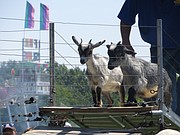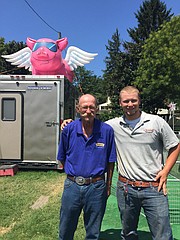 The County Fair is one of the biggest events in Arlington County, with people from across the region flocking to the lot outside the Thomas Jefferson Community Center. Carnival rides, food trucks, and games fill the open field, while local organizations put on a convention-style showcase.
But tucked away in a back corner of that field is one of the fair's most popular attractions. Dozens of fairgoers crowd around a tiny race track with anticipation. The race host, Travis Culver, emerges from a trailer and begins to excite the crowd, picking out members of the audience to step into various jobs around the track. Finally, the pigs emerge. In twos and fours, the pink piglets dash around the circle, some moving with more urgency and enthusiasm than others. There's even a few races later in the day with goats.
Charlie Cromer and Culver have been racing pigs for years. Cromer has been managing pig races for five years and got into the business when his son needed help. For both of them, being a travelling show is one of the best parts of the job.
"It's a different place every week," said Cromer.
"I love to travel," said Culver, "and it's good food everywhere we go."
Cromer and Culver race all kinds of animals, from dogs to ducks, but by far they say pigs are the smartest animals they race. In fact, unless they dip into the dolphin racing circuit, they say pigs are some of the smartest animals in the world. Below elephants, monkeys, dolphins and octopi, pigs are generally ranked as one of the most aware and intelligent animals.
"People are surprised when they find out how smart the pigs are," said Cromer. "It takes us months to train dogs and goats, but only a week to train a pig."
But as smart as they are, the pigs can often be unpredictable. Several times during the races, Cromer had to join in the race, moving behind the slower racers and encouraging them along the track.
"When you're working with animals, they can be unpredictable, said Culver. "You have to learn to improvise."