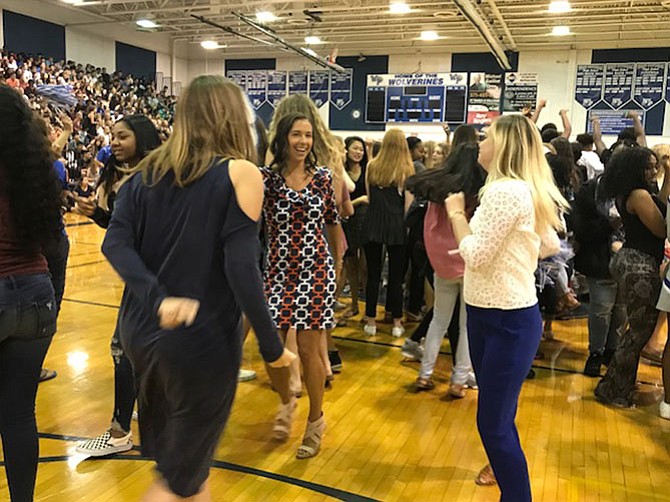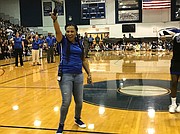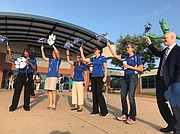 West Potomac High School faculty and staff members welcomed students back to school on the first day this year with pom poms, foam paws and smiles, setting the tone for a year of celebration.
"There's so much energy here and excitement," new Fairfax County Public Schools Superintendent Dr. Scott Brabrand said.
Brabrand formerly served as the Cluster 4 (Region 3) assistant superintendent, and recalled his previous time working in this area.
"This region holds a special place in my heart. It's one of the reasons I'm here," Brabrand said, "I'm thrilled to be back in the FCPS family and particularly the West Potomac family."
For the first time in the school's history, students — over 2,600 — and staff gathered in the main gymnasium for a back-to-school pep rally and celebrated a new school year and new possibilities, with music and dancing.
"This pep rally today is pretty cool," School Board Member-at-Large Ryan McElveen said. "Not many schools do this."
"I thought it was really a fun way to start the year and make us excited about everything to come," Junior Samantha Ward said.
Many attribute the shift in school climate to Millard, the new school principal.
"The new energy around the place and making this a welcoming place for kids to be to learn and do great things," said Dean of Students Brian Valentine. "It's all a testament to the new school leadership."
Student Government Association Sponsor and Social Studies Teacher Nicole Borghard agreed.
"I think Ms. Millard has a lot of energy and from what I've seen she's very student first, so that's really exciting to see," Borghard said.
Millard left her position as principal of Bryant High School last June to make the move the West Potomac, but said she has wanted to join the Wolverine family for a while now.
"I applied four years ago and I believe all things work out the way they are supposed to," Millard said. "In the interim, I have grown and developed as a leader ... I'm ready for the diversity, and most importantly for the academic outcomes for our kids."
Students took note of Millard's efforts and the changes already evident around their school.
"I'm feeling her vibe and I like this whole new the pep rally thing," junior Stephanie Owuseaa said. "Last year it was kind of boring and just knowing that she's trying new things is really nice."