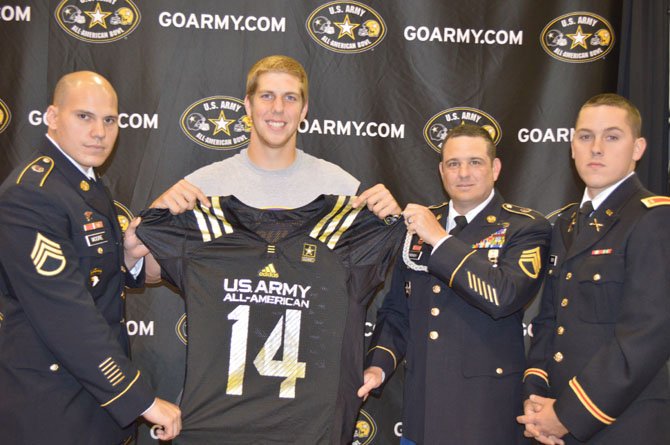 At the start of the 2011 season, Caleb Henderson was a talented sophomore at West Potomac battling for playing time. Two years later, he's the senior quarterback of an undefeated Lake Braddock football team that has aspirations of a deep playoff run.
Along the way, Henderson has matured physically and from a leadership standpoint as he worked hard to improve at his craft. His effort and ability have already paid off in the form of a football scholarship offer from the University of North Carolina, where Henderson is verbally committed. On Oct. 18, Henderson again experienced the fruits of his labor as he received his U.S. Army All-American jersey in the gym at Lake Braddock during the school's homecoming pep assembly.
Henderson is one of 90 athletes from across the country selected to play in the U.S. Army All-American Bowl on Jan. 4 in San Antonio, Texas. Indianapolis Colts quarterback Andrew Luck and Minnesota Vikings running back Adrian Peterson are among the athletes who have played in the U.S. Army All-American Bowl.
"It feels great," Henderson said after the pep rally. "It's pretty much an accumulation of hard work, support from my family and just grinding every day. … I'm still on Cloud Nine right now. I still can't believe I'm going to the Army All-American bowl. I'm really excited and happy to have the opportunity."
Later that day, Henderson led the Lake Braddock football team to a 51-0 victory against West Springfield, improving the Bruins' record to 7-0. Lake Braddock has outscored its four Conference 7 opponents 227-0.
Eric Henderson, Caleb's father, was the West Potomac head coach when Caleb was a sophomore. When Eric Henderson was informed he would not return as head coach of the Wolverines, Caleb Henderson transferred to Lake Braddock before his junior season.
Eric Henderson spent the 2012 season as Lake Braddock defensive coordinator and is now the team's offensive coordinator, calling plays for Caleb and Lake Braddock's high-powered offense.
"As a father, I'm really proud of him," Eric Henderson said. "He's been through a lot. It really validates him, I think. He's the type of kid where that's important to him and he's appreciative, but I just think he's really focused on West Springfield tonight. I think it won't hit him until he's a father or maybe when he's 20 years down the line."
Henderson has passed for more than 1,000 yards and 11 touchdowns, and rushed for more than 300 yards and eight scores, according to the Washington Post's allmetsports.com. In the season opener against Robinson, Henderson completed 14 of 25 passes for 201 yards with two touchdowns and an interception. He also carried 20 times for 112 yards and a score.
"In my mind, he has the physical qualities that the major colleges want and he's performed well on the field. That's a tribute to him," Lake Braddock head coach Jim Poythress said. "… The biggest thing at these All-American games is the physical difference between those kids and the ordinary high school player. In the case of Caleb, he's almost 6-foot-5, 230 pounds and he's a quarterback. Most linemen in high school aren't that big. Then he can run—I think he ran high 4.5's, which is as fast as probably any wideout, back, etc.—he's one of the fastest kids out on the field. He's bigger and faster and stronger—he bench presses over 300 pounds, squats closer to 500 than anybody else on the field. And he can play the game."
Lake Braddock will travel to play T.C. Williams at 3 p.m. on Saturday, Oct. 26.