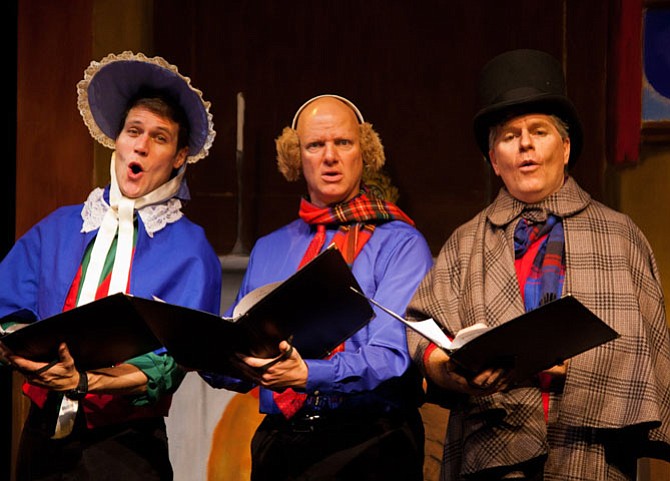 Where and When
The Reduced Shakespeare Company presents "The Ultimate Christmas Show (abridged)," at CenterStage, Reston Community Center, 2310 Colts Neck Road, Reston. Performances: Saturday, Dec. 16, 2017 at 3 p.m. and 8 p.m. Tickets: $25, non-Reston $35. Call 703-476-4500 or visit www.restoncommuni...
Reston — "The zany antics of the Reduced Shakespeare Company have been making Restonians laugh for 20 years and return with 'The Ultimate Christmas Show (abridged),'" said Paul Douglas Michnewicz, director, Arts and Events at the Reston Community Center. The production is a madcap, unconventional show that celebrates the many traditions of the Holiday season — Christmas, Chanukah, Kwanza; and even the Winter Solstice.
"I just love hosting the 'bad boys of abridgement' in the CenterStage. They have been coming to Reston so long that they feel like family to us," added Michnewicz. "Children have grown up and are now bringing their own children to laugh at their hilarious antics."
For those not familiar with the Reduced Shakespeare Company, the troupe has been around for more than three decades producing and performing their own brand of fresh, tongue-in-cheek looks at the world and all that makes it spin.
A small taste of what audiences can expect from the on-stage capers of the three-performers from the Reduced Shakespeare Company include tied together skits for the "Annual Holiday Variety Show and Christmas Pageant at St. Everybody's Non-Denominational Universalist Church," where all faiths are welcome. But, alas, there seems to be a slight problem: bad weather leading to the scheduled performers not making their performance.
What's to be done?
Well the Reduced Shakespeare Company will find a way to solve that problem leading to fast, funny and physical performance.
Since this is a Reduced Shakespeare Company production, the audience will participate in a significant interactive manner. They will even give the onstage performers ideas to riff off of as the "Ultimate Christmas Show (abridged)" unspools.
With the audience's imagination, each and every live show is different. For instance, who knows how many different ways there are to make new versions of the classic tune, "The Twelve Days of Christmas."
During the holidays when there can be stress that can overwhelm all the joy and good tidings; let the Reduced Shakespeare Company's "The Ultimate Christmas Show (abridged)" be one way to have some holiday joyful tidings and to light up the Holidays season with good-natured merry irreverence and big smiles. There will even be a gift exchange connected to the performance. Bring a wrapped Christmas gift of $5 value or less to participate in the audience gift exchange.
The Reduced Shakespeare Company's "The Ultimate Christmas Show (abridged)" at CenterStage can be a part of the day bringing Holiday cheer in Reston.