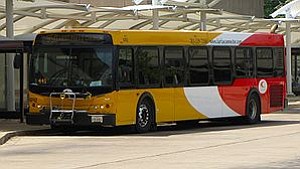 In early December, Fairfax County launched the Fairfax Connector Route 699, providing express service from the Fairfax County Government Center, via I-66, to regional employment and educational centers in downtown Washington, D.C., including the U.S. Department of State, the World Bank and The George Washington University Campus. The following schedule and fare features will be in place:
Regular express fare $4.25; older adults and people with disabilities $2.10. Pay using a SmarTrip card or cash. Ride free the week of Dec. 4-8, 2017.

10 morning rush-hour inbound trips and 10 afternoon rush-hour outbound trips:
Morning service with regular departures (approximately every 20 minutes) from the Fairfax County Government Center to downtown D.C. begins at 5:40 a.m. with the last departure at 8:25 a.m. The average ride time is 45 minutes.
Afternoon Service with regular departures (approximately every 22 minutes) begins at 3:25 p.m., from Virginia Avenue and 21st Street NW. Last departure from D.C. will be at 6:43 p.m. from 19th Street and F Street NW.
To depart downtown D.C. midday, take the Metrorail Orange Line to Vienna and connect to the Fairfax Connector Route 621 midday service that connects to the Government Center.

For emergencies, sign-up for Guaranteed Ride Home.

Stops in Downtown D.C.
For day-to-day information and assistance with Fairfax Connector service:
Sign-up for Fairfax Connector BusTracker for real-time passenger information.
Call our Telephone Information Center (TIC) at 703-339-7200, TTY 703-339-1608, for information on bus connections.
Visit www.fairfaxconnector.com for schedule information.