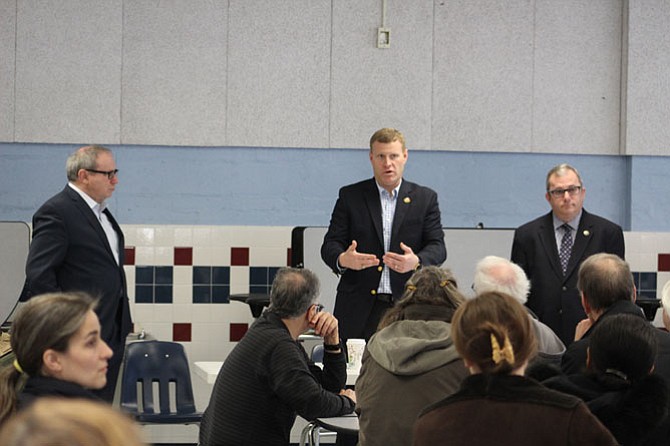 The Virginia Senate has advanced legislation to establish an extremely aggressive timeline for the City of Alexandria to address concerns over its Combined Sewer Overflow (CSO).
The CSO issue isn't a new one. Discharges from the combined sewer system in Alexandria, (like those in Richmond, Lynchburg, Washington, D.C. and the more than 800 older cities across the country) that are dealing with this issue, concern environmentalists greatly as they pollute waterways with untreated wastewater.
Cognizant of the importance of addressing this situation, the city has made serious progress in its stormwater and wastewater treatment in recent years, engaging in sewer separation, partnering with Alexandria Renew to process 13 billion gallons of wastewater every year, and beginning work on three of the four CSO outfalls, focusing on the ones that release into Little Hunting Creek. Those three outfalls were prioritized over CSO Outfall #1 that releases a mix of wastewater and stormwater into Oronoco Bay when it rains, because they drain into a much smaller body of water where the wastewater becomes more concentrated. In keeping with the normal regulatory process, there was also an order to address them issued by the Virginia Department of Environmental Quality (DEQ). Planning and construction on the Oronoco Bay outfall had been slated to begin once construction of the other three outfalls was completed. Last fall, after concerns were raised in discussions with environmental advocates, myself, and other legislators, Alexandria voluntarily accelerated the timeline for addressing this outfall by 14 years, and I proposed legislation to advance the project by an additional six years.
Tackling the additional infrastructure project required to resolve the Oronoco Bay outfall while simultaneously addressing the three other outfalls is a daunting task. Solutions range from the construction of a three million gallon holding tank under Oronoco Bay or the shore to, alternatively, a holding pipe, that could be as large as ten feet in diameter. These large-scale options could also be complicated by working in potentially contaminated soil. The project will involve coordination with federal agencies, geotechnical investigators and civilian contractors, and costs under the expedited timeline could range from $150-$200 million in addition to the $188 million already slated to address the three outfalls along Little Hunting Creek.
Legislation proposed by Sen. Stuart (R-Stafford) and co-patroned by Sen. Scott Surovell (D-Mount Vernon) (SB898), mandated that the city remedy Outfall #1 by 2020 — an impossible deadline of three years. Engineers working with the CSOs in Richmond, Lynchburg, and Washington, D.C. have estimated that, if started today, the project would take between 9-12 years at a minimum. The bill's consequences for not meeting that deadline would have included a loss of all state funding for the city, approximately $115 million per year. The bill sought to subvert the regulatory process by allowing the General Assembly to act as 140 amateur environmental regulators over the established procedures of the Virginia Department of Environmental Quality. With an overwhelming 10-3 committee vote, the catastrophic Stuart-Surovell proposal seemed poised to make its way rapidly through the Senate.
Speaking against the Stuart-Surovell proposal on the Senate floor, I stressed the importance of working toward a deliberate, intelligent and realistic solution. After the original proposal was delayed on the floor, I negotiated with Senator Stuart to bring the timeline more in step with reality. While the improved bill that passed the Senate moves towards those goals, it still imposes an onerous completion deadline of 2025. However, it averts the potential loss of state funds and also likely removes the threat of the City of Alexandria having it's AAA/aaa bond rating downgraded.
The Alexandria Chamber of Commerce wrote that the original bill was "a draconian measure that unfairly targets all Alexandria business owners, citizens, employees, public servants including public safety officers and teachers, and visitors." And, I agree.
Though the compromise is far from perfect, it is a huge step forward and I will continue working to improve the final legislation that emerges. Working with members of the House of Delegates, a similar proposal on has already been improved upon.
It is, as always, my continued honor to serve the residents of the 30th District.
TOWN HALLS
Join me and other area legislators where we will provide an update on the 2017 legislative session and answer your questions.
Mt. Vernon: Saturday, Feb. 11, 9-11 a.m., Whitman Middle School – 2500 Parkers Lane, Alexandria, with Sen. Scott Surovell and Del. Paul Krizek
Arlington: Saturday, Feb. 11, 2-4 p.m., Arlington Mill Community Center – 909 S Dinwiddie St., Arlington with Del. Alfonso Lopez.