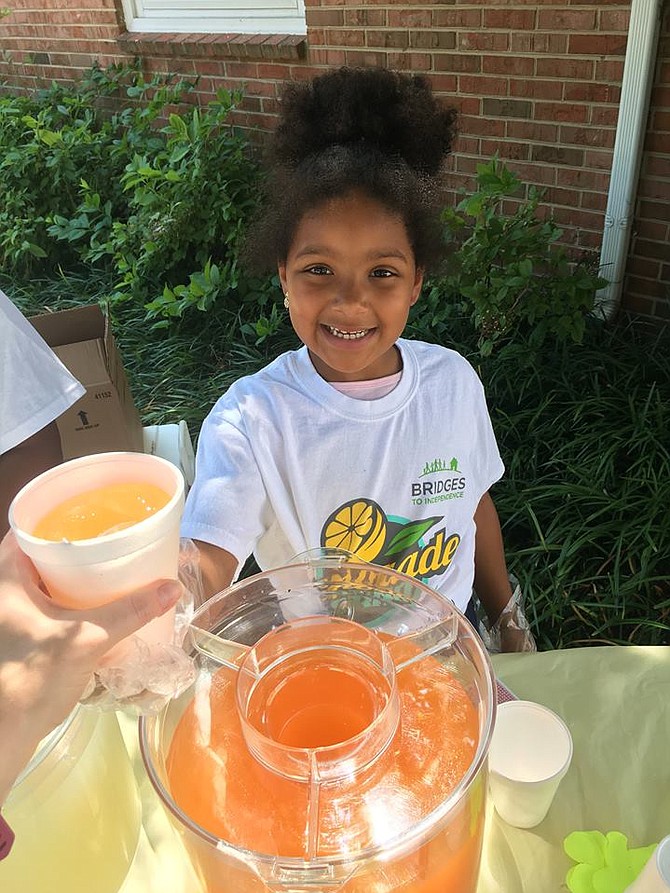 You know it's summer when the local swimming pool opens, the bell of the ice cream truck rings just down the block and the Bridges to Independence lemonade stands open around Arlington. These lemonade stands are youth-run enterprises that teach decision-making and a strong work ethic to children while satisfying their customers' sweet tooth on a hot summer's day.
Jeanette Norton, director of development at Bridges to Independence, says, "Usually we have around 20 kids participating from 5-years-old to 18. They all have different roles and each is doing their part."
Last year, the youth served more than 1,500 cups of lemonade at several stands located at key sites around Arlington. This year, the stands will open July 3 and serve lemonade 2-3 times a week for five weeks until Aug. 4.
The lemonade stands are the centerpiece of Bridges to Independence's summer youth program for children working their way out of homelessness. The participants will learn financial literacy through a series of five workshops given by one of the sponsors and will practice what they learn by running their own lemonade stand. Half of the money they earn will allow them to open a savings account and the other half will support an end of summer field trip.
Norton says usually the field trip is to an amusement park like Six Flags. It is a rite of passage for a young person." She says, "It is the first time they have ever been to an amusement park." Norton says last year the youngsters sold lemonade for $1 a cup but often people donate more. "Last year someone gave $100 for a cup of lemonade. It was a pretty exciting day."
Bridges to Independence is a non-profit organization that served 507 individuals last year, with the goal to lead individuals and families out of homelessness and into stable, independent futures.
Seventy-six percent left the program employed, 91 percent transitioned into permanent housing and 100 percent of the seniors graduated from high school and started college.
This year's sponsors for the lemonade program are Arlington Community Federal Credit Union, Enterprise Knowledge, Hair Cuttery, Honest Tea and Westfourth Communications.
This article was updated 6/20/18.