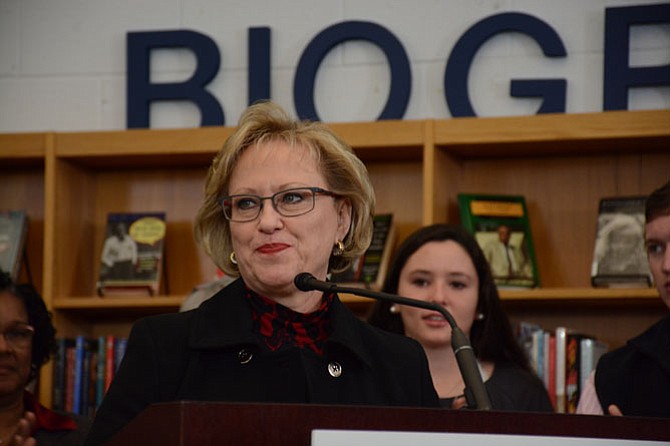 Fairfax County — With the passing of 2016, Fairfax County Public Schools also waved goodbye to its highly influential superintendent Dr. Karen Garza. Garza, who came to FCPS in July 2013 and is largely credited with the titanic achievements of bringing full-day Mondays to elementary schools, pushing back high school start times and pushing through a $2.7 billion school budget for FY 2017, announced her resignation in September last year. It took effect in December.
Garza's temporary replacement is Dr. Steven Lockard, who has worked as deputy superintendent for FCPS since August 2014.
The school board has already hired the same recruiting firm that brought them Garza as a candidate, Hazard, Young, Attea & Associates, and the search is on.
As with Garza's recruitment, there will be town hall meetings, community meetings, online portals for feedback and opportunities to meet in person with the final candidates.
Pat Hynes, who represents Hunter Mill on the school board, said the search could take up to three months, with the goal being having a new superintendent in place by May or June of this year.
The budget will once again be a major storyline for the school system, as Hynes said the board is currently looking at about a $90 million shortfall for FY 2018.
Public Forums on Superintendent Search
Monday, Jan. 9, 1 p.m., Gatehouse Administration Center, room 1600, 8115 Gatehouse Road, Falls Church, VA 22042.
Monday, Jan. 9, 7 p.m., South County High School, 8501 Silverbrook Road, Lorton, VA 22079.
Tuesday, Jan. 10, 12:30 p.m., Virginia Hills Center Library, 6520 Diana Lane, Alexandria, VA 22310.
Wednesday, Jan. 11, noon, Providence District Office and Community Center, multipurpose room 2, 3001 Vaden Drive, Fairfax, VA 22031.
Wednesday, Jan. 11, 7 p.m., Mount Vernon High School Little Theater, 8515 Old Mount Vernon Road, Alexandria, VA 22309.
Tuesday, Jan. 17, 11 a.m., Herndon Council Chambers, 765 Lynn Street, Herndon, VA 20170.
Tuesday, Jan. 17, 1 p.m., Burke Centre Library, 5935 Freds Oak Road, Burke, VA 22015.
Tuesday, Jan. 17, 7 p.m., Stuart High School Little Theater, 3301 Peace Valley Lane, Falls Church, VA 22044.
Tuesday, Jan. 17, 7 p.m., Chantilly High School Lecture Hall, 4201 Stringfellow Road, Chantilly, VA 20151.
Wednesday, Jan. 18, 7 p.m., Langley High School Auditorium, 6520 Georgetown Pike, McLean, VA 22101.
Hynes lamented the voting down of a proposed meals tax that would have brought the school system an estimated $67 million that would have gone to investing in teacher salary scale and other long term investments. "Those things are on the block right now," said Hynes.
A citizen budget task force is being re-engaged to go over the work of a previous task force and look for any and all possibilities of trimming to make up that $90 million.
"That's the conversation we've been having with the community," Hynes said. "Unless that shortfall gets a lot smaller, it's a hard nut to swallow."
George Becerra of Burke is an FCPS parent and actively engaged with both school system and county-wide issues, sitting on a subcommittee of the Ad Hoc Police Practices Review Commission.
"The reality is this year, the schools will not get what they're asking for," Becerra said. "When do we start having a conversation of programs over taking money away from teachers?"
Becerra suggests starting evaluating programs that have an abundance of students. "Forget the name, is it doing what it's supposed to be doing?" he said. "How do you know the money going to it is actually producing results?"
IN ADDITION TO THAT CONVERSATION of programs, Mount Vernon representative to the school board Karen Corbett Sanders says another major topic for 2017 is discussion of ensuring consistency of programs from school to school.
"We started down this path with homework and grading policy last year," she said.
"What does equity really mean," Corbett Sanders continued. "We're going to have some healthful discussions about it. Everything from early education on."
Hynes said to help address the challenge of equity, the school system is planning to hire an assistant superintendent for innovation and equity.
"Looking at equity really is a systemic thing," said Hynes. "It has to be top-down, it has to be part of how you deliver curriculum in every building."
Hynes and Becerra agree the county's three and four level Advanced Academic Centers in only select elementary and middle schools, which require testing and choice by parents to introduce the problem of equity.
Then in high school there are honors, advanced placement, international baccalaureate and general education classes. "The reality is by then kids are sorted," Hynes said. "They've been sorted through our system and remain sorted in high school. And then there are parts of the county where advanced and challenging work isn't even available at all to kids."
THE TOPIC OF GENDER IDENTITY figures to continue to be a contentious one this year in Fairfax County Public Schools, as it is around the country. Over the last two school years, the board voted to add sexual orientation and gender identity -- generally understood as the sex that someone feels or intrinsically identifies with relative to their sex at birth -- to the FCPS nondiscrimination policy for students and faculty.
Opponents of the change say the board acted outside its authority, and did so to follow a directive from President Obama, who some say was acting outside his authority to hold schools accountable to make such changes.
A lawsuit against the school board over this issue is pending at the state level, but Hynes emphasized that Policy 1450 as it stands is still in place.
A set of regulations for implementing the nondiscrimination policy was sent to the board from school system staff in 2016, but tabled indefinitely.
Hynes said the regulations are meant as guidance for consistency, as for principals addressing an issue for the first time such as student who identifies as transgender.
"They've been doing it school by school, kid by kid," said Hynes. "The bottom line is everyone has the opportunity for privacy."
It's not known whether the board will take up the regulations again. But, as Hynes said, opponents of the policy can push school board members to put it back up for a vote.
Share thoughts and ideas for ideal superintendent characteristics at ten community meetings in January. A survey for online submissions will be posted Jan. 9 at www.fcps.edu.