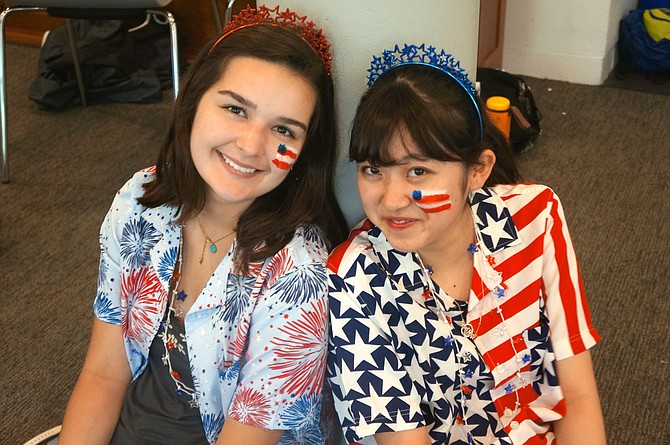 Not exactly, but this summer I felt as if I spent two weeks in Japan without even leaving the East coast.
This opportunity was High School Diplomats (HSD), which is a program hosted at Princeton University for 40 U.S. and 40 Japanese students to exchange cultural knowledge and ideas. Using games, diplomatic discussions, activities, and even food, I gained a deeper understanding of not only another culture but also of myself and my place in the world. It's a chance to meet someone on the other side of the world that you would have never met otherwise.
My High School Diplomats experience began when my family and I hosted two Japanese students, Honatsu and Rina, for three days. We went shopping at Tysons Corner Mall, bought all the American snacks they could possibly fit in their luggage, and took a painting class. I immediately formed a tight bond with both of them and we learned about each other's cultures along the way. I highly recommend anyone in Northern Virginia who applies to participate in Homestay Weekend, as it gave me a taste of what the rest of my summer would be like.
Two weeks later, we reunited at Princeton for the upcoming ten-day program. In those ten days, my mindset shifted to a more globally understanding one and I began to see both cultures in a new light. I am so grateful that I was able to have an international experience without leaving the country. In this sense, High School Diplomats is truly unique. I met so many interesting people with whom I shared more similarities than differences. The High School Diplomats staff led us through several activities, such as Bunka No Hi Culture and Earth Day festivals. I will never forget all the impromptu dance parties we had, the insightful diplomatic talks or the Japanese language classes.
High School Diplomats is one of the most rewarding things I have ever done. It's also one of the most challenging, which is why it's important to go in with an open mindset ready to absorb anything and everything. I can't thank HSD enough for helping me figure out who I am and for teaching me about true friendship even if it is 6,000 miles away.
Sophomore and Junior students from all over the United States can apply starting Sept. 15 until Jan. 8 at www.highschooldiplomats.com and clicking the Application Information button at the bottom of the article. After the application deadline, selected students will be contacted for an interview as the second portion of the process. Contact the program director, Celine Zapolski, with any questions about the program at celinezapolski@highschooldiplomats.com. Start planning today your opportunity to expand your horizons, have the experience of a lifetime, and make long-lasting friends.
Eva Williams-Siguenza lives in Chantilly and attends St. Paul VI Catholic High School in Fairfax City.