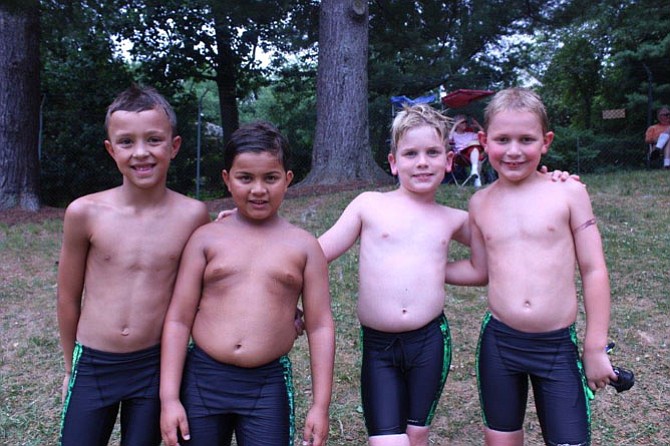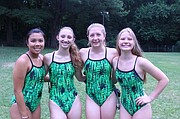 Virginia Run traveled to Donaldson Run at the eastern edge of Arlington County for its second NVSL Division 4 meet of the season. While energized by their Pasta Potluck Pep Rally Friday evening, and wearing red, white and blue to celebrate the July 4 holiday, the Riptide were unable to neutralize the Thunderbolts.
The freestyle events were competitive, with multiple lead changes. The Riptide had four first place finishes with Charis Roundtree (8 & UG), Isabelle Cogan (11-12G), Maddie Whitton (13-14G), and Nick McGrath (15- 18G). Six swimmers captured second place: 8 & Unders Ethan O'Connor and Anna Kelliher; 9-10's Ryan Friess and Megan Marco; 13-14 Chelsea Nguyen, and 15-18 Didi Pace. Lauren Fitch (8&UG), Ryder Hicks (9-10B), Charles Beamon (11-12B), and Jason Cheifetz (13-14B) swam for third.
As the backstrokers pushed off, the Riptide kept the meet close. Ethan O'Connor (8&UB), Davis Collinsworth (9-10B), Montse Garduno Cuevas (9-10G) and Sarah Boyle (15-18G) won their events. Four ladies: Anna Kelliher (8&U), Ginny Fitch (9-10), Caitlin Kelliher (11-12), and Alana Turflinger (13-14) and two gentlemen: Jackson Blansett (11-12) and Nick McGrath (15-18) swam to second place. Important third place points were collected by 8&Us Mason Conlon and Caroline Friess, 9-10 Ryder Hicks, 11-12 William Whitton, 13-14s Andrew Boyle and Chelsea Nguyen.
As the breaststrokers moved to the starting blocks only eight points separated the Riptide and the Thunderbolts. 8&U's Nick Harris and Charis Roundtree, 9-10 Angela Thomson, and 15-18 Leo Wang were dominant in their heats. The 9-10s Davis Collinsworth, the 11-12s Griffin Osterhout and Isabelle Cogan, the 13- 14s Jack Liskey and Alan Turflinger and 15-18s Meredith Matz swam for seconds. Seven swimmers took third place: Jenna Van Buren (8&U), Kevin O'Connor (9-10), Charles Beamon (11-12), Nora Collinsworth (11-12), Kevin Wang (13-14), Gabriella Borsato (13-14) and William Beamon (15-18).
With the teams still eight points apart, the butterfly competition began. The Riptide won three races with Nick Harris (8&U), Leo Wang (15-18) and Sarah Boyle (15-18). Six swimmers captured second place: 9-10s Ryan Freiss and Megan Marco, 11-12's Jackson Blanchett and Caitlin Kelliher, 13-14 Maddie Whitton and 15-18 Didi Pace, while six swimmers picked up third places: 8&UsChristopher Thomson and Carolyn Friess, 9-10 Christopher Lee, 11-12 Griffin Osterhout, 13-14's Jason Cheifetz and Valerie Tonnu.
As the relays began, the Thunderbolts had stretched their lead to 20 points and the pressure ratcheting up on the Riptide. The 8&U boys responded with a nail biter of a win with anchor Nick Harris making up a 2 body length gap to win by .17 seconds. The 8&U girls followed with a win, but the Thunderbolts dominated the next five races. The Riptide girls 13-14 relay swam with enthusiasm and won their relay, but alas there were no more wins for the Riptide on the first Saturday in July.
Summer swim is all about fun and friendship, so the Riptide is having a busy social week with a development meet Monday at Pleasant Valley, a "Despicable Me 3" Movie Night Pep Rally on Friday and a Nationals Baseball game on Sunday.