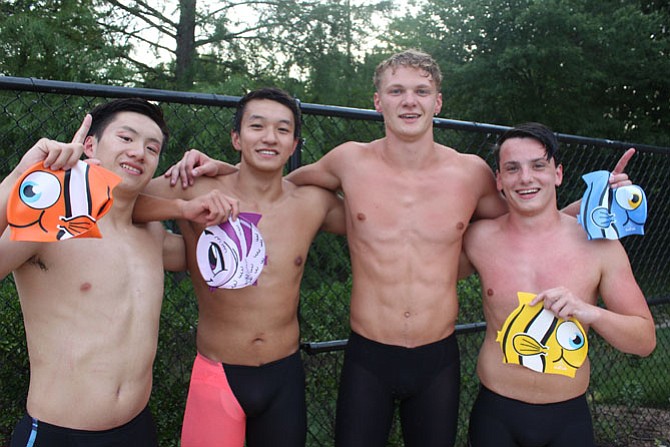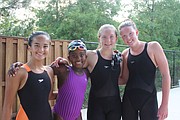 Traffic at the intersection of Route 29 and Pleasant Valley Road was worse than usual on a recent Wednesday evening as Virginia Run hosted the NVSL Division 4 Relay Carnival with more than 300 swimmers from six teams. On that day, nine new team records were set with five of these new records belonging to the Virginia Run Riptide.
The 15-18 Boys 200 Medley and 200 Freestyle Relay team of Anthony Arcomona, Leo Wang, Nick McGrath and Geoffrey Eisenhart demolished two team records taking 3-plus seconds off of the medley relay record posting a 1:53.39 and 2-plus seconds off of an 11-year-old free relay record swimming a 1:43.71. The Girls Mixed Age 200 Freestyle Relay of Isabelle Cogan, Charis Roundtree, Maddie Whitton, and Sarah Boyle set a new team mark of 2:02.93. The Super 8's took multiple seconds off team Medley records with the Boys 8&U Medley Relay of Ethan O'Connor, Mason Conlon, Nick Harris and Christopher Thomson swimming a 1:35.69 and the Girls 8&U team of Anna Kelliher, Jenna Van Buren, Caroline Friess and Charis Roundtree swimming a 1:31.08. The 9-10 Boys 100 Meter Medley Relay of Ryan Friess, Davis Collinsworth, Christopher Lee, and Ryder Hicks and the Boys Mixed Age Relay of Jackson Blansett, Davis Collinsworth, Jason Cheifetz, and Nick McGrath as well as the 15-18 Girls Medley and Freestyle teams of Sarah Boyle, Meredith Matz, Didi Pace, Chanel Cogan, and Lauren Stovall will have the honor of joining their record setting teammates at the NVSL All- Star Relays.
Virginia Run took a short trip to Chantilly to swim against the Poplar Tree Pirates on Saturday, July 15. In a nail biter of a meet the Riptide edged the Pirates 217 to 198.
Riptide freestylers swam for first in six of the 10 races: for the boys Ethan O'Connor (8&U), Jackson Blansett (11-12), Nick McGrath (15-18) and for the girls Caitlin Kelliher (11-12), Maddie Whitton (13-14) and Didi Pace (15-18). Three swimmers captured second place: Anna Kelliher (8&U), Ryan Friess and Megan Marco (9-10). Six competitors won third place points: for the boys Ryder Hicks (9-10), Charles Beamon (11-12), and Jack Liskey (13-14) and for the girls Lauren Fitch (8&U), Ali Harkins (9-10), and Chelsea Nguyen (13-14).
With the meet tied 45-45, the backstrokers pushed back in their lanes. For the 8&U 25 Meter Backstroke Nick Harris was first and Ethan O'Connor third and for the girls Charis Roundtree took first with a new team record of 19.03 while Anna Kelliher was third. For the 50 Meter Backstroke 9-10's Davis Collinsworth was second, Ewan McDonough was third for the boys and Laney Zimmerman third for the girls. Isabelle Cogan was first, Samuel Roundtree was second, and Tommy Vu was third for the 11-12 age group. Chelsea Nguyen swam for first, Catie Gunn for third, and Andrew Boyle for second for the 13-14's. Sarah Boyle was first, Chanel Cogan third and Anthony Arcomona was second for the 15-18's.
As the breaststrokers started their events, the Pirates had grabbed a two-point lead 91-89, but then the Riptide frog kickers asserted themselves. Eight & Unders Mason Conlon took second and Christopher Thomson third for the boys, results that were mirrored by the girls with Caroline Friess second and Carson Coughlin third. The 9-10's replicated these results with Davis Collinsworth second and Kevin O'Connor third with Angela Thomson second and Ginny Fitch third. The 11-12 boys swept their race with Charles Beamon first, Griffin Osterhout second and Nathan Ryman third, while Isabelle Cogan was first and Allison Nguyen third for the girls. Jack Liskey swam for first, Michael Hart for second, while Alana Turflinger swam for second and Gabriella Borsato third for the 13-14's. Leo Wang was first, William Beamon third, Sarah Boyle second and Lauren Stovall third for the 15-18 group.
Entering the butterfly competition, the Riptide had established a 14-point edge and the fliers swam determined to maintain this lead. Five swimmers claimed firsts: Nick Harris (8&UB), Jackson Blansett (11-12B), Caitlin Kelliher (11-12G), Maddie Whitton(13-14G), and Didi Pace (15-18G). Second place finishes were won by Charis Roundtree (8&UG), Ryan Friess (9-10B), Andrew Boyle (13-14B), and Anthony Arcomona (15-18B). Eight swimmers claimed critical third place points: 8&Us Aidan Bange and Carolyn Friess, 9-10's Ryder Hicks and Megan Marco, 11-12's Sean Gunn, 13-14's Andrew Van Lahr and Catie Gunn and 15-18's Chanel Cogan.
Entering the relay portion of the meet, the Riptide needed only five wins to record a meet victory and when the 13-14 Ladies won their race, the win was secured.
With a developmental meet vs. Little Rocky Run, the NVSL All-Star Relay Meet, Coach Appreciation Week, Shadowland Laser Tag, and the Final A Meet of the 2017 season, the Riptide are finishing the summer on a busy note.