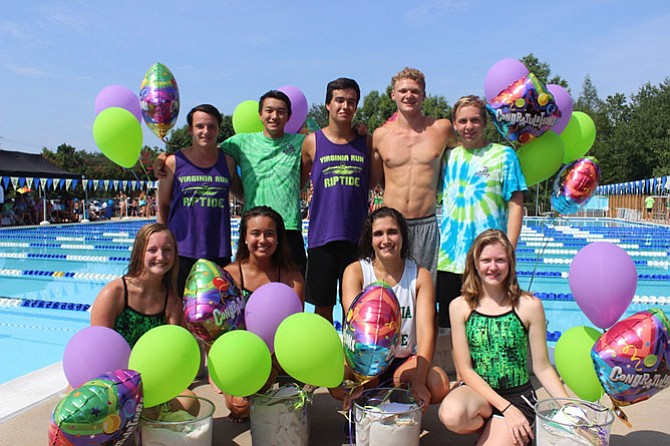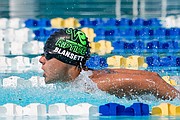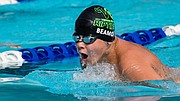 The Virginia Run Riptide hosted their final NVSL Division 4 A meet of the season against the Crosspointe Cruisers on Saturday, July 22. It was a day of celebration as the Riptide honored their nine outstanding Senior swimmers and recorded a meet victory of 226 to 194.
The strength of the 8&U swimmers was on display again. Double first place winners were Charis Roundtree in free and fly and Nick Harris in back and fly. Anna Kelliher was first in back while Mason Conlon was first in breaststroke. Ryan Garcia placed second in free and Christopher Thomson second in fly. Third place finishes in free were earned by Mason Conlon and Anna Kelliher, in back by Tyler Harris and Caitlin Do, in breast by Christopher Thomson and Caroline Friess, with Caroline also earning a third in fly.
For the 9-10 age group, Davis Collinsworth captured first in back and breast, while Ryan Friess and Megan Marco took firsts in fly. Ryan and Megan also swam for seconds in freestyle. Ryder Hicks was second in back and third in fly and for the girls Montse Garduno Estrada finished third in back and Angela Thomson second in breast.
The Riptide 11-12's captured four blue ribbons with Jackson Blansett winning free and fly, Isabelle Cogan winning back and Charles Beamon winning breast. Caitlin Kelliher was second in free and fly, William Whitton was second in back, Isabelle Cogan and Griffin Osterhout were second in breaststroke. Third place points were won by Griffin Osterhout in free, Samuel Roundtree in back, Sean Gunn in fly and Neha Srinivasan in back.
Alana Turflinger swam for a first in breast and a second in back for the 13-14 Girls, Maddie Whitton placed second in free and fly, Chelsea Nguyen was third in free and back and Gabriella Borsato was third in breast. For the 13-14 boys Jason Cheifetz swam to second in free and third in fly, while Owen Thomas was second in back and third in free. In breaststroke Kevin Wang was second and Michael Hart third.
The 15-18 age group won six of eight races. Sarah Boyle was first in back and breaststroke and Didi Pace first in freestyle. Nick McGrath took first in free, breaking his team record with a 25.01. Leo Wang took first in breast breaking his team record with a 29.05. Anthony Arcomona won fly and placed second in back. Nick McGrath and Meredith Matz were second in breast, Didi Pace was second in fly and Leo Wang was third in fly.
At the intermission before relays, the Riptide recognized their nine graduating seniors: Chanel Cogan, Geoffrey Eisenhart, Luke Emanuel, Carrie Hagemeier, Meredith Matz, Nick McGrath, Didi Pace, Scott Pisarcik, and Leo Wang. These young scholar athletes will all pursue university educations, and all qualified to receive a $500 Wrinkle Family Scholarship for Virginia Run swimmers who demonstrate dedication to their sport and community.
After the presentation of the scholarships and gifts to the graduating seniors and their families, the Riptide swimmers dove back in for the relays. With a narrow 12-point lead, the Riptide swam with determination. Most of the crowd cheered themselves hoarse as 8 of 12 relay races were decided by less than one second. Both 8&U Riptide teams won their heats, the boys by 2.5 sec, the girls by .66 sec. The 9-10's lost their heats by razor-thin margins of .39 sec for the boys and .87 sec for the girls. The 11-12 boys won by a comfortable 2.47 sec while the girls were inched out by .14 sec. The 13-14 boys lost by a mere .42 sec but the girls won easily by more than 4 seconds. When the 15-18 men with three seniors, Leo Wang, Nick McGrath and Geoffrey Eisenhart, swimming their last relay won by 1.8 sec and the 15-18 ladies with with seniors, Meredith Matz, Didi Pace, and Chanel Cogan won by .08 sec, the Riptide victory was secured. The Mixed Age Relay teams added to the Riptide total with two wins, the boys by .73 sec and the girls by .56 sec.
The Riptide rounds out their 2017 Season with the Divisional Meet on Saturday July 29 and the Team Banquet at Chantilly Country Club on Sunday July 30.