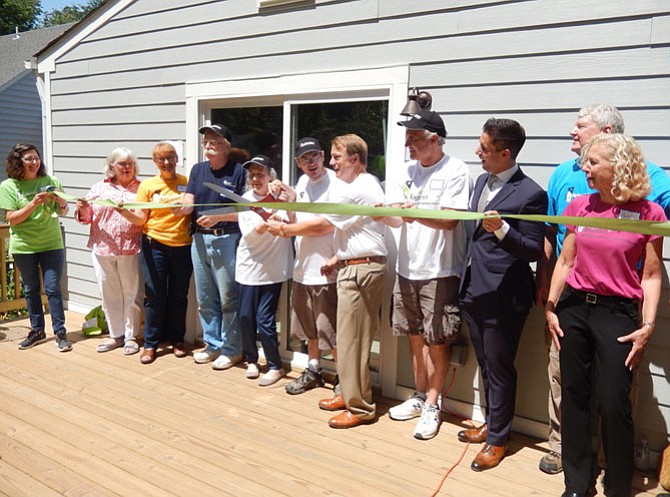 Fairfax — Ironically, when Teresa Oliver's modest, two-bedroom, one-bathroom home
was built in 1949, it was one of the model homes for her City of Fairfax neighborhood. But by 2015, it had sustained serious water and termite damage, so Oliver – now a senior citizen with mobility issues – hired a contractor to do the repairs.
Instead, he and a cohort gutted her house, left it uninhabitable, took her money and disappeared. As a result, the home was condemned and she and her son had to rent a basement apartment elsewhere – for nearly two years – while still paying the mortgage in Fairfax.
So a year ago, the City's Human Services Coordinator, Louise Armitage, contacted Rebuilding Together Arlington/Fairfax/Falls Church. She explained Oliver's plight and asked the nonprofit organization to help – which it did. And on June 29, everyone involved gathered in Oliver's backyard to celebrate the extraordinary collaboration making it possible for her home to be repaired and renovated so she and her son could return.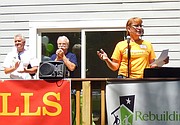 "This is as close as we've ever come to a complete home makeover," said Rebuilding Together Executive Director Patti Klein. "The entire community stepped up to save this family's home – more than 60 volunteers, local contractors and suppliers, our funders, partners and City leaders and staff."
And they pretty much started from scratch. "When we got to the house, it was bare," said Klein. "No bathroom, kitchen, furnace – nothing. It then took six months to get the funding partners and vendors in place. Once the Wells Fargo Housing Foundation provided a $15,000 grant, we were able to pull together other vendors to do in-kind donations."
THE CITY OF FAIRFAX also played a significant role. "Louise helped us see how important it was to get this family back in their home," said Klein. "The City came out and told us what work needed to be done and also provided a $5,000 grant. And Fairfax United Methodist Church provided funds for new flooring."
Ultimately, some 3,000 hours of volunteer labor – worth about $146,000 – went into the Woodland Drive house, as well as $30,000 in materials and labor donated by local contractors and suppliers.

C.B. Lucas provided the heating and air-conditional system and got Trane to donate the unit. Walsh Electric upgraded the home's electrical system, and Mid South Building Supply Inc. provided and installed the kitchen and bathroom cabinets and countertops And F.J. Hooks Inc. donated the labor to fix the plumbing.
"We had to move walls to make the bathroom accessible, and Hooks moved the bathroom pipes and did the gas hookup in the kitchen," said Klein. "It also installed a hot-water heater and prepared the kitchen and bathroom for the plumbing installation, which it did, as well."
The volunteer workers included 17 Wells Fargo employees, various community residents and even City Planning Office employee Tommy Scibilia, who put insulation in the home's crawl space. Organizing all the volunteers were Rebuilding Together's Programs Director Marcy Bartlett and Partnerships Director Don Ryan, plus resident Jim Dillon.
"Jim put in nearly 1,000 volunteer hours," said Klein. "He's been volunteering with us for more than 15 years and is our star volunteer. He and the other volunteers were there, day after day, week after week, month after month, and several others put in at least 500 hours each."
"This was really a community effort," she continued. "It took so many different people and partners to pull this all together, and the Olivers have been there all the time. Son Mike Oliver has put in his share of sweat equity. Most volunteers worked a few days a week, mostly weekdays."
Normally, Rebuilding Together doesn't have to repair an entire house. So, said Klein, "This was the largest, most complex project we'd ever undertaken. We focus on healthy and safe housing, with 25 priorities, including functioning smoke alarms, carbon-monoxide detectors and safe egress and ingress. Homes must also be free of large cracks to prevent pests and airflow from getting inside, plus free of active water leaks and serious moisture problems."
Much of what the workers did was behind the walls to make it a safe environment where Teresa Oliver may age in place. Toward that end, they also widened the bathroom doors and added grab bars, plus a railing leading into the home.
MOST SATISFYING, said Klein, was "Just watching the incredible commitment of everybody involved. We asked the community for help and they responded overwhelmingly. And what's really neat is that we're introducing a whole, new group of people to Rebuilding Together and what we do. It's been great watching them work together and pull this off."
At the June 29 celebration and ribbon-cutting, Teresa Oliver couldn't have been happier. "They didn't build me a house," she said. "They built me a home." Now, when she sees each improvement, she also "sees" each person responsible for it. For example, she knows Tim and Quinton installed the furnace and Justin put in the bathroom tile, and she had them sign these things so she can always remember who did what.
"I get to live with these people for the rest of my life," said Oliver. "When I turn on the water, I say, 'Thank you, Nino.' And when I turn on the lights, I say, 'Cesar, you are a darling.' The volunteers even put my washer and dryer behind doors in the kitchen so I look elegant in here."
As for the original contractors she hired, she said, "The evil and pure viciousness those men did – tearing this house up – put a hole in this house and a hole in my heart. They were good con men, and it hurt so bad." But in light of all the good things that happened since then, she's now focusing on the positive. "I'm floating about 4 inches off the floor," said Oliver. "I'm just overwhelmed with the kindness and love from everyone."
Addressing the crowd of the project's participants, plus local dignitaries, Klein thanked everyone for "demonstrating what community truly means." And Bartlett acknowledged all the contributors and volunteers, singling out plumber Nino Rocca of F.J. Hooks, as well as individual volunteers Jim Dillon and Steve Schoepke. She also praised Fairfax County for redoing the home's gutters to solve the water problem and Merrifield Garden Center for helping with the landscaping.
Fairfax City Mayor David Meyer also saluted the volunteers and contractors and thanked Rebuilding Together for "tackling this tough project and mobilizing the resources needed to save this family's home." To the Olivers, he said, "On behalf of all the volunteers and citizens who made this happen, welcome home and welcome back."
"When Louise Armitage first asked me to talk with Rebuilding Together, I told her I didn't want charity," said Teresa Oliver. "But she told me it wasn't charity. And I watched the community volunteers and the business community all get together. They got dirty, sweaty and tired, but his synergy took over – and I saw 'love your neighbor' made manifest. You all have done such a wonderful job; thank you so much. I am so very grateful."