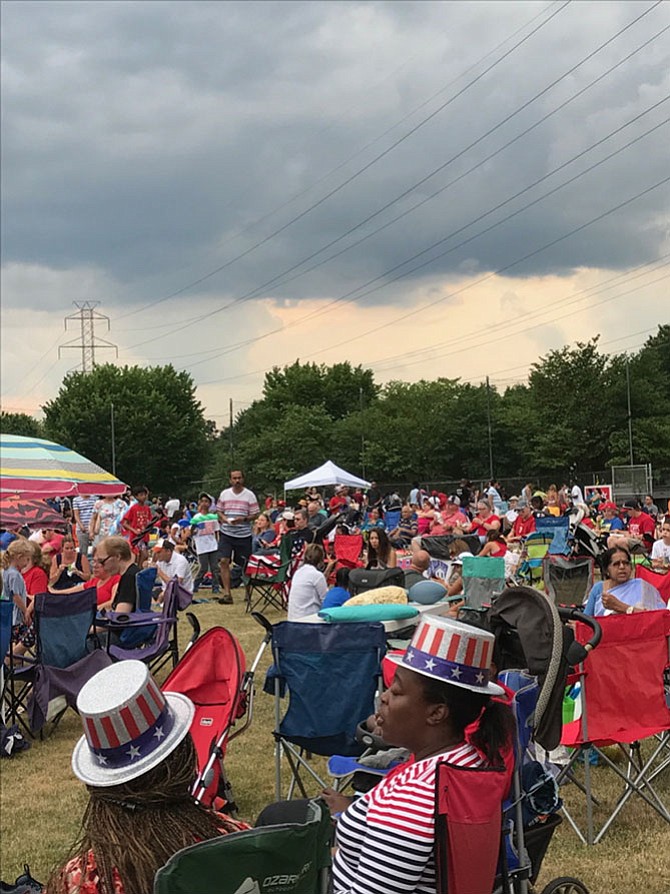 The Town of Herndon once again produced and hosted a great all day 4th of July Celebration. For those who wanted to start the fun early, Parks and Recreation opened the pool at the Herndon Community Center, 814 Ferndale Avenue from 11 a.m. until 6 p.m. Admittedly there was no sandy beach, but who needed it? The water was cool and clear with air temps in 80s, perfect for swimming, and there were no sharks in the water.

Beginning at 6:30 p.m., Parks and Recreation moved the fun over to Bready Park Softball Field, located steps from the community center. The ballpark fences kept little ones safely away from the street and parking lots, as everyone enjoyed a multitude of free activities. After staking their turf with blankets and beach chairs, adults and children alike played old-fashioned yard games such as Cornhole toss.

Sack races were a new experience for many children. The young ones delighted putting both feet into the bags. With the Ready, Set, Go call, the youngsters held their bags up the best they could, and hopped and shuffled their way to the finish line, sacks dangling down to their knees as their parents cheered them on.

Renee Hoover said, "I came out for the fireworks but the yard games are great, and the price is right – free." Face painting was another definite hit with the children, while the patriotic-themed arts and crafts activities drew in an equal number of children.
Bingo was a winner with the adults. Passersby easily heard the loud calls of BINGO coming from under the tented game area.

There was no need to grill at home or bring a cooler full of food. Food trucks parked along the perimeter of the field sold hot dogs, hamburgers, Thai food, funnel cakes, snow cones and more.

According to Herndon Parks and Recreation, at 7:15 p.m., they welcomed the five-piece rock band "The Significant Others" to the performance stage. The fantastic music, food, and games kept everyone entertained until dark when the fireworks were set to go off around 9:30 p.m.

While many individuals had gathered at Bready Park to enjoy the pre-firework events and display from that location, a huge number of spectators safely set out lawn chairs and blankets along barricaded streets near the Herndon Centennial Golf Course where the fireworks were to be lit.
Throughout the spectacular display, oohs and ahhs could be heard from the crowd, and when the explosions ended, they ended with the traditional big bang. A multitude of rockets whizzed high in the sky, one after the other, exploding their light on children and adults, people from so many walks of life and countries.