Alexandria — For a limited engagement, MetroStage in Alexandria is presenting "Anne & Emmett" from July 28 to 30.
The play by Janet Langhart Cohen is an imaginary conversation between Anne Frank and Emmett Till, both victims of racial intolerance and hatred. Anne is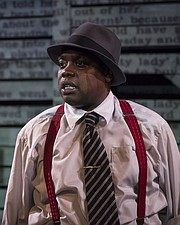 the 15-year-old Jewish girl whose diary offered the world a gripping perspective of the Holocaust and touched the hearts of humanity. Emmett is the 14-year-old African American boy whose brutal murder in Mississippi sparked the modern Civil Rights movement.
"It is a remarkable play, and Cohen's concept of bringing together these two teens who so vividly represent the Holocaust and the Civil Rights movement is unique and a perfect vehicle on stage to tell their stories," said Carolyn Griffin, producing artistic director of MetroStage. "The impact on the audience is powerful, and it is a play we believe in and hope all ages, all generations and all backgrounds will see. It is a call to action 'tikkun olam' to repair the world. Something that theatre and individuals can work together to achieve."
Enoch King plays the role of Emmett, a highly energetic, inquisitive, curious and sometimes hot-tempered young man. "He is funny and is always ready to laugh or find a way to make someone else laugh," he said. "He is very quick-witted, not afraid to share his opinions and ideas, but also not afraid to learn more."
The challenge, he said, was not playing the tragedy of how he died and the
Where and When
MetroStage in Alexandria is presenting "Anne & Emmett" from July 28 to 30. Tickets are $35. The venue is located at 1201 North Royal St., Alexandria, VA 22314. Call the box office at 703-548-9044 or visit www.metrostage.org.
circumstances surrounding it; instead, focusing on his life, his thoughts, hopes, fears, loves and wants. "It's difficult because Emmett was real. He really lived and died. There are moments in the show where it hits me how young he was and it can be overwhelming, but I remind myself to let him breathe and live in the piece," he said.
Roz White plays the role of Mamie Till (Mobley), the mother of Emmett. "She is a soft spoken, strong, and loving mother who wants the best for her only son," she said. "She did what she could to prepare and protect Emmett from the hatred of Southern whites, but she couldn't foresee the horrible murder he would suffer as a result of the alleged flirtation he was accused of with a white woman."
She added: "Mrs. Till gathered her strength and used Emmett's senseless murder to open the eyes of America to the injustices that were being imposed upon blacks, and this exposure spearheaded what we now know as the Civil Rights movement."
She said the challenges that she faced delving into this role were mostly personal. "Being a mother of two teen-aged boys, I immediately connected with the character, and her desperation to keep her son safe, while seeking not to break his strong spirit. Another challenge was keeping her (Mamie) human, and not over-playing her to the point of martyrdom. I hope the audiences will see her strength and resilience, while also being aware of her vulnerability."
Abigail Williams plays the role of Anne, a curious, passionate, hope-filled, stubborn, beautiful soul. "She has heart, desires to continue to see and believe in the good in the world, and fights until the very end to hold on to hope," she said. "She wants to understand how to make sense of all she has been through, yet she never loses her child-like curiosity throughout."
She said the challenge was trying to honor the real life that Anne lived while understanding that, as an actor, she had to put some of herself into her character to make her feel "true" in the moments that she's portraying her.
"Making choices about someone who lived a real life is obviously different than making choices about a fictional character," she said. "And the weight of responsibility in playing a role that is internationally known for being so heroic and brave, and whose private thought-life is actually popularly circulated throughout the general public means that, in some ways, I'm going up against the thoughts people already have about who Anne is — this, at times, has felt deeply challenging."
Roger Grunwald plays two roles in the play: Otto Frank and J.W. Milam. "It would be hard to find two more antipodal characters (or people). As an actor, I always try — as best as I can — to find a character's humanity, humor and vulnerabilities. Milam, the murderer of Emmett Till, however, is an unrepentant killer, a racist and a braggart."
He continued: "Otto Frank, by contrast, is a fundamentally decent man who tries, as best as he can, to hold his family together, instilling hope and doing whatever is necessary to avoid detection and capture by the Nazis. Needless to say, it proves to be an impossible task. As the family's sole survivor, he dedicates his post-war life to bringing Anne's message — and her belief in the fundamental goodness of humankind — to the world."
Griffin met playwright Cohen several years ago and introduced her to the resident director Thomas W. Jones II. She said the play was further developed with Jones and his team that included music director William Knowles, and was performed for a weekend on MetroStage in 2015. It has since toured Indianapolis, Chicago, and New York City. The play returns to the National Museum of African American History and Culture in D.C. and then back to MetroStage. It will be filmed at MetroStage and then performed July 28-30 before leaving for the National Black Theatre Festival.