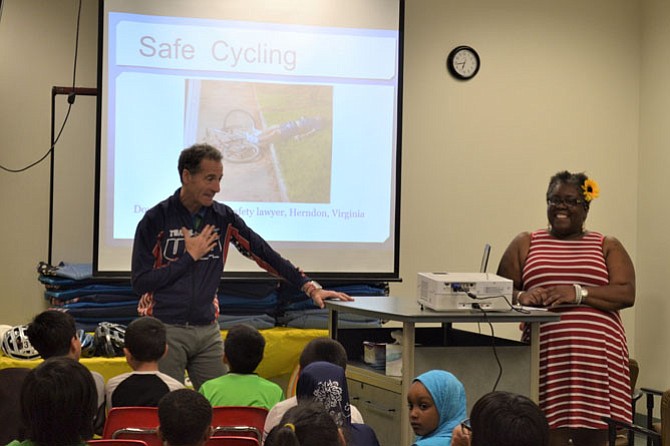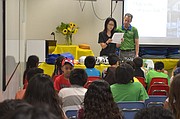 Herndon attorney Doug Landau of Abrams Landau Law Firm made a presentation on bike safety at the Herndon Neighborhood Resource Center on Thursday evening, June 8. This was through Landau's Lids on Kids initiative to put bike helmets on children.
Landau visits elementary schools in Herndon, Reston, Loudoun, and the surrounding areas, as well as scout troops and events such as Herndon Neighborhood Resource Center's Parents Night. According to Karen Pope, Program Manager for the Resource Center, this was the final Parents Night of the year. The topic was summer safety.
During Landau's presentation, he asked the children an important question: Had they met anyone with a brain replacement? Unsurprisingly, none had. This helped put the importance of wearing a helmet into perspective for the young audience. "You get one brain," Landau told the elementary aged children, "so you have to take really good care of it."
Landau also made use of visuals. Some of the crushed helmets he displayed were damaged in actual biking accidents.
AFTER DISCUSSING BIKE SAFETY, the devastating impact of brain injury, and the proper usage of helmets, Landau passed out helmets to children individually, with the help of Abrams Landau employee Stephanie Yoon. Each child was fitted for their helmet, an important step that ensures the they will be able to use the safety device properly. Once fitted, the each was able to walk away with a brand new helmet and bike safety information sheet.
Landau thinks discussing and promoting bike safety is especially important to Herndon and the surrounding areas. "Because of the W&OD trail, and the many thousands of people who use it, for recreation and to get to and from work," Landau said. His office looks out on the trail, and he was disheartened to see many children riding without helmets.
The program was instituted through the non-profit Virginia Trial Lawyers Foundation. Lids on Kids involves both distributing new helmets to schoolchildren and educating them about bike safety.
As a lawyer who tries many cases concerning brain injury, Landau knows the importance of protecting the head from damage. "I see the terrible effects it has on the individual victim, their families, and their communities," he said.
Since the helmets are given away with orange stickers for identification, students receiving helmets through Lids on Kids are able to exchange the helmets for larger ones once they grow out of them, or if they are damaged.
Landau has been doing this for about seven or eight years now. "If we can just save one or two kids from cracking their skulls, or getting a traumatic brain injury, or dying," he said, "Then I think the whole program's worthwhile."