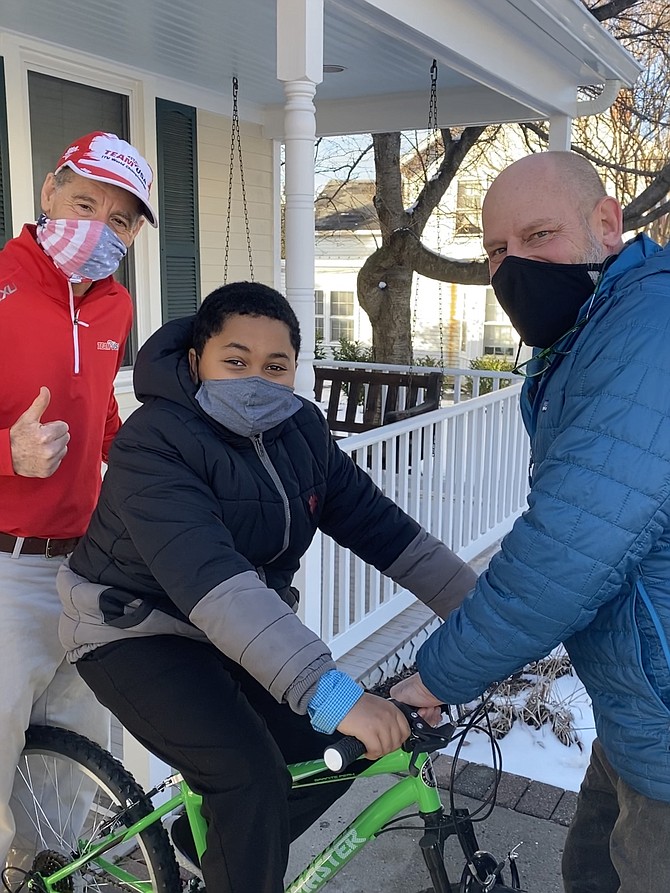 Herndon-based personal injury attorney Doug Landau of Abrams Landau Law Firm recently met Bamilak Robi, 11, of Reston after he and his family were involved in an automobile crash. Landau is also an avid marathoner, cyclist, and sports advocate. He takes bike helmet safety personally and is the founder of the local Lids on Kids initiative. It is a school and center-based program designed to prevent brain injury through bike safety education and free helmet giveaways to thousands of low-income children.
Lisa Goldman, a legal assistant and part of the Abrams law team, said that when Landau got to know Bamilak, he gave him a cycling helmet. Bamilak promptly replied, "But I don't have a bike."
"Nothing worse than giving a kid a bike helmet, and they don't have a bike," said Goldman.
Landau learned that Bamilak had liked riding his bicycle, but it had been stolen. Landau said, "I figured we could do something to remedy that situation."
Landau tapped the nearby non-profit organization, The Green Lizard Foundation. It is a community-based group of positive, civic-minded individuals who banded together with the owners of Green Lizard Cycling. Founded on the principle that every young person should have the ability to lead a healthy, active lifestyle regardless of his or her financial circumstances, the Foundation took the responsibility to provide a new bike and lock for Bamilak.
"I'm glad that the Foundation can help folks. This is what the Foundation is all about at the end of the day, to help the community. Get somebody back out on a little exercise or get them transportation. That's why we want to do these kinds of things," said Dave Meyer.
Late in the afternoon on Wednesday, Feb. 3, Bamilak, his mother, Wubitu Tekeltision, and father, Alemayehu Ayno, Dave and Beth Meyer, owners of Green Lizard Cycling, Landau, and Goldman, gathered on the front porch of the historic house that is the home of Abrams Landau, Ltd. Law Firm. Landau and Dave Meyer excused themselves, and a few minutes later, wheeled out a bright green Roadmaster Granite Peak Boy's Mountain Bike. After learning how to shift the gears, Goldman asked Bamilak about wearing his helmet. Spontaneously raising his right hand, Bamilak said, "I solemnly swear I'm going to wear my helmet at all times while riding my bike."
Landau said they had some 300 helmets they weren't able to give away at schools and centers because of COVID safety restrictions. "We were worried that we were not able to protect anyone, but with the Green Lizards' help, with the Safe Routes to Schools Program, which has been giving out six, twelve, twenty-four helmets at a time, by driving by… we've managed to give away quite a few helmets," he said.
If you know of a school or a local group that could benefit from the helmet giveaway program, email education@landaulawshop.com or call 703-796-9555.