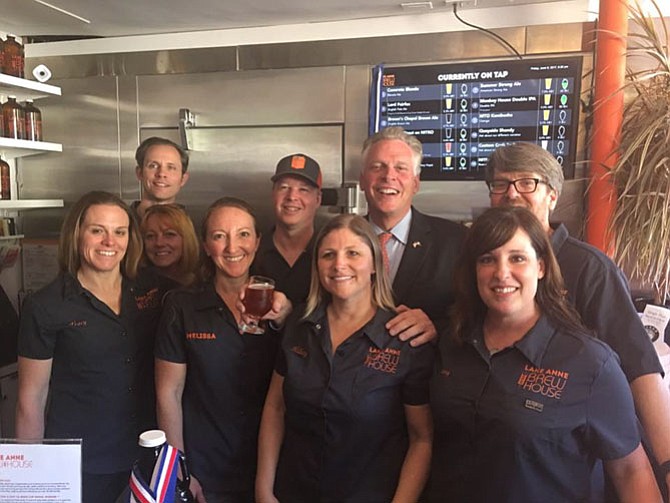 Reston — The Lake Anne Brew House and its five flagship beers started getting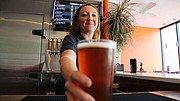 recognized just four months after opening its doors next to the dock at Lake Anne Plaza last year.
Lake Anne's craft brewery entered some beers into the Virginia Craft Brewers Guild's 2016 Virginia Craft Beer Cup and came back with medals: Silver Medal for its Lord Fairfax English Pale Ale in the British Bitter Category and a Bronze Medal for its Reston Red in the American Amber Ale Category.
The prizes for its small-batch brews keep rolling in.
In May, Virginia Living Magazine named the brewery the "Best Local Craft Brewery" in the state.
"That was a really amazing and surprising accolade to receive for being so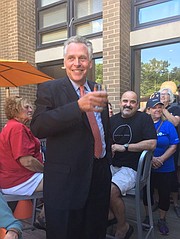 small and so new," said Melissa Romano, owner of the Lake Anne Brew House.
Melissa is an architect by training while her husband Jason, who is also an owner, has been brewing his own beers at home for more than 20 years.
"For me, putting together the design of the tap room and building out the brewery was really fun," she said. "For Jason, it was all about the beer and taking his recipes from a home brew level to a professional level. We just both had things that we thought we were pretty good at and it was nice that we were able to both use our skills to build this brewery."
VIRGINIA GOV. Terry McAuliffe even took notice of Reston's revered brewery and visited Lake Anne Plaza on Friday, June 9, to take a tour and sample some beer.
"Everything that we make is all made in house," said Romano. "We maintain a pretty good variety of styles on tap all the time, usually between five and eight different beers on tap."
The brew house also serves craft sodas and kombucha, a fermented tea beverage that is made by adding a symbiotic culture of bacteria and yeast to a solution of tea and sugar. During the fermentation process, the cultures metabolize the sugar and tea components to render a naturally carbonated beverage, with a slightly sweet-tart flavor, according to the Kombucha Brewers International.
Patrons can also get their caffeine fix by ordering nitro cold brew coffee, which is supplied to the brew house weekly by Herndon's newest coffee bar and roasting factory: Weird Brothers Coffee.
"I like to consider myself a dark and malty girl," Romano said. "I like a rich, dark, malty beer. Our Brown's Chapel Brown Ale is my favorite."
Though she lets the seasons guide her palate.
"Right now, we have a French farmhouse ale on tap," she said. "It's called a Saison and it's really delightful, perfect for the weather this time of year."
After more than a year in business, the Romanos entered more of their beverages into the Virginia Craft Brewers Guild's 2017 Virginia Craft Beer Cup. The awards ceremony for the competition was held on Monday, June 5, in Richmond. A total of 356 beers in 24 categories entered the competition. Lake Anne Brew House had a three-medal sweep for the following brews:
Lord Fairfax English Pale Ale: Bronze Medal, British Pale Ale Category
BEER RUN Recovery Ale: Silver Medal, Brown British Ale Category
NYE 2017 Belgian Golden Strong: Gold Medal, Belgian Ale Category
THE AWARD-WINNING beers from the Lake Anne Brew House and others from around Virginia can be sampled in one place during the Sixth Annual Virginia Craft Brewers Fest on Saturday, Aug. 19, at the IX Art Park in Charlottesville.
"I hope everybody will come visit us," Romano said.
See more on video: https://vimeo.com/221119833