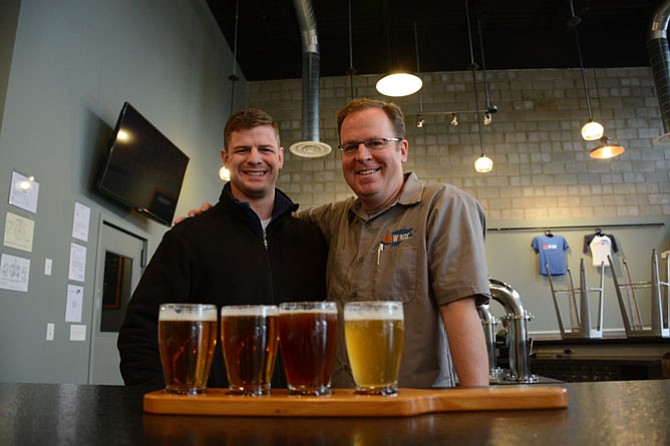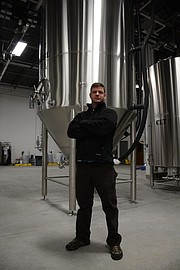 With the capacity to churn out over 4,000 barrels annually, Fair Winds Brewing Company in Lorton can claim the title of Fairfax County's largest packaging brewery. Though with more of a predominance of self-contained brewpubs like Mad Fox Brewing Company, Sweetwater Tavern and Gordon Biersch, it's also about the only brewery in the county that will both serve its beer onsite and package it to be served elsewhere.
"In a world where everyone is going local, there was no local brand" for packaged craft beer, said Falls Church resident and Fair Winds founder Casey Jones. In Fairfax County, he said, "there's great demographics and disposable income."
Jones, who spent 12 years in the U.S. Coast Guard, has brewed beer for years on his own and had dreamed of opening his own brewery. In 2013, he decided to follow it and began the process of transforming two suites of 7000 Newington Road in Lorton into a 12,600 square-foot brewery and tap room.
After navigating the zoning and licensing processes, they moved into the space at the end of the summer in 2014 and began construction on the brewery.
Jones' head brewer Charlie Buettner of Burke was formerly part of the brewing team at Mad Fox, where Jones got to know him as a regular. "I was a huge fan of his brewing expertise, and he's a great guy," said Jones.
Nautical and military influences are both strong and subtle around the tap room, with plenty of stainless steel and aircraft carrier-gray surfaces, and "thirst mate" serving staff.
But Jones said they also plan to be very veteran-friendly at the brewery, in hiring, offering special discounts and holding events honoring and celebrating their service.
After the Fair Winds doors first swing open to the public on March 4, the brewery will have four varieties on tap: a light, golden Kölsch-style ale, a crisp American pale ale, a more complex Belgian-style red ale and a West Coast-style India pale ale. Eventually Charlie, Casey and crew will add seasonal-release beers and a more creative "brewer's reserve" series.
Fair Winds Brewing Company is located at 7000 Newington Road, Suites K & L, in Lorton. The taproom is open Wed-Fri 4-8 p.m. and Sat. 12-9 p.m. For more information, visit www.fairwindsbrewing.com.