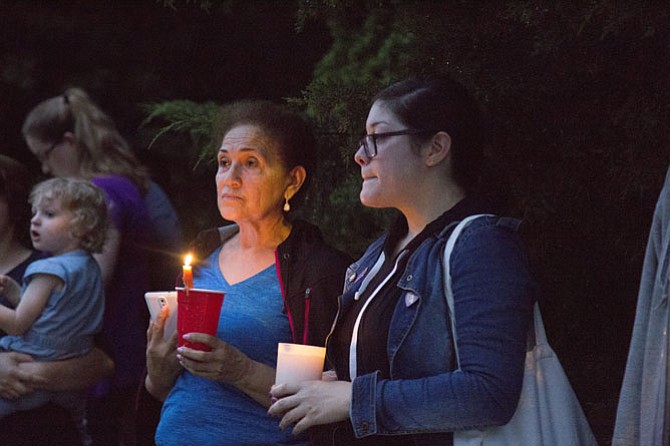 Reston — Darwin Martinez Torres, 22, of Sterling was charged with killing 17-year-old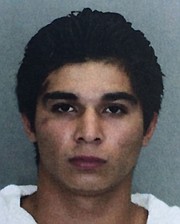 Nabra Hassanen of Reston in what police are calling a deadly case of road rage, according to the Fairfax County Police Department.
"There is nothing at this point to indicate that this tragic case was a hate crime," Julie Parker, spokesperson for the FCPD said during a press conference on Monday, June 19. "No evidence has been recovered that shows this was a hate crime. Nothing indicates that this was motivated by race or by religion."
Hassanen, a sophomore at South Lakes High School, was reported missing on Sunday, June 18, around 4 a.m. near Dranesville Road and Woodson Road in Herndon, which is in Fairfax County.
A group of as many as 15 teenagers were walking and riding bikes on Dranesville Road after attending an overnight event for Ramadan at a mosque in Sterling, which is in Loudoun County. The teenagers were traveling from the All Dulles Area Muslim Society, known as the ADAMS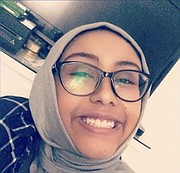 Center, to a restaurant, according to police.
As the teenagers were returning to the mosque from the restaurant, some were traveling on the sidewalk while others were on the road, according to police.
DETECTIVES BELIEVE Torres came upon the group in a car when a teenaged boy on a bike in the group began arguing with the driver. Torres then drove his car onto the curb as the group scattered. Witnesses say Torres caught up with the group in a nearby parking lot and got out of his car armed with a baseball bat. He then caught up to Hassanen, whom police believe was on foot, and assaulted her with the bat, according to police.
"It appears the suspect became so enraged over this traffic argument, that it escalated into deadly violence," Parker said.
Detectives close to the investigation were unwilling to provide details about the argument that incited Torres to murder.
"No, there was no indication of racial slurs or any kind of a back and forth, other than a verbal argument," Lt. Bryan Holland of the FCPD's Criminal Investigations Bureau said during the press conference. "It was just an argument between a driver and a bicyclist that was in the roadway and that's all I want to go into at this point," he added.
Holland was also unwilling to divulge details about a second assault the victim endured.
"There was an assault that occurred in Fairfax County and another assault that occurred in Loudoun," he said.
After Torres's initial assault, he took Hassanen in his car to a second location nearby in Loudoun County, according to police.
"At this point, we don't want to disclose [the location]," Holland said.
When Hassanen's friends could not find her when they regrouped at the mosque after the altercation with Torres, police were called to help, according to police.
Patrol officers from the Fairfax County Police Department and Loudoun County Sheriff's Office immediately began a search. A police helicopter, K-9
"We were overwhelmed by calls, by emails, by visits by the interfaith communities. Pastors are coming and calling, rabbis are calling and coming over. That's the love that overcomes the hate."
— Rizwan Jaka, ADAMS Center chairman of the board
teams and search and rescue teams searched for the missing and injured teen, according to police.
While searching, one officer saw a car driving suspiciously in the area and stopped it. The driver, later identified as Torres, was taken into custody as a suspect, according to police.
Around 3 p.m. on Sunday, June 18, the remains of a female were found in a pond in between two office buildings on Ridgetop Circle and the Fields at Cascades apartments on Huntington Square in Sterling, approximately 4 miles from the mosque.
The Office of The Chief Medical Examiner of Virginia conducted an autopsy on Monday, June 19, confirming the identity of the remains to be that of the missing Reston teenager, according to police.
The autopsy results showed Hassanen suffered from blunt force trauma to the upper body, according to police.
TORRES IS BEING HELD without bail and police are not searching for other suspects, according to Parker.
Since police report that assaults occurred in both Fairfax and Loudoun counties, it is undetermined where the criminal case against Torres will be tried, according to Holland.
While police do not think Torres's motive for the murder was bias-related, they will not know for sure until the investigation is complete.
"If during the course of this ongoing, active criminal investigation, information or evidence surfaces that would indicate that this was potentially hate motivated, at that point, detectives would obviously take the investigation in that direction," Parker said.
Sharon Bulova, chairman of the Fairfax County Board of Supervisors, stepped in to reiterate this fact during the press conference.
"Law enforcement will not know for sure until the investigation uncovers all of the facts in the case," Bulova said. "This is still an ongoing investigation. While the police work to uncover the motive, the fact remains that any violent murder is a senseless and a hateful act."
Though Muslim community members were grateful for law enforcement's swift actions, in the wake of the FCPD's press conference, they encouraged police to continue investigating the motive for the murder.
"We call on law enforcement to investigate all aspects of the motive," said Rizwan Jaka, ADAMS Center chairman of the board. "All angles of the motive must be investigated thoroughly. The perpetrator must be prosecuted to the full extent of the law."
Law enforcement intends to seek the harshest punishment for Torres.

"I can assure you that while justice will not bring Nabra Hassanen back, justice will be done as the suspect in this brutal attack is in custody and will be prosecuted to the fullest extent of the law," Lt. Col. Tom Ryan, FCPD deputy chief of police for administration, said during the press conference. "I say to our Muslim community and to our Fairfax community as a whole, that the Fairfax County Police Department is committed to your safety and that when crimes such as this occur, our officers and detectives take it personal."
DURING THE MONTH of Ramadan, a prayerful time for Muslims to connect with God, family and community, the tragic situation was heightened, sending waves of shock and anger throughout the country.
"The community is together every night," Jaka said. "This affects everyone's heart in the deepest fashion."
Hassanen's Muslim community was particularly stricken.
"The community is grieving," Jaka said. "The community is in shock and we're trying to counsel the whole community and counsel the youth. Regardless of what the motive was, this was a heinous and horrific murder and tragic."
Jaka remains hopeful and is heartened by the show of support the mosque has received from around the state.
"Basically, the outpouring of support from the Christian community, the Jewish community, Hindu, Sikh, Buddhist, Bahá'í; everyone is comforting to us," he says with tears in his eyes and emotion in his voice. "People care so much and it means so much to us."
Gov. Terry McAuliffe, Lt. Gov. Ralph Northam, U.S. Rep. Barbara Comstock, Fairfax County and Loudoun County Board of Supervisors and other government officials have issued statements of support and sympathy for Hassanen's family and the grieving Muslim community.
IN AN ACT OF SOLIDARITY, a group of nearly 40 community members showed up on Monday, June 19, to stand watch as Muslims entered the ADAMS Center mosque in Sterling for their evening Ramadan prayers.
"She didn't deserve to die," said Laura Fuents of Sterling, who held a lit candle as she stood on the sidewalk outside of the mosque. "I can't even imagine what her family is feeling."
"I've been living here for over 30 years and it's very sad that something like this happened in our neighborhood," said Isabel Membreno of Sterling, who also stood while holding a candle that was burning brightly.
"They've extended their support, so it means a lot that we can come together," Jaka said. "God tells us in the Quran that we must respond to bad with good. It just shows the love that overcomes the bad."
Online fundraisers on LaunchGood and GoFundMe are raising money for Hassanen's family to cover funeral expenses and other needs with a combined goal of $365,000. As of the morning of Tuesday, June 20, the campaigns raised a total of $327,305 from more than 12,000 contributors nationwide.
The South Lakes High School Muslim Student Association is organizing a "Vigil for Nabra" event at Lake Anne Plaza at 6:30 p.m. on Wednesday, June 21.
"We have to always remember, respond to bad with good," Jaka said. "We have to show more love, more harmony. We were overwhelmed by calls, by emails, by visits by the interfaith communities. Pastors are coming and calling, rabbis are calling and coming over. That's the love that overcomes the hate."