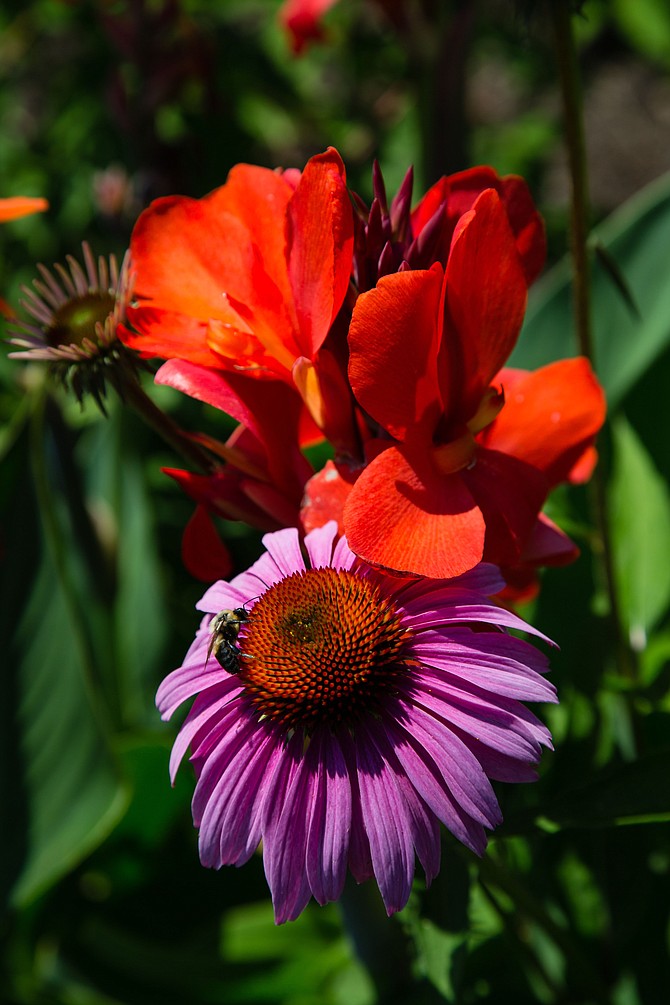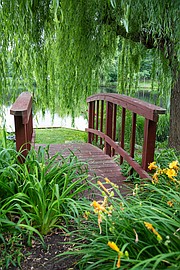 During the last eight days of April every year nearly 26,000 visitors tour homes and gardens across Virginia.
This year, Historic Garden Week features 30 tours organized and hosted by 47 Garden Club of Virginia member clubs. Nearly 250 private homes, gardens and historic sites will be open. For nearly a century the Garden Club of Virginia has been committed to preserving the beauty of Virginia for all to enjoy. Garden Club of Virginia members were early leaders in conservation and environmental concerns. Tour proceeds fund the restoration and preservation of more than 40 of Virginia's historic public gardens and landscapes, a research fellowship program and a centennial project with Virginia State Parks.
RESTON TOUR Tuesday, April 25
Reston was once a summer playground for fashionable Washingtonians during the 1800s. This Fairfax County locality became the first modern post-war planned residential community in America when it was developed in the 1960s, sparking renewed interest in planned communities. Brainchild of Robert E. Simon, Reston was imagined as an urban landscape in a rural setting – a place to live, work, and play, both vibrant and peaceful. Neighborhoods nestled around lakes and intertwined with lush gardens, green spaces, and walking paths are just minutes away from the effervescent hub of Reston Town Center's art galleries, shops, restaurants, and year-round outdoor entertainment. This walking and driving tour features a transitional house and garden, three modern homes with gardens on Lake Newport, and a garden-only site.
Hosted by Garden Club of Fairfax, the tour headquarters and facilities are at The Lake House, 11450 Baron Cameron Ave., Reston.
Tickets, maps and restrooms are available on tour day.
Tickets: $40 per person available on tour day, and at homes open for tours.
Advance tickets are $30. See www.vagardenweek.org. By mail before April 10, send a self-addressed stamped envelope and check made out to "The Garden Club of Fairfax" to Marty Whipple, 11508 Yates Ford Road, Fairfax Station, VA 22093. 703-978- 4130. Fairfax@vagardenweek.org.
Google Garden Club of Fairfax for detailed information and a list of local retailers selling tickets.
Complimentary refreshments will be served 10 a.m. to 3 p.m. at the Lake House. Reston Town Center, Lake Anne, and North Point Village Center are minutes away and offer a variety of eateries and lunch options for visitors.
The hospitality center and tour headquarters is located in the lake House, a newly renovated building. There are two rooms for public use, the Lakeside Room that offers access to the deck overlooking Lake Newport (50 person capacity) and The Lake View Room (100 person capacity) that has a natural light-filled setting with a fireplace. For more information visit www.reston.org.
The Walker Nature Center, 11450 Glade Drive, Reston, will be open to visitors from noon to 3 p.m. on Tuesday. Resident naturalist will be on hand to answer questions. Tours are self-guided. See www.facebook.com/walkernaturecenter. The Walker Nature Center provides a variety of educational and recreational resources, programs and facilities. Through the use of direct experiences and interpretive media, the mission of the center is to foster good environmental stewardship in the community. The center was named after Reston's first Open Space and Nature Center Director, Vernon J. Walker who was hired in 1967. Walker believed in a healthy coexistence of nature and people. It features: LEED Gold education building known as Nature House, 72 acres of woodlands, one mile of loop trails, picnic tables and pavilion, pond, trailside benches, interpretive signs, memorial sundial, demonstration naturescaping gardens, the Glade Stream Valley, and Snakeden Branch stream's entrance to 44-acre Lake Audubon.
Reston Town Center opened in 1990 with the opening of the block between Library Street and Presidents Street, including the center's hub which features the 20-foot Mercury Fountain designed by the sculptor Saint Clair Cemin. With the open air glass Pavilion added in 1993, this is a community destination for shopping, dining, special events, and ice skating in winter. It has expanded to become a outdoor venue offering more than 50 retailers, more than 35 restaurants, luxury residences, a four-diamond hotel, multi-screen cinema, as well as, host to several festivals throughout the year.
Lake Anne Village Center is home to independently owned retail, dining, and service establishments. Dine in restaurants featuring both ethnic and traditional American menus, take a picture sitting beside the bronze statue of Robert E. Simon, take a nature walk around the lake, select a hand-crafted chocolate, pick up a special treat or toy for your pet, or find the perfect gift for your favorite bibliophile. Free wi-fi is available throughout the plaza. North Point Village Center is situated in the heart of this year's tour, offering an appealing variety of dining establishments and specialty stores.
1119 Round Pebble Lane Garden only: This 20-year-old garden completely surrounds the home and provides the owners with the space for both sun-loving and shade-loving plants, shrubs and trees. An experienced master gardener at a local garden center, Kate Buschelman inherited her mother's love of gardening. Solely planted and maintained by the owners, this property expresses their love of color, foliage and their vision of serenity among relaxed wandering paths. The walkway to the front explodes with a myriad of color and texture from numerous spring annuals and bulbs, many in blues and whites, and sun-loving flowering plants. On the corner lies a bank of showy seven-foot-tall budding "Limelight" hydrangeas. The tranquil back garden beckons a meandering walk through a sun-dappled, woodland setting in which foliage predominates. Enjoy plantings of hardy begonias, coral bell, euonymus, woodland flax, rhododendron, fern, salvia, and blue speedwell that was "transplanted" by the birds. Trees of river birch, dogwood, 'Sweet Babe' magnolia, holly, and Japanese maple provide the upper and mid-story canopies. Visitors will see an 80-year-old symmetrical four-trunk chestnut oak. A collection of blue pots, baskets, sculptures, and whimsies dot the landscape and provide splashes of color and interest. Kate and Gary Buschelmanare the owners.
11310 Stones Throw Drive: The stone and brick path to the house features an English cottage garden with colorful annuals and perennials planted to provide interest year round. This 1998 home incorporates traditional elements with an open floor plan and lofty ceilings that allow for an abundance of natural light. The first floor includes an array of furnishings, from 18th century English antiques to 20th century American Impressionist art. The eclectic mix includes Winston Churchill portraits, an 1893 crazy quilt, a butterfly collection from French Guiana, Mongolian works from a National Geographic photographer, and a painted ostrich egg from South Africa. The family room fireplace granite surround is embedded with fossils. The landscaped backyard is a private retreat, highlighted by a waterfall and pond, multiple patios, a stone bar area, fireplace complete with pizza oven, and a hot tub surrounded by a trellis.
11571 Lake Newport Road: This updated 1989 modern home welcomes visitors with a light-filled foyer. Neutral faux-painted walls, vaulted ceilings, skylights, and a wall of glass across the rear of the home offering a view of Lake Newport and the home's landscaped gardens create a contemporary and airy interior. The great room features original oak floors, a baby grand piano and a set of bongo drums. Artwork and sculptures from Europe and the United States add focal points throughout. The dining room features leaded glass doors, a glass table, and a crystal chandelier. The lower level includes a pool table, a full kitchen, an office, workout room, a view of the grounds, and a wine cellar. The outdoor patio and garden include an array of colorful annuals and perennials, a gas fire pit, recirculating waterfall, and a dock shaded by a willow tree. Cindy and Richard Beyer are the owners.
The Deck House 11569 Lake Newport Road: Built in 1988, this three-level, mid-century modern home is reminiscent of the Frank Lloyd Wright style. Construction is post-and-beam with high ceilings of solid 3¾-inch cedar and fir beams. The wall of windows with expansive lake views and rich, natural wood floors, walls and ceilings, bring the outdoors in. Taking advantage of the dramatic south-facing waterfront setting, natural energy sources are used for cooling and heating with a thermal reservoir in the limestone floor of the conservatory providing heated air released into the heating system. The deep roof overhang and energy efficient windows promote cooling in summer. Art collections featuring local and international artisans and treasures passed down from family are displayed throughout the home. The living-room art collection includes a granary door from Mali, a Cezanne etching, a boat paddle from Liberia, a large painting by the homeowner, a pair of mid-century modern sculptures and a pinhole sepia print of a pier in Ireland where Lezley was born. The solarium houses the owners' bonsai and orchid collections. The garden's two ponds, waterfall and fountain attract many varieties of birds. A brick patio framed by two large willows leads to three lakeside flower beds providing habitat for birds and butterflies. Lezley McIlveen and Donald Wright are the owners.
Windchimes 11566 Lake Newport Road: Indoors and out, this multi-level contemporary home with views of Lake Newport from almost every room reflects the homeowners' love of waterfront living, art and the Southwest. Built in 1986 with an open floor plan and soaring ceilings, light streams in through large windows and skylights; the two large round windows are the signature feature of the 1980s Reston CP1 architectural style. Collections of contemporary pottery, glass, sculpture, paintings and natural wood artwork by local and Southwestern artisans are displayed in every room. Furnishings are a combination of casual, Asian, custom made and artisan pieces. In the living room is a carved rosewood table depicting elephants that was a wedding gift to the owner's grandmother when she lived in India. Translucent capiz shells in the dining room chandelier become soft windchimes in the breeze from a nearby window. The loft and sitting room are filled with Southwestern collectibles including floor coverings, textiles, ceramics, lamps and paintings. Mature trees shade the deck, providing a perfect setting for outdoor dining, entertaining and enjoying sightings of bald eagles, hawks, herons, native songbirds, ducks, geese and large turtles. Colorful blown-glass spikes are found throughout the garden, along with blown-glass balls in the courtyard pond. The woodland garden has Japanese maples, redbud, mature oaks, grasses, hostas and rhododendrons, with native water plants along the lake. Robin and Steven Greenstreet are the owners.
Leesburg and Oatlands Sunday, April 23
Oatlands is one of the last of the great houses built by the descendants of Robert ("King") Carter. Construction began in 1804. It was altered in 1827 to reflect the Federal style. George Carter laid out the terraced gardens and designed the greenhouse and forcing wall. In 1903 Oatlands was purchased by Mr. and Mrs. William Corcoran Eustis, who turned it into their summer home and restored it to its former glory, enhancing and enlarging the garden while remaining faithful to its original design.
Conveyed to the National Trust for Historic Preservation in 1965, the Garden Club of Virginia completed its first restoration project there, of the north forcing wall, in 1992. Two years later, English boxwood that had fallen prey to "boxwood decline" were replaced on the affected terraces using proceeds from past Historic Garden Week tours.