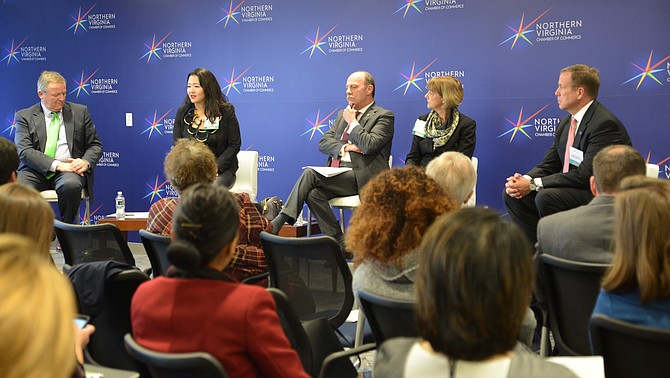 The Northern Virginia Chamber of Commerce gathered some heavy hitters to offer their thoughts and answer questions from a standing-room-only audience at the "State of Hospitality Under the New Administration" symposium on March 6. While they weren't forecasting a banner year, the panelists were cautiously optimistic about how the local industry would fare under the new administration.
Barry Biggar, president and CEO of Visit Fairfax since 2008, with tenures in similar positions for Convention and Visitors bureaus in Texas, Kentucky, and Calgary, Canada.

Mark Carrier, senior officer with D.C.-based B.F. Saul Hospitality Group, owners and operators of business class hotels, including the Hay-Adams. Carrier is also the current chairman of the American Hotel and Lodging Association, the advocacy voice for the industry.

Chris Klauda, director of Destination Research for STR, the company that has been providing metrics, trend information and benchmarking for the industry since 1985.

Carroll Rheem, vice president, Research and Analytics for Brand USA, the public-private organization established by the Travel Promotion Act in 2010 to promote the United States as a premier travel destination.
THINGS HAVE BEEN LOOKING UP of late. While the economic woes that began in 2008 did not hit the region as hard as they did other parts of the country, lodging had not begun experiencing any real return to pre-crash prosperity — until last year, according to Biggar and his panel colleagues.
"Revenue per occupied room (RevPar) was up 5 percent locally, versus 3.2 percent nationally," said B.F. Saul's Carrier, who added that it "had been a while" since the region had outperformed the country in these statistics. Carrier placed the blame on sequestration and the effects of budget cuts and government shutdown threats for keeping the DMV's hospitality sector depressed in comparison to other U.S. markets.
Biggar concurred. "Seque-what?" is a response he said he has frequently received when asking peers around the country if the mandated budget cuts had affected hospitality in their localities. In 2013, when the rest of the nation was beginning to rise from the downturn, the negative impact of sequestration meant that all industry sectors and economic drivers in this region couldn't keep pace.
In addition to the increases in RevPar in 2016, occupancy rates have also been on the rise: "71.3 percent in Fairfax County are the latest figures for last year, "again, something we haven't enjoyed for a while," said Biggar.
Being a "company town" can also have its benefits, as well as its disadvantages. Carrier and Biggar both saw opportunities in the proposed funding increases for the military. Those benefits may be more largely felt in the southern part of the states, if monies are allocated to building new naval vessels and equipment, but increased support services in Northern Virginia could also translate into additional room nights for local lodging establishments.
The overall positive outlook of the panel members came with some concerns and cautions of challenges by the industry experts.
Brand USA's Rheem noted that airline bookings, an important measuring tool used to predict lodging trends, were down significantly since the start of the year.
"Vacation travel is a lot about emotion," said Rheem. Travel bans and the perception of cultural divides can create an atmosphere of personal insecurity, and "security always ranks at the top of travel surveys," added Biggar.
Rheem has found in her research that travellers from Canada and Europe, "and, to no one's real surprise, Mexico seem to view the new administration the most negatively." More discretionary travellers from those places indicate that they will wait and see how things shape up before visiting the United States, as opposed to Chinese and other Asian travellers for whom politics seem less of a factor in their travel decisions. "In some places, we use local voices to push our message that the U.S. is still a great place to come to," said Rheem.
Biggar held up an article from a newspaper in Canada that suggested its citizens also wait, "maybe as long as four years. The Grand Canyon and Disney World will still be there."
Brand USA has also found that currency rates are playing a big role in travellers' choices. For other than political reasons, many Canadians and others are choosing Mexico for their sunshine holidays. "Why not?" remarked Rheem. "Mexico is 30-40 percent cheaper, the U.S. 20-30 percent more expensive right now."
BUDGET AND POLICY uncertainties add to the concerns that hoteliers and other Northern Virginia businesses have when trying to assess the impact of the new administration on the regional economy. Reports that major cuts to agencies and programs like the National Oceanic and Atmospheric Administration, the Federal Emergency Management System, and even the Coast Guard, as the President seeks ways to pay for the promised protective wall along the country's southern border, have all local business on high alert.
Still, when asked by event moderator Jim Corcoran, the CEO of the Northern Virginia Chamber of Commerce, if they voted "positive or negative" for the 2017 hospitality outlook, all four of the panelists ultimately gave their thumbs-up.
"Of course, it's early days," said Biggar, "but in the long run, Trump knows our business. He is all about trade. This could be a positive."