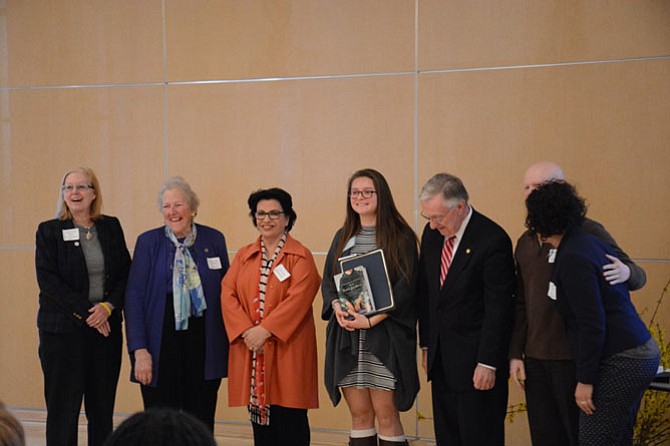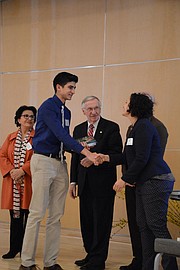 Suraya Sadeed said hearing more than 20 stories of students promoting peace in and out of their schools made her believe "there is still hope for a brighter future."
Sadeed is a native of Kabul, Afghanistan who made a new home in the United States in 1982, fleeing the aftermath of the Soviet invasion. She founded the non-government organization Help the Afghan Children and is author of "Forbidden Lessons in a Kabul Guesthouse."
The former owner of a real estate company, Sadeed has risked dangerous situations to deliver humanitarian aid to women and children in war-torn Afghanistan. On Sunday, March 12, she addressed high school students from around Fairfax County being honored at the Student Peace Awards.
Sadeed spoke about the importance of promoting peace through education, as a preventative measure against bullying, hatred and violence later in life.
"The cost of providing peace education to 8 million children in Afghanistan is less," she said, "than buying one military plane."
The student peace awards are offered in all Fairfax County public high schools and some private schools. Schools choose their winners based on their work to promote peace as well as prevent causes of violence: poverty, discrimination and injustice.
Each of the individual or groups of students not only took action for peace, but did so with creative, entrepreneurial energy — founding clubs, organizing charity projects, leading training sessions or creating documentary films.
Fairfax County School Board chair Sandy Evans said she was deeply impressed with the work of the students being honored at the Stacy Sherwood Community Center in Fairfax, from anti-bullying to human trafficking awareness to anti-genocide.
"Few goals are more important in the world today," Evans said, "than promoting peace, acceptance, kindness and tolerance."
Evans was joined in congratulating the students by fellow board members Ryan McElveen (at-large) and Dalia Palchik (Providence).
Fairfax County Board of Supervisors vice chairman and Mason District representative Penny Gross (D) read a letter of recognition from board chairman Sharon Bulova that thanked the students for their commitment to peacemaking.
All the students have come together, Gross read from Bulova's letter, "in one goal, strengthening peace and unity."
Del. Kenneth Plum (D-36) joined the other elected officials in congratulating the award-winners.
The 2017 Student Peace Awards of Fairfax County winners are as follows, bios according to the event program:
Ethan Mirani, junior at the Cedar Lane School in Vienna
Mirani was a member of the school's Anti-Bullying Commitee for two years and worked to grow the group as well as plan activities and keep things organized.
Jasmine Howard, senior at Centreville High School
Howard organized members of the Centreville Key Club to sell 240 wristbands from Guatemala, made out of leather and pieces of coconut shell with colored string, raising $1,700 in sales and donations that went back to the wristband artisans and disadvantaged foreign youth.
Shaan Chudasama, senior at Chantilly High School
Chudasama co-founded and is vice president of Young at Art, a non-profit organization using art-related activities to improve the quality of life of seniors, less fortunate children and veterans. With his sister, the other co-founder, they've partnered with the Special Olympics and Sunrise Assisted Living.
Vanessas Mae Avendano, senior at Falls Church High School
Avendano is vice president of Falls Church's Lesbian, Gay, Bisexual and Transgender club and also founded Falls Church High School United, a group of clubs united to spread peace and acceptance. The group has produced a series of videos dealing with anti-bullying and giving respect.
Sabah Munshi, senior at Hayfield Secondary School
Munshi helped organize a project called Walking for Water and raised both awareness of the world's water crisis and more than $2,000 for the Tap Project by UNICEF. She has also volunteered at Virginia Hospital Center in the renal unit.
Surabhi Khanal, senior at Herndon High School
Khanal has been a member of the Herndon Leo Club and founded MedLove, Inc, a non-profit organization with the mission of helping rescue women in the United States and abroad who are human trafficking victims. Through the Key Club, Khanal and other students also organized a benefit gala to raise awareness of local trafficking and $3,000 for combatting HIV and AIDS in her native Nepal.
Naba Khan and Shafia Tala, juniors at King Abdullah Academy in Herndon
Khan and Talat founded the organization Women of the World (WOW) to promote women's rights and help women struggling with homelessness, hunger, oppression or abuse. Some of their projects include opening a sewing institute in Nalgona, India and fundraisers involving the whole student body.
Jamie Hunstad, senior at Lake Braddock Secondary School
Hunstad set up a Special Olympics program at Lake Braddock, starting with a basketball team and adding track and field. She coaches both teams, and also helped the Rachel's Challenge program find a presence at her school. Rachel's Challenge deals with stomping out bullying and promoting tolerance and inclusion.
Donya Momenian and Chrissie Ivanova, seniors at Langley High School
The two seniors co-founded a chapter of the Girl Up Club at Langley, growing it from two to 30 members who meet bi-monthly. The national and international club empowers young women in education, fundraising, advocacy and service, as well as runs development programs in Guatemala, India, Liberia, Malawi, Uganda and Ethiopia.
Naomi Soquar, senior at Robert E. Lee High School
Soquar helped found a chapter of the Amnesty International Club at Lee — she currently serves as its president. She led club members and volunteers in writing letters against human rights violations, which in one case contributed to two political prisoners in the Democratic Republic of Congo being released. Soquar also serves with Girls Learn International, the Capital Area Food Bank and Habitat for Humanity.
Sean Doyle, senior at James Madison High School
A member of Madison's Amnesty International Club Doyle is coordinating activism with others on such issues as abolishing the death penalty, reducing gun violence and police brutality, and convincing the Vienna Town Council to make Vienna a "I Welcome Refugees" town.
Aidan Kemp, senior at George C Marshall High School
Kemp is the lead senior mentor for the Marshall Freshman Transition program and does community service work through St. Thomas Episcopal Church in McLean.
Josh Leong and Sam Gollob, juniors at McLean High School
The two juniors created a 10-minute film documenting the struggles of Herman Wainggai, a human rights advocate from West Papua who escaped political imprisonment by taking a boat to Australia. "Herman Wainggai: A Hidden Genocide" premiered at the Garifuna Indigenous Film Festival in Los Angeles in April, 2016.
Yosaph Boku, senior at Mount Vernon High School
Boku helped create a program that teaches disadvantaged youth and adults in his community computer skills. The senior also gives groups of counselors feedback, suggestions for encouraging more minority students to take advantage of advanced courses.
Roza Al Barznji, senior at Mountain View Alternative High School
Al Barznji came to the United States three years ago as a refugee from Northern Iraq, and works to help her classmates understand her Kurdish heritage using photography. She's also published seven stories about her own journey becoming a Kurdish American, the people of Syria and refugees in American communities, as well as made a documentary about American Thanksgiving traditions.
Members of Blossoming Beauties at Quander Road School
Young women in the Blossoming Beauties program work on both becoming more well-rounded and confident, as well as carrying out school and community projects together. In 2016, the group raised money for Bethany House shelter for female victims of domestic abuse; they've also also produced fleece blankets for New Hope Housing and their mission to end homelessness. In 2017, Blossoming Beauties is collaborating with A Space of Her Own to target and support fifth grade girls avoiding delinquency.
Narjes Bencheikh, senior at South County High School
The South County senior helped co-found a Muslim Student Association and International Club at her school. The 50-person Muslim Student Association carries out role-playing exercises and discusses issues encountered in the community.
Emily Lockwood, senior at South Lakes High School
Lockwood mentors freshmen transitioning to high school and coaches track for children with special needs. For a school assignment, she worked with the Institute of Peace in Washington, D.C., to find primary and secondary sources looking at improving state and societal relations in Myanmar (Burma).
Maiss Mohamed and Deema Alharthi, juniors at JEB Stuart High School
The Stuart juniors revitalized their school's Model United Nations Club and have become active with Students in Training for Advocacy and Responsibility. They also participate in Key Club, Girls Up and Interact, and volunteer with groups including the Virginia Coalition of Latino Organization.
Members of TJ Minds Matter, Thomas Jefferson High School for Science and Technology
The student-led group offers support for handling stress and disappointment, and provides resources for learning how to engage with someone in a crisis and non-crisis situation. TJ Minds Matter hosted a Mental Wellness Week in January this year, including days dedicated to random acts of kindness and stomping out stigma (surrounding mental illness).
Students with Combatting Intolerance at West Potomac High School
The Fairfax County class Combatting Intolerance was created in 2015 — West Potomac teacher Robert Kerr molds the curriculum around social justice topics, racism, sexism, welcoming immigrant and refugee students, and advocating for the rights of lesbian, gay, transgender and asexual students, staff and other people in the community. The 22-member class raises money to support small local non-profits and sponsored a school-wide Diversity Week.
Rodney Wrice, senior, and Audrey Wever, junior, West Springfield High School
Friends Wrice and Wever started a kindness campaign using candy bars and sticky notes to encourage positive messaging around the time of the 2016 Presidential election.