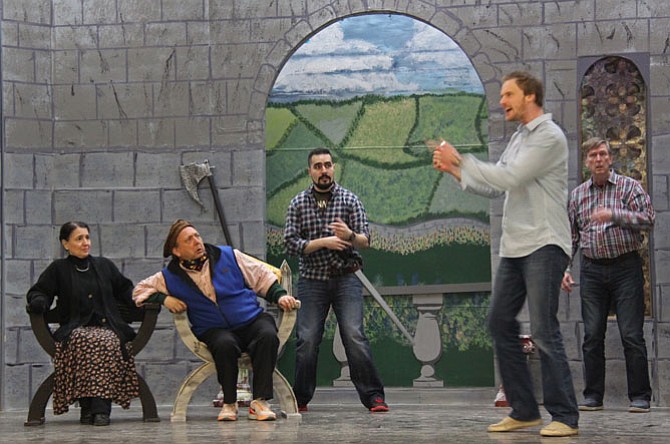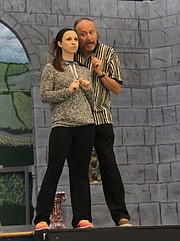 Aldersgate Church Community Theater (ACCT) is presenting "A Connecticut Yankee in King Arthur's Court" from March 24 to April 9. This farce is about a modern-day American who finds himself transported back to 6th century England where royalty, knights, ladies of the court, an all-too-perky page, and a dastardly wizard all come together in a story about political intrigue in the Court of King Arthur.
Producers Jayn Rife and Marg Soroos wanted to do a classic show and decided that humorist Mark Twain had not been done in a long time, and that the community would enjoy it.
Director Rich Amada said using his own inimitable style, Mark Twain wrote the 1889 novel as a lighthearted romp through a period of time known as the Dark Ages, and playwright John G. Fuller tried to remain true to that spirit with his whimsical stage adaptation. "My goal as director is to maintain the darkly comic farce that's the hallmark of this classic tale," he said.
Amada said his greatest challenge was to find a cast that understands how to play comedy. "You know what they say — you can't teach it. Either you're funny or you're not," he said. "This play isn't a drawing room comedy with characters trading clever clips. It's a high-energy frolic, and it needs actors who can't just be funny. We scoured high and low to find just such a cast, and we've got it. It's fun to watch them work."
He added: "I hope the audience enjoys this show as much as we've enjoyed putting it all together."
Colin Davies plays the role of Merlin, an ignorant, pompous, self-centered and self-important sexist. He called him "a man with no redeeming features. Although it is possible that at the end of the play he does have some realization of his serious character flaws," he said.
He said the challenges in his role were trying to make a deeply unpleasant person likeable in some way, making the arcane Old English come alive, and growing a beard.
He hopes audiences take away from the play that "science trumps hearsay; knowledge trumps ignorance; and decency trumps cruelty."
Emily Golden plays the role of Morgan Le Fay, the villainess in the story. "Although she is the sister of King Arthur, she is working to overthrow him with the hope of taking over his kingdom," she said, adding: "Morgan is ambitious and not afraid to go after whatever she wants. She is used to getting her way and the playwright describes her as having a 'black' heart."
She said there were two big challenges for her in working on this piece. "First, it is really hard to memorize Old English. This was the first time that I have worked on a show that uses this kind of language, and I personally really struggled in the beginning with understanding what my lines even meant," she said.
She added: "Second, this is also the first time that I am playing the 'bad' person in the story. It was definitely a new experience for me trying to understand the character of Morgan Le Fay and bring that character to life in a multi-dimensional, realistic way."
The main message of the show was for everyone to just get along, she said. "A lot of crazy, zany and improbable things happen along the way but, in the end, Hank tries to teach everyone that just by being a little nicer, we each can make a little bit of a difference in the world," she said.
Mike Dobbyn plays the role of Hank, a driven no-nonsense kind of man who has a tendency to get worked up when things don't go his way or when people have trouble seeing things from his point of view, which he would most likely deem the correct point of view.
He said his biggest challenge was making the mistake of trying a new method of memorizing his lines for the play. "I spent about two weeks on this method before I finally discovered that it didn't work for me at all. The method I tried works best for auditory learners, and as it turns out, I'm not an auditory learner," he said. "I went back to the method I had used on previous shows that works in spite of it being time-consuming. From my mistake, I hope we can learn a lesson: if you are going to take on a piece of work that is larger than what you are generally used to, stick to your tried and true methods; don't try that newfangled method other people swear by."
He added: "I hope that people walk away from this play with the same lesson I have learned time after time in my own life: Women are always right."
Aldersgate Church Community Theater (ACCT) is presenting "A Connecticut Yankee in King Arthur's Court" from March 24 to April 9. Tickets are $12-$15. Showtimes are Fridays and Saturdays at 8 p.m.; Sunday matinees at 2 p.m. The venue is located at Aldersgate United Methodist Church, 1301 Collingwood Road, Alexandria. Visit www.acctonline.org.