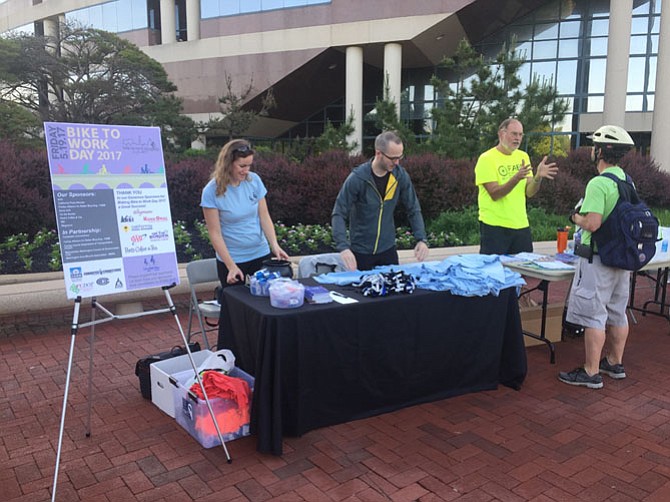 Fairfax — This year's Bike to Work Day was held on May 19, offering numerous pit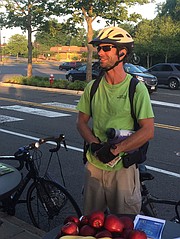 stops to bikers spread throughout Northern Virginia. Alexandria, Arlington, Fairfax, Loudoun and Prince William all participated, designating at least two or more locations for the annual event's pit stops.
Within Fairfax County, pit stops such as Fair Lakes, downtown Fairfax City and the Fairfax County Government Center went above and beyond for visiting bikers. Each stop had a selection of healthy snacks for those who stopped on their bike routes. Bananas, granola bars, oranges, water bottles and other goodies were offered from stop to stop.
There were also designated event t-shirts — this year's shirt is purple — given to registrants at each pit stop.
THE FAIR LAKES refueling stop even provided bikers with Chick Fil A nuggets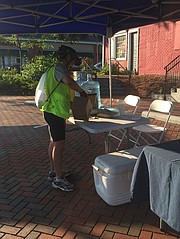 and freshly squeezed orange juice donated from Whole Foods. In addition, A-1 Cycling was present throughout the morning in case anyone wanted a free tune-up for their bicycle.
"The first biker was here when we arrived," said Beth Gallagher, an employee with the Fair Lakes League, who arrived on site at 5 a.m. to start setting up the tables.
One of the first of many bikers to stop by Fair Lakes was Ben Smith, coming from Manassas. He has been biking since he was a kid, but only picked it back up three years ago. Bike to Work Day is something Smith has been participating in the past couple of years to complement his resumed biking habit.

"Fairfax County has a great network of very safe, well-maintained bike trails. People generally observe the crosswalk, it is really safe," said Smith. "For those who are worried about their safety, their fears are unfounded."
The Fairfax Government Center provided bikers with free Fairfax County bike maps, bike lights and reflective ankle straps. Also present were two workers from REI, offering their services to bikers who wanted a tune-up. Under their tent were some more free treats including plastic water bottles, mini bottles of bike lubricant and handkerchiefs.
"We are trying to encourage people to be safe," said Nicole Wynands, a transportation planner with the Fairfax County Government, who was also the organizer of the Government Center pit stop.
Wynands emphasized that biking to work, or any location for that matter, is "not as hard and not as far as you think." In such a case, one could bike to a bus stop and get somewhere from there or drive to a location and then start biking.
THE PIT STOP IN DOWNTOWN City of Fairfax was buzzing with five tents set up, including appearances from the American Automobile Association (AAA), Massage Green Spa and Spokes Etc.
Similar to the Government Center, the AAA tent was promoting bike safety with free giveaways like reflector lights and light-up bracelets.

"Find a friend, find someone who can help map out a commute with you. Use the Fairfax county bike map, it is a great resource for finding a way to get to work or to get to the doctor or supermarket," said Douglas Stuart, a volunteer with the Fairfax Alliance for Better Bicycling.
Stuart has been participating in Bike to Work Day in Fairfax since 2004, but started his tradition in 1998 riding to work in other locations.
Whether it is a national event, or just riding for fun, Sgt. Sean Sutherland, with the City of Fairfax police, reminds drivers to "give bikers three feet." It is important to share the road.