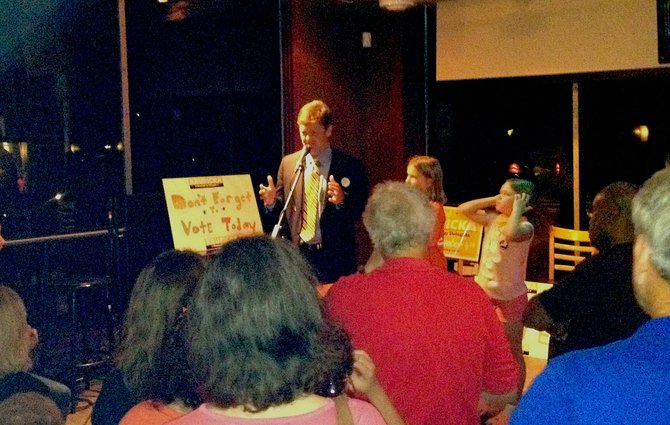 Election Returns
Rob Krupicka : 6,387voes, 76 percent
Tim McGhee: 1,728 votes, 20 percent
Justin Malkin: 288 votes, 3 percent
Write-In: 29 votes, 0.34 percent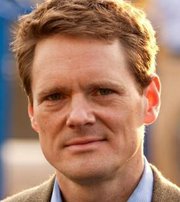 Audio clip
Krupicka Delivers Victory Speech
Back in 2003, a former AOL executive named Rob Krupicka launched his campaign for Alexandria City Council at Fireflies — a popular Del Ray restaurant a stone's throw from the Krupicka house on East Nelson Avenue. Last summer, he returned for what he hoped would be a victory party in a hotly contested race for the state Senate. He lost that race, announcing to the crowd that Fireflies was where he launched his political career and it may be well he would end it.
All that changed this week.
Tuesday night, Krupicka returned once again to Fireflies for a victory party in a special election to fill the vacancy created by former Del. David Englin (D-45). After Englin became caught up in a sex scandal this year, the four-term delegate announced his resignation in June. Although Democrats hoped Republican Gov. Bob McDonnell would call for a special election in November to coincide with the presidential race, the governor instead called for voting to take place on the day after Labor Day, which was also the first day of school in most of Northern Virginia.
"In this community, whether you have five days notice or five weeks notice or five years notice, you're not going to stop us from exercising our civic responsibility," said Krupicka in his victory speech. "You're not going to stop us from standing up for education, for equal pay, for good jobs, for making sure that everyone, regardless of their sexual orientation, has a place at the table, and that is what today is all about."
When asked about the timing of the special election, a spokesman for the governor explained that the decision was made largely to accommodate another special election. Because of the death of state Sen. Yvonne Miller (D-5), McDonnell also had to call a special election in Norfolk. And because the uncontested candidate in that race was a member of the House of Delegates, the McDonnell needed to time the election in a way that would allow for that seat to be filled in advance of the upcoming General Assembly session.
"The governor wanted to have it all wrapped up by November," said state Senate Minority Leader Dick Saslaw (D-35). "Kenny Alexander got elected unopposed to the Senate. His seat is vacated in the House, so that special election will probably be called for November."
ELECTION RETURNS showed a lopsided victory for Krupicka, who was facing Republican Tim McGhee and Libertarian Justin Malkin. Krupicka won every precinct in the 45th District, which stretches from south Arlington to eastern Alexandria into southeast Fairfax County. And it wasn't even close. Krupicka's smallest margin of victory was in the Grosvenor precinct in Mount Vernon, where he had 63 percent of the vote. His largest margin of victory came from the Mount Vernon Recreation Center.
"Rob will bring a staunch platform, a very staunch agenda relative to youth and family initiatives and issues he's always been concerned about, particularly in the area of education," said Alexandria Mayor Bill Euille. "He's going to look at closing the minority achievement gaps and finding ways to increase funding for education within the state budget."
The lightning-fast campaign began with Democratic challenge, when Krupicka had to fend off Karen Gautney. Then Republican Tim McGhee entered the race, posing a challenge for the Democrats in a low-turnout special election that offered the most favorable possible scenario for a Republican candidate. By the time the deadline closed for candidates, Libertarian candidate Justin Malkin also entered the race — offering voters three distinct perspectives. Neither McGhee or Malkin were able to win their home precincts, or any other precinct for that matter.
"Krupicka was the clear choice in this election, and the voters responded overwhelmingly in his favor," said Alexandria Democratic Party Chairman Dak Hardwick. "It means that the representation we have in Richmond is going to continue told the values of this district, the values of openness and transparency and to continue the fight against the war on women."