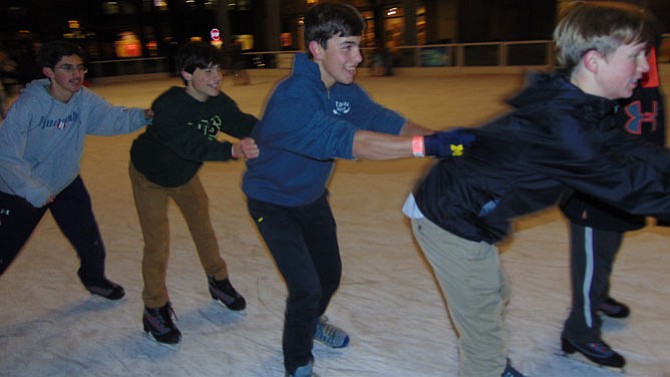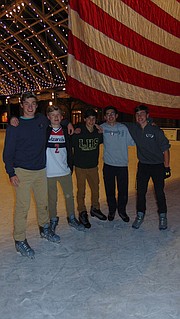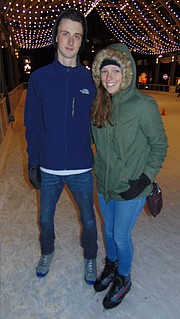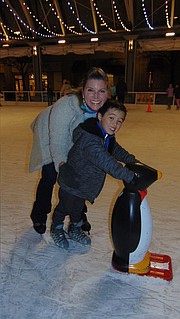 Cooler winter weather is coming. So that means the Reston Town Center Ice Skating Pavilion has officially opened for the season on Friday, Nov. 10, 2017, with a Rock 'N' Skate Party. The event on Fridays from 8-10 p.m. is for mostly teens but allows all age groups; and included a deejay who played family-friendly music. Admission is $10, plus $6 for skate rentals. In future events, they will be offering games such as the Hula Hoop Challenge and the Mannequin Challenge as well as prizes, $5-off coupons, and gift certificates from local merchants, according to Dayna Doukara, a spokesman for Rink Management Services Corporation, which manages the rink.
In addition, they hold Cartoon Skates on Saturdays from 11 a.m. to 1 p.m. during which performers dressed as Scooby Doo, Tweety Bird, Teddy Bear, Snowman, and Dalmatian Dog entertain youngsters ages 4-8 on the ice. Admission is $9; plus $6 skate rental.
College Skate Night is Thursdays from 6 to 9 p.m. If college students show their IDs, they get $2 off the admission, so the cost is $8; plus $6 skate rental.
The rink has a Learn-to-Skate Program on Saturday mornings from 9:30-11 a.m.; cost is $125 for four lessons. They host private and corporate parties as well; cost is $1,250 for two hours for 100 people on Sundays through Tuesdays from 7:15 to 9:15 p.m.
For birthday parties, the cost is $175 for 10 people plus skate rentals. They get a table set up for use for two hours, plus the birthday person receives two free admissions for another day.
For $10, you can rent skate aids, which are statue-like penguins and snowmen for the little ones to help them balance on the ice. The rink, which employs a staff of 18 high school and college students, offers ice skates in sizes 7 Juniors to 15 Adults.
The public skating hours are: Sundays to Tuesdays, 11 a.m. to 7 p.m.; Wednesdays and Thursdays, 11 a.m. to 10 p.m.; and Fridays and Saturdays, 11 a.m. to 11 p.m.
The pricing is as follows: adult admission $10; youth (under 12)/senior (55+)/military $9; skate rentals $6; and 10 admission pass $85.
The Reston Town Center Ice Skating Pavilion is located at 1818 Discovery Street, Reston. Call 703-709-6300 or email skating@restontowncenter.com.