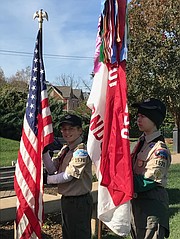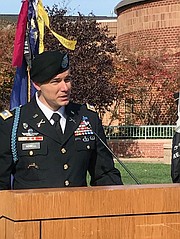 The Town of Herndon and American Legion Wayne M. Kidwell Post #184 held their Veterans Day Observance on Saturday, Nov. 11, at the Veterans Memorial, Town Green, 777 Lynn St., Herndon. Veterans Day is the one day each year all military personnel who have served in the United States Armed Forces are honored.
Dave Womack is the American Legion Post Commander. Womack reminded those in attendance that Veterans Day was initially celebrated to commemorate and mark Armistice Day, Nov. 11, 1918, and to honor and remember veterans who died in World War I.
Lt. Col. James Howell, United States Army was guest speaker at the observance. In his remarks, Howell explained that since the end of World War II, on Nov. 11, veterans of all wars are celebrated to honor their patriotism, love of country, and willingness to serve and sacrifice for the common good. Howell titled his remarks, "A Veteran's Service Never Ends" and told the stories of three men who fought in different wars; the way the men sacrificed themselves, willingly shouldered a heavier burden and lived their lives to serve others. Traits that make a veteran so special.
THE FIRST VETERAN Howell highlighted was Ernie Harmon, a member of the last horse-mounted cavalry unit to fight in battle. Howell reported Harmon was convinced that the horse cavalry was outdated, and embraced the new concept of the tank-based armored force. Sharing Harmon believed World War I, like the next war, was one to end all wars, he quoted Harmon as saying, "The United States Army must be prepared to win it." According to Howell, towards the end of Harmon's life when he was asked about his drive, determination, and why he was so successful in combat, Harmon said, "What a difference a will to win can make!"
The second veteran Howell spoke about was Herndon native Sgt. Wayne M. Kidwell for whom the Herndon American Legion Post 184 was renamed. Howell described Kidwell's deployment to Vietnam and ambush by the enemy. "For three days in 1968... A Company, 1/502nd fought a North Vietnamese force more than twice their size at the village of Ap Dong Lam. After a day of skirmishes, ambushes, and casualties on both sides…Wayne Kidwell from Herndon, Virginia and the men of A Company assaulted the village in the face of a determined and entrenched enemy...who... allowed the soldiers to enter the village and (then) ambushed them... The battle in the village lasted for two more days, and by its end, Wayne Kidwell and nine others 'Strike' Soldiers were killed in action."
Howell shared how 17-year-old Kidwell said, "Send me. I'm willing to serve and sacrifice for the greater good." With reticence in his voice, Howell commented, "I know I didn't have that much courage and conviction at 17. I aspire to have that much character now."
The third Veteran Howell highlighted was his classmate and friend, Mike Erwin who possessed "a drive to change the world." Howell recalled Erwin was never one to settle adding Erwin also understood the best way to reinforce positive relationships in our society was through our children. Moreover, the best environment to teach and foster positive psychology in our children was when they were in school. Howell said, "In 2015, Mike tested his Positivity Project... Two years later, the project is impacting more than 110,000 students across the country in 184 partner schools...39 of those schools are here in Fairfax County.
"By teaching teachers how to implement the program, reinforce the 24 positive character strengths, and instill an 'other people matter' mindset in their everyday activities, Mike is changing the world one school at a time."
In conclusion, Howell stated he intended to honor veterans by telling stories that demonstrated not only the value of veterans to society, but also stories which embodied some of the ideals veterans aspire to achieve: bravery, character, integrity, leadership, perseverance, teamwork, and love.
ADDRESSING THOSE GATHERED, Howell said he hoped his stories inspired those there and they would be more inclined to reach out to a veteran. "And that as veterans… we are greater inclined to continue serving our communities."
The American Legion Wayne M. Kidwell Post #184 thanked the following organizations and individuals for their support: Town of Herndon and the Town Manager, Bill Ashton; Boy Scout Troop # 1570 for their Presentation of the Colors; Scoutmaster Scott Durham; Cooper Middle School Choir in McLean for singing the National Anthem, led by Alexandria Singer; and the Herndon Woman's Club and Jackie Simpson for the refreshments served after the observance.