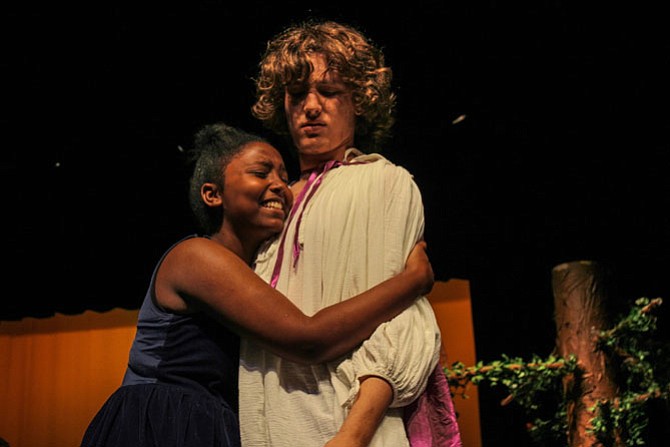 It is safe to say that the course of "A Midsummer Night's Dream" at Thomas Edison High School did run smooth, for a high school theatre group trying to tackle Shakespeare is an extremely difficult task. "A Midsummer Night's Dream" is known for being one of Shakespeare's most popular plays because of its tendency to provoke laughter from the audience very frequently. It also has the potential to look very special with all the fairies and magic. In addition, there are unlimited ways to interpret the play and unlimited time periods and places it can be set in.
In this production, it wasn't always clear what setting, specifically the time period, they chose. While this could be looked at as a strong creative choice, it could be a little confusing at times. Despite the uncertain time period, the costumes of all the characters, especially the fairies, were beautiful. The makeup they had on was also very creative and gave them a little more character.
Another unexpected choice was there being two different Pucks. It doesn't initially sound like a common idea, but it actually worked out very nicely. The two mischievous fairies (Amen Adib and Carina Hines) seemed to be in perfect sync during most of their lines they said simultaneously.
Other noteworthy performances included Nathaniel McCay as Oberon, Sophia Pelakasis as Titania, and Kaitlyn Oliver as Hippolyta. The four lovers also stood out and had great characters that kept the story moving. As Helena, Angeline Ignacio brought incredible drama to her character, despite being in a comedy. She also did a wonderful job making the audience pity her at every moment.
The biggest standouts of the show however, were the rude mechanicals. They worked wonderfully together, bringing excellent comedic timing to each scene, no matter if Bottom was the one with the spotlight. Alex Savage (Bottom) was hilarious throughout the whole play and did not disappoint while playing one of the characters with the funniest lines. Mason Clark as Flute/Thisbe certainly didn't disappoint either. He clearly knew how to make an audience laugh.