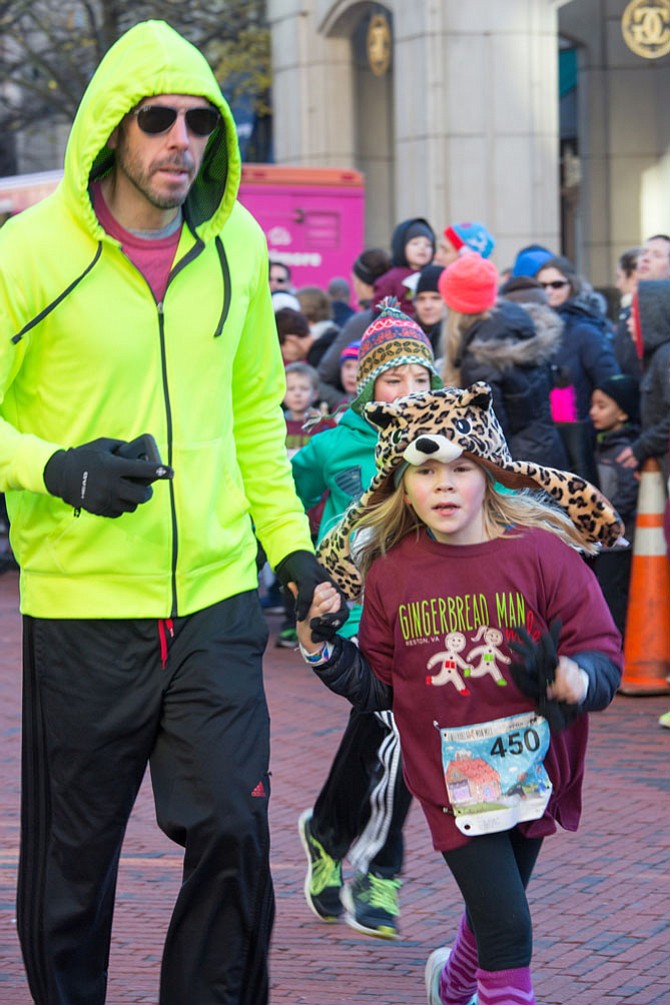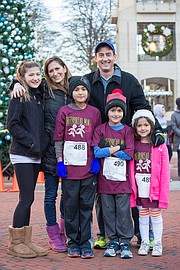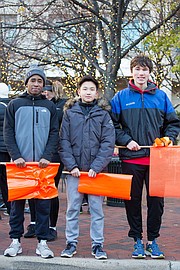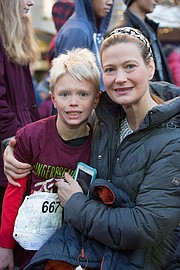 Black Friday was for running, as runners from 6 to 14 years old and their families lined the street for the Gingerbread Man Mile. The 17th annual race was sponsored by Potomac River Running and curled around a few central blocks of Reston Town Center.
The first 500 people to register for the race received a free t-shirt and many families came with more than one child, family members, and even their pets. Benefits from the race went to a local children's charity and the winners took part in the Holiday Parade which followed the race.
"We came to kick off the holidays and for my boys to participate in their first one-miler here. It's a fun run that we do to prepare them for the 5K and it's a lot of fun after the holidays," said Heidi Ryan, of Ashburn, who works for Long and Foster.
Announcer Meredith Tighe provided commentary on the race, encouragement, and announced the start of different age groups for runners.
Mark Stewart was at the race with his daughter and was watching her age group warm up, led by a real live gingerbread man. "This is also my first time at this race, and a race is a nice thing to do after a big meal like Thanksgiving. What a way to cap off a wonderful day," he said.
Terri Marlin, from Arlington, who works with Potomac River Running was in charge of making sure that the race ran smoothly. "The Gingerbread race is a special community kid event to kick off the holiday season," said Marlin.
Members of the Robinson Secondary School track and field team came to the race to volunteer. Some of them were holding orange flags and others led warmups for the racers of different age groups before the start of each section.
"I like to give back to the community. Our coach recommended all of us to volunteer so I thought why not," said Russian Williams, 16, a Burke resident and student at Robinson Secondary.
"I run the 55 meter, and in the spring the 100 and 200 meter. We're too old to run in this race," he said.