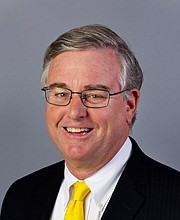 Businessman and philanthropist David Trone will be honored Friday, Oct. 6 at the National Alliance on Mental Illness (NAMI) annual Heroes Celebration.
The award is presented annually to a person or organization the helps in the field of mental health through advocacy or other significant contribution, Sarah Hourwitz NAMI director of development said.
"He is being honored for his generous support of those affected by mental illness and addiction," Hourwitz said. "He and his wife, June, gave $2.5 million to Suburban Hospital for mental health and behavioral services, that will impact the community."
"We respect and admire what he has done," she said.
Trone explained why he feels so strongly that, as a society, mental illness needs to be destigmatized.
"Last year June and I lost our nephew, he was 25, to opioid addiction," he said. "Last year 64,000 people died from opioid addiction. An underlying cause of addiction is often mental illness including depression. We are not doing enough. We need to bring this out in the open and get people the help they need."
Trone, who is co-owner of Total Wine and More, the largest independent retailer of beer, wine and spirits, recently announced his candidacy for the Sixth Congressional District hoping to replace John Delaney, who is giving up the position to run for President in 2020.
"We are just fed up with the inaction in Washington," he said. "we ought to be thinking about how to put policies over politics."
In addition to Trone, NAMI will honor Noelle Gunzburg, Montgomery County Crisis Center Crisis Intervention Team (CIT) instructor of the year, and county police officer Brandon Patrick, CIT officer of the year.
The awards event is open to the public; it is NAMI's main fundraiser. For more information and tickets, visit www.namimc.org/heroes.