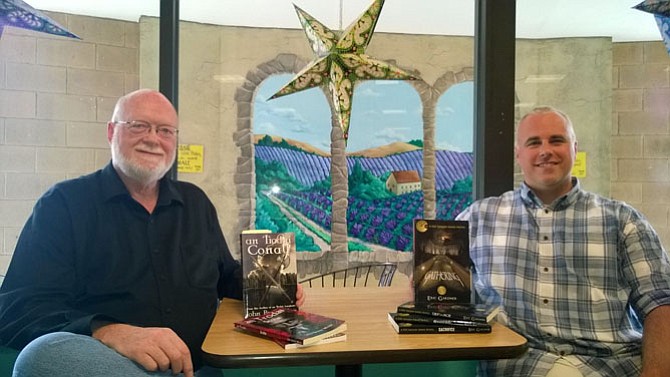 Springfield writer Eric Gardner, 41, served on three panels in August at the Killer Nashville International Literary Conference in Franklin, Tenn. — where he received the 2017 Readers' Choice Award for Best Fiction Adult Horror for his 2016 book "Awakening." It's the second volume the "XIII Legion Series."
The retired U.S. Army captain writes contemporary fiction about good versus evil. Under Gardner's command, his gritty characters persevere through the constant beat down of life as they explore mankind's role in heaven and hell.
He draws fire from his previous life as a military infantry officer and is shooting for a Halloween release date next year for his fifth book "Descent." The timing couldn't be better because Gardner describes his books as "scary" and "macabre."
LAST MONTH, his children let their stay-at-home dad attend the Creatures, Crimes & Creativity (C3) Con in Columbia, Md., with Fairfax author John B. Wren — who was a panelist Sept. 9 in two symposiums about "Writing emotion: Opening a vein" and "the nitty gritty of prose." The semi-retired mechanical engineer returned Sept. 10 for a talk on "the politics of villains."
Gardner also was a panelist that day in a discussion most law-abiding citizens rarely consider: "Bullet, garrote or blade? Inventive ways to kill off characters."
Their art takes these Fairfax County wordsmiths all the way to Canada this week for Bouchercon 2017: Passport to Murder, a mystery convention in Toronto Oct. 12-15. Gardner and Wren say they attend these genre-specific events because "we talk craft," meet fans, other authors and build networks.
"Writing a book can be an isolating endeavor," admits Gardner. "It's easy to become discouraged." That's why he and Wren meet each week for coffee — so they can suffer together.
Wren, 73, has written two psychological thrillers and a mystery novel called "Darryl's Reunion" that was adapted as a screenplay. Last year, he shifted gears from the 21st century into reverse and backed himself into the first millennium with historic tales set in Ireland between 893 and 1042.
His interest in the Emerald Isle stems from his mother, who was born in a lighthouse in Ireland's County Cork. The year 2014 marked the millennial anniversary of the Battle of Clontarf — which inspired Wren's trilogy about a family of medieval Irish warriors beginning with "an Trodai Scolai" and followed by "an Trodai Laoghaire."
The series, no doubt, required a "wee bit of research," Gardner chimed last year at a book signing in Burke. Wren says he takes pride in presenting an accurate account of historical fact while weaving his fictional characters in and out.
His third book "an Trodai Conall" is due out next month.
BOTH GARDNER AND WREN get their books published through an online independent print-on-demand service called CreateSpace — a division of Amazon.com.
Although they don't enjoy the benefit of a publicity dream team, CreateSpace offers marketing advice for a fee and pays their authors as their books sell on Amazon and other retail outlets. Gardner and Wren watch the profits trickle into their account.
The payoff hasn't justified the hard work yet.
"We're not gettin' rich," Wren admits. It's the process of writing he truly enjoys.
Visit their websites johnbwren.com and www.Thirteenthlegionseries.com.