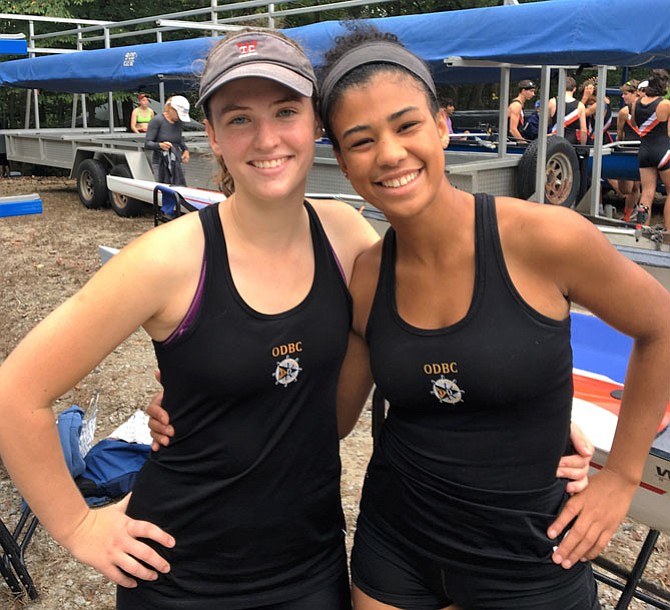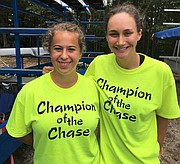 While cloudy skies did not produce rain at the Occoquan Chase Regatta on Sunday, Oct. 15, the ODBC Varsity Women stormed the event to score wins and placements in three races for high school rowers.
Fall head races like the Chase cover 4500-5000 meters compared to the spring regattas' 1500-meter sprints, and test rowers in much different ways. Particularly for scullers in singles or doubles, they need strength and technical skill like their teammates in the 8-seat boats, but they also have to steer with their oars (there's no rudder or coxswain) and it requires a further dose of physical endurance to be successful.
On an overcast morning with tranquil water, ODBC entered two boats in the Women's Singles category and scored a win by Tess Moran with a time of 25:32.57. Teammate Cleo Lewis placed third with a time of 25:54.68.
"Compared to the races in the spring, fall races are more mentally demanding" said Moran. "In head races boats start at intervals, so sustaining your motivation when no other boats are near you is challenging. Especially in a single, being able to keep pressure up for over 20 minutes in silence can prove difficult," she continued, "which is why we often row steady-state pieces in practice to mimic the longer races and help scullers work on their steering."
ODBC entered three boats in the 23-boat Women's Junior 8 race and for the second week in a row came away with a win for the First Varsity 8 with a time of 18:41.36, almost 13 seconds ahead of Thompson Boat Club (TBC). Coach Jaime Rubini leads the 1V8s, who include rowers Blythe Markel, Shelby Pierson, Grace Fluharty, Rachel Knapp, Grace Asch, Astrid Henkle, Grace Vannatta, and Celia Lane, and coxswain Paige St. John.
The third ODBC boat to tally a win at the Chase came in the Women's Doubles category, where Emma Carroll and Elspeth Collard stroked to victory in 23:33.19. They were joined in the race by Tess Moran who, following her Singles victory, jumped in a double with teammate Marley Osborne to score a third-place finish in exactly 24 minutes.
"Marley rigged the [doubles] boat while I was racing," said Moran, "and we got on the water 15 minutes after I docked from the Singles race. We had about 30 minutes to row up to the start [before the doubles race began], so we had a few minutes to rest time before the second race."
In Men's varsity racing at the Chase, ODBC was one of six local rowing powerhouses that included Gonzaga, Bethesda Chevy-Chase, and TBC to field three boats each in the highly competitive 30-boat Junior 8s category. The ODBC First Varsity 8 finished 6th with a time of 17:33.0, with teammates in the Second Varsity 8 and Lightweight 8 finishing 10th and 15th, respectively. Those finishes put Team ODBC among the top three with B-CC and Gonzaga for Men's clubs with three boats in the race.
Next up for the ODBC Women's 1V8 is this weekend's trip to Boston for the Head of the Charles Regatta, while their teammates are gearing up for the Head of the Schuylkill in Philadelphia on Oct. 29.