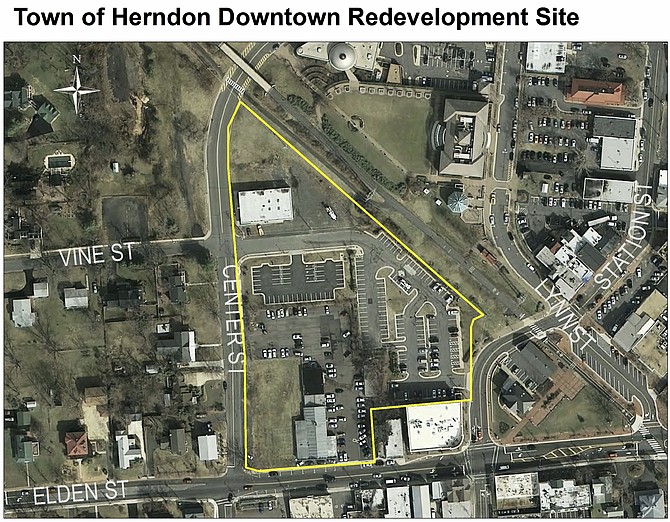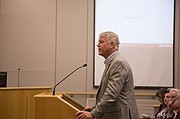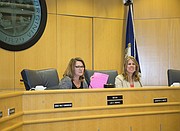 The Herndon Town Council unanimously voted 7-0 to move forward with a comprehensive agreement with real estate firm Comstock Partners to redevelop downtown Herndon. The vote was conducted following a public hearing in front of a full crowd at the town's council chambers on Tuesday, Oct. 24, and was met with a loud round of applause.
The work to be done will build 281 residential apartments, 17,600 square feet of retail space, an 18,000-square-foot arts center and a 761-space parking garage
Comstock will now begin designing the project and will submit a site plan for both the Herndon Heritage Preservation Review Board and town council to review and approve. Comstock anticipates this will take about one year, setting them to begin construction early in 2019, with completion estimated in 2021.
This is the soonest the project could be completed because potential delays could occur. For example, there is a provision in the agreement for a "market pause" for up to two years if "the market isn't stable enough for this project to succeed," Bill Ashton, Herndon's town manager, said during the meeting.
But any delay would be marginal compared to how long the town has been striving to get the project accomplished.
"Downtown redevelopment has been discussed in the town for about 30 years," Ashton said during the meeting. "I think we've traced it back to the mid '80s is when it first arose as an issue with council. It's been a policy objective for many years."
THE COMPREHENSIVE AGREEMENT defines the responsibilities of both parties — the town and Comstock Herndon Venture LC — in the redevelopment of nearly 5 acres of town-owned land into a mixed-use project that includes residential and commercial structures, an arts center and a parking garage.
The town spent $5.8 million purchasing the land to be developed. As part of the agreement, the town will be selling the land to Comstock. On Oct. 24, the council also approved an ordinance authorizing the sale of the land, which was also approved unanimously, 7-0, and met with applause from the audience.
The town will also be contributing an additional $3.6 million in allowances for a $9.4 million total investment. The allowances include: $500,000 for environmental remediation; $500,000 for transitional public parking; $100,000 for culvert repair; and $250,000 for the relocation of Arts Herndon's ArtSpace Herndon, an art gallery and performance space at 750 Center Street located on the site.
The environmental remediation funds are to clean up a brownfield, or land that is heavily contaminated with industrial pollutants, from an auto dealer that owned a portion of the parcel before it was acquired by the town.
"We had an auto dealership on a piece of this land," Ashton said during the meeting. "We have environmental reports that there is going to be required some cleanup. So, that is our land and we're responsible for cleaning it up. We are subcontracting that in essence back to Comstock to clean it up on our behalf."
The town also received a $109,000 grant from the Virginia Department of Environmental Quality to revitalize the contaminated land, according to Ashton.
The culvert repair allowance will fix any damage to a culvert that runs through the middle of the property that carries stormwater from the south side of town to the north side of town, if existing damage is found, according to Ashton.
"If they unearth that culvert and there's any damage, we don't want to pause the project, have us run out and get a contractor to fix our culvert," Ashton said. "We put provisions in here for Comstock to fix that culvert on our behalf."
Plans for providing the transitional public parking while construction is occurring have not been solidified, but the spaces will be accessible to the public for 24 hours a day at no charge near the downtown area, according to Ashton.
The town will be responsible for all excess costs if work exceeds the allowances. If costs come in below the allowances, Comstock will retain the excess money.
"We believe this gave Comstock some fiscal discipline, a profit motive to keep these costs under control to keep us capped out at these numbers so we don't exceed these numbers," Ashton said during the meeting.
The town will also be responsible for necessary off-site easements, if any, to complete the project up to a total of $100,000.
The town has hired a financial consultant to advise on payment method options, which may include use of cash and/or issuance of a bond.
The Fairfax County Economic Development Authority will also contribute $1.2 million toward the project from its Economic Development Support Fund, pending the completion of a memorandum of understanding between it and the town, according to Ashton.
Comstock's total financial responsibility for the project is estimated to be approximately $80 million, according to Maggie Parker, a Comstock spokesperson.
Still to be voted on is a budget amendment that would be required to approve the town's newly-approved expenditures. Under the terms of the agreement, the town isn't scheduled to make any payments until late in fiscal year 2019, according to Anne Curtis, a town spokesperson. Once the town's financial advisors recommend how to pay for the project, the town manager will propose an approach for the council to vote on.
Serious talks began last year when the council adopted a resolution on Nov. 30, 2016, that directed town staff to move forward with negotiations on Comstock's proposal, which was submitted in response to the town's request for proposals that was publicized on Nov. 2, 2015.
The RFP called for a four-story, mixed-use residential building, a three-story mixed-use commercial building, a joint public-private parking structure and an 18,000-square-foot arts center, among other features.
Comstock will be giving back to the town what it estimates to be $12 million in assets after construction is complete. This includes: 339 public parking spaces in a parking garage, to include 60 for the arts center and 59 for the retail space; the 18,000-square-foot arts center; and $505,000 in proffer funds for town recreational services.
Prior to the vote, Ashton outlined the agreement and provided answers to specific questions for the public during a community meeting on Thursday, Oct. 12, and again for councilmembers prior to their vote.
DURING THE HEARING, multiple residents stood up to testify about their concern for the lack of affordable housing and small rental units in the town. All of the residential units on the property are expected to be luxury rental apartments sold at market rate, according to Parker.
However, in order for the town to own parking spaces on the Comstock-owned land, a condominium regime will be set up for the apartments. The town will have representation on the condominium association, in which all tenants will participate for maintenance and shared costs for the building.
The town is banking on more varieties of residential accommodations to be developed within the Herndon Transit-Oriented Core, roughly 38 acres of land immediately north of the new metrorail station that is being constructed on the Silver line.
"We heard from several people that there aren't a lot of smaller rental units and there's certainly not a luxury rental unit option in the town right now," Herndon Mayor Lisa Merkel said during the meeting after listening to public comments. "I think when metro develops, there will be probably more of that. It's going to be much denser than this. I'm excited about increasing our housing stock and having something for maybe an entry-level sort of patron."
Information about the agreement is available online at www.herndon-va.gov/downtown.