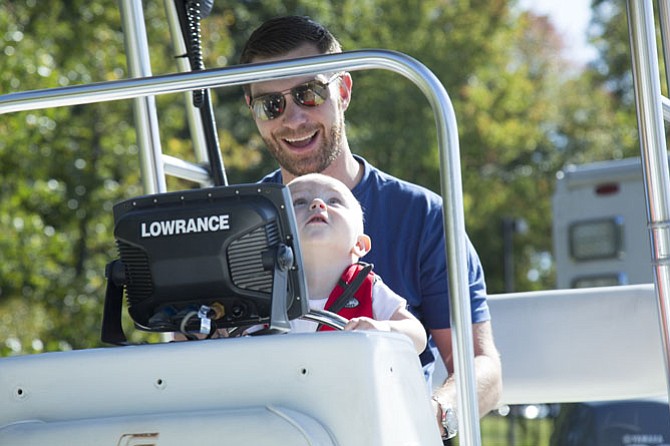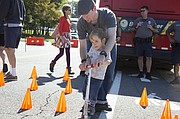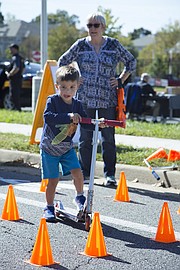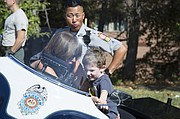 The Reston District Station of the Fairfax County Police Department hosted an open house in its parking lot at the North County Governmental Center on Cameron Glen Drive on Saturday, Oct. 21.
Police officers with the station and other divisions of the FCPD mingled with visitors throughout the day and encouraged children and parents alike to check out their various vehicles and equipment, including motorcycles, boats and cruisers. Several employees with the Virginia Department of Transportation and the Fairfax Connector also parked their snow plows and buses for children to tour.
The Fairfax County Sheriff's Office also set up a tent to make child identification cards for families during the open house. Sheriff deputies fingerprinted, photographed and measured children to make free plastic ID cards for the parent's safekeeping. None of the information is retained by the Sheriff's Office. The cards are intended to be used for assisting law enforcement agencies should the children ever become missing.
"It gives the public a chance to see all of the police toys and talk to police without there being an emergency, someone hurt or in trouble," said police officer Katy Defoe, a crime prevention specialist for the Reston station, who organized the event.
Chick-fil-A, Cava Grill and the Reston Citizen's Advisory Committee also set up tables to hand out food samples and beverages.
This was the second open house conducted at the North County Governmental Center since it opened in June 2016, according to Defoe. The center houses the police station, the Hunter Mill District Supervisor's office and a large public room for use by Reston residents.
The FCPD Reston District Station covers 56 square miles in Reston and parts of Great Falls, Vienna, Oak Hill and Herndon. The station employs 137 sworn police officers, auxiliary officers, police citizen aides, administrative support staff and school crossing guards, according to the FCPD.