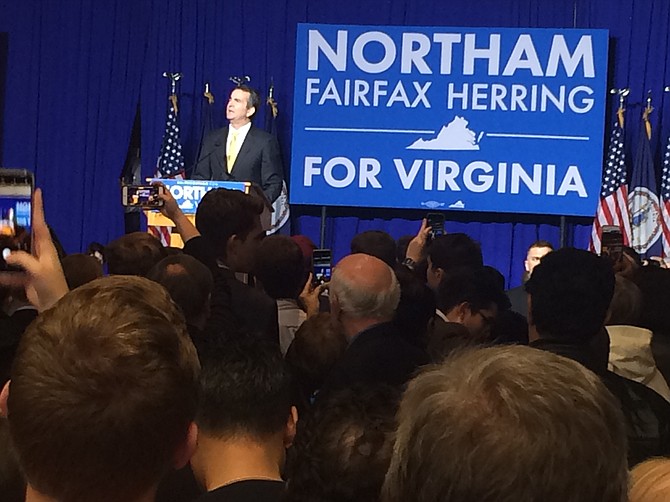 Race for Governor
Democrat Ralph Northam: 54 percent, 1.4 million votes
Republican Ed Gillespie: 45 percent, 1.2 million votes
Libertarian Cliff Hyra: 1 percent, 29,000 votes
Race for Lieutenant Governor
Democrat Justin Fairfax: 55 percent, 1.4 million votes
Republican Jill Vogel: 47 percent, 1.2 million votes
Race for Attorney General
Democrat Mark Herring: 53 percent, 1.4 million votes
Republican John Adams: 47 percent, 1.2 million votes
Race for HD34
Democrat Kathleen Murphy: 61 percent, 20,000 votes
Republican Cheryl Buford: 39 percent, 13,000 votes
Race for HD35
Democrat Mark Keam (unopposed): 93 percent, 23,000 votes
Race for HD36
Democrat Ken Plum (unopposed): 93 percent, 21,000 votes
Race for HD37
Democrat David Bulova (unopposed): 94 percent, 19,000 votes
Race for HD38
Democrat Kay Kory: 74 percent, 16,000 votes
Republican Paul Haring: 26 percent, 6,000 votes
Race for HD39
Democrat Vivian Watts (unopposed): 93 percent, 21,000 votes
Race for HD40
Republican Tim Hugo: 50.11 percent, 15,003 votes
Democrat Donte Tanner: 49.73 percent, 14,988 votes
Race for HD41
Democrat Eileen Filler-Corn (unopposed): 91 percent, 23,000 votes
Race for HD42
Democrat Kathy Tran: 61 percent: 19,000 votes
Republican Lolita Mancheno-Smoak: 39 percent, 12,000 votes
Race for HD43
Democrat Mark Sickles (unopposed): 93 percent, 22,000 votes
Race for HD44
Democrat Paul Krizek (unopposed): 93 votes, 18,000
Race for HD45
Democrat Mark Levine (unopposed): 95 percent, 31,000 votes
Race for HD46
Democrat Charniele Herring (unopposed): 96 percent, 19,000 votes
Race for HD47
Democrat Patrick Hope (unopposed): 96 percent: 30,000 votes
Race for HD48
Democrat Rip Sullivan (unopposed): 95 percent, 28,000 votes
Race for HD49
Democrat Alfonso Lopez: 81 percent, 19,000 votes
Republican Adam Roosevelt: 18 percent, 4,000 votes
Race for HD53
Democrat Marcus Simon: 74 percent, 19,000 votes
Independent Mike Casey: 25 percent, 6,000 votes
Race for HD67
Democrat Karrie Delaney: 58 percent, 17,000 votes
Republican Jim LeMunyon: 42 percent, 12,000 votes
Race for HD86
Democrat Jennifer Boysko: 69 percent, 17,000 votes
Republican Linda Schulz: 31 percent, 8,000 votes
Democrats swept all three statewide seats this week and picked up so many seats in the House of Delegates that control of the chamber is now in doubt. Voters rejected Republican arguments about sanctuary cities and Confederate memorials, divisive issues that had moderate Republicans trying to win over the most extreme elements of President Donald Trump's coalition. It didn't work, and it may have signaled a new era in how Democrats can take on Republicans and win at the ballot box.
"The new Democratic Party is back," said Democratic National Committee Chairman Tom Perez during a raucous Election Night party at George Mason University. "And we're back with a bang."
Democrat Ralph Northam won 54 percent of the vote against Republican Ed Gillespie, whose performance slipped a bit from his 2014 nail-biter against Democrat Mark Warner for a seat in the U.S. Senate. Back in 2014, Gillespie won 48 percent of the vote. This year he was only able to get 45 percent.
"The doctor is in," declared Northam, a pediatric neurologist, after Gillespie conceded the race.
Voters in Fairfax County helped Democrats run up the numbers across Virginia and turn the blue wave into something Democratic House Leader David Toscano calls a "tsunami." Northam took 80 percent of the vote in Arlington, 78 percent of the vote in Alexandria and 68 percent of the vote in Fairfax. He also received about 40,000 more votes than Terry McAuliffe did four years ago. Democrats picked up at least two seats in the House of Delegates in Fairfax County, where Republican Ken Cuccinelli won about 10,000 more votes four years ago than Gillespie won this year. Now Republicans say they're ready to mount their own resistance.
"Our grassroots are now primed to hold Northam accountable during his time as governor, and we plan to do just that," said Americans for Prosperity-Virginia State Director J.C. Hernandez. "If the Northam administration tries to advance policies that grow government and make life more costly, we stand ready, willing, and able to educate our neighbors on the issues."
PRESIDENT DONALD TRUMP was not on the ballot in Virginia this year, but he loomed over every part of this campaign. The election cycle started when many Democrats were still in shock that the real-estate developer turned reality TV star was elected president. A historic women's march after Trump's inauguration led to an unprecedented number of female candidates taking on entrenched Republican elected officials this year, mostly men. The gamble paid off, and many of those defeated male incumbents are now preparing to leave office.
"Women are leading the resistance," said Emily's List president Stephanie Schriock. "A record number of women ran for office in Virginia, and now a record number of women will serve in the Virginia House of Delegates, fighting for improved public education, investment in infrastructure, economic growth, and access to health care."
Voters in key swing jurisdictions voted for Northam; he won 61 percent in Prince William County, 60 percent in Loudoun County, 60 percent in Henrico County and 52 percent in Virginia Beach. And although Gillespie performed well in traditional Republican strongholds like Rockingham and Pittsylvania, he struggled in the Richmond suburb of Chesterfield, which was basically tied between the two candidates. Party leaders on both sides of the aisle say voters were reacting to Trump and sending a message.
"Voters turned out in droves in a direct rebuke of state Republicans and the Trump administration," said Jessica Post, executive director of the Democratic Legislative Campaign Committee. "Americans from coast to coast sent a clear message that when faced with adversity, we will step up and defend our values, safeguard the progress we have made, and push onward."
JUSTIN FAIRFAX beat state Sen. Jill Vogel (R-27). Some Democrats feared that Vogel might end up being the lone Republican to win a statewide seat, potentially yielding a key tie-breaking vote in the state Senate on issues like immigration or reproductive rights. But the former federal prosecutor sailed to victory with 53 percent of the vote.
"As just the second African-American to ever win statewide office in the Commonwealth of Virginia, Justin Fairfax has already made history just by winning this seat," said Charles Chamberlain, executive director of Democracy for America. "For Democrats, he's also made history by showing doubters in Richmond and Washington that progressives dedicated to an inclusive populist political agenda can win big in Virginia."
Democrat Mark Herring was the only part of the statewide ticket running for reelection, so his campaign was largely a referendum on his time in office. On the campaign trail, Herring talked about his work tackling the opioid crisis and taking on the gun lobby. Voters agreed, and gave him 53 percent of the vote against lawyer John Adams.
"Attorney General Mark Herring came under attack from the gun lobby for doing exactly what he was elected to do: prioritizing the safety of Virginia families over gun lobby profits," said former U.S. Rep. Gabrielle Giffords in a written statement. "I am proud to stand by Attorney General Herring as a true champion for safer communities, and I am thrilled to see Virginia voters stand by him as well."
THE NEXT YEAR in Virginia politics is likely to be one of the most tumultuous periods since Reconstruction. With Democrats poised to take some measure of control of the House, the composition of committees and their chairmen is bound to change. Those details have yet to be worked out. But one thing is clear: When members of the House of Delegates elect a new speaker of the House in January, they will be setting the stage for a session that will have more liberal members than ever before.
"Voters in Virginia soundly rejected the politics of division and bigotry and instead converted hate into political power," said Julio Lainez, director of America's Voice Virginia in a written statement. "This, however, is a first step, and it sends a clear message to candidates running in 2018: The Trump/Corey Stewart Political Playbook leads to political oblivion."