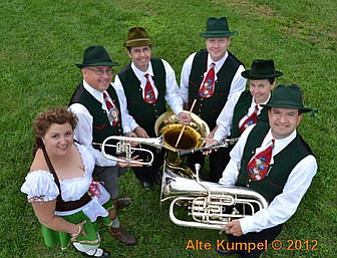 A staple at many Oktoberfest celebrations are Oompah musicians dressed in lederhosen, Bavarian shorts that go to the knee and are held up with a pair of suspenders. Throw on a pair of hiking boots, a button-up shirt and a feathery pocket decoration, and voila — an instant oompah musician that evokes beer, dancing and fall fun.
David Erickson, a headliner in the Alte Kumpel band, knows the magic of lederhosen. "I'd like to think the band gets everyone in the mood, they like the way we look," Erickson said, and knows the picture with the oompah guy is a big hit. "People gravitate towards it this time of year," he added.
Fairfax-based Alte Kumpel is loosely defined as an "oompah band." It includes trumpet, clarinet, flugelhorns, euphonium, a tuba, an accordion and a drum.
Depending on the show, the number of musicians on the stage varies, but it's always a good time. "Fun, beer drinking, and eating, what's not to like?" Erickson said. He graduated from Oakton High School and the rest of the band is from various locations in Northern Virginia.
The band always opens up with an Austrian March tune, but the Beer Barrell Polka is their big hit. "Fits the theme of Oktoberfest," he said. It's always spelled with a "K," too, makes it more exotic.
The bratwurst, the sauerkraut, the radicchio salad and the Black Forest ham are all part of a typical fall fest menu.
Every weekend in September and October, Alte Kumpel is booked up. "I've gotten more inquiries than I can handle, there's only so many Saturdays," he said.
The lederhosen are a must though, even if an authentic leather pair can cost from $500-1,000. "We're authentically dressed, the real stuff," Erickson said. For the women, it's the dirndl, which might consist of a bodice, a low-cut blouse with short puff sleeves, full skirt and apron.
Those costumes are popular, according to The American Backstage Company, a costume rental shop in Alexandria. "In September and October every year, I'm completely booked up," the manager said.