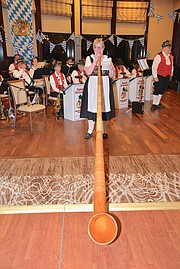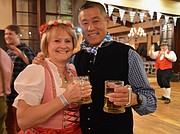 Honoring, Missing William 'Butch' Sevila
In the midst of the frivolity, there was one sad note. While thanking the sponsors and the attendees for their support and donations, an emotional Rotary Club President Kevin Crabtree asked that everyone raise their glasses in memory of club President-elect William "Butch" Sevila, a long time area resident and Rotarian, who died suddenly on Friday night.
Sevila, who was an active member of the club, also served on the board for the regional Juvenile Diabetes Research Foundation. An avid collector of antique and classic cars, Sevila hosted the annual Cars for the Cure drive to raise awareness about Type 1 diabetes, and money to find its cure.
"He is missed tonight and will always be missed," said Crabtree, but noted that his fellow Rotarian would be pleased at the turnout for the event and want everyone to enjoy an evening of community, raising funds for so many of the good works that he gave of himself to support.
The Great Falls Rotary Club supports a host of worthy causes, both locally and abroad. True to the "Service Above Self" Rotary ideal, the members of this non-political, non-religious organization have helped build sports facilities in Honduras and educational infrastructure and supplies for schools in Pune, India.
In their own Northern Virginia "backyard" they sponsor the bi-annual First-Time Campers program at Wolf Trap Park, provide quarterly dinners at the Embry Rucker Community Shelter in Reston, support the provision of Thanksgiving food baskets for their struggling neighbors, and raise money for Stop Soldier Suicide and the Jack and Jill Late Stage Cancer Foundation. And the list goes on.
BEING THIS GENEROUS with their time and their financial support obviously means they need to raise funds to continue their service to community. It doesn't mean they can't have fun – a lot of it! – while doing so.
Saturday, Oct. 20, saw pretty much the entire clubhouse at the River Bend Golf and Country Club on Walker Road in Great Falls packed with lederhosen-clad "herren" and dirndl-dressed "frauleins" at the club's major fundraiser – the third Annual Rotary Club Oktoberfest.
Surrounded by Bavarian-style decorations, seated at long, neighborly-encouraging tables and supplied with mountains of schnitzel, salted pretzels, mouth-watering desserts and plenty of mugs of "bier" to go round, the revellers could easily imagine themselves enjoying the action at one of the Munich Oktoberfest tents.
And what would Oktoberfest be without rousing German music and calls of "Prost!" from the bandleader? Not to worry. The Alte Kameraden (The Old Comrades) of Fairfax band had that covered, providing plenty of "oompa" to keep the partiers swaying, dancing, and raising their mugs when instructed.
With a little bit of encouragement and some band-member assistance, a few of the attendees were persuaded to hit the dance floor for that Oktoberfest tradition – the Chicken Dance. Those who survived that frolicking, stayed on the dance floor to try their hands – or feet – at another true traditional German dance that involved a lot of jumping, hand-holding, and imitating an airplane making a dicey landing.
When the band finally took their much-needed breaks, live music continued, with Michael Leggett Jr. of Die Echten Steirischen Musikanten Bavarian/Austrian folk music group handling the accordion with superb style.
Were folks having fun? Just ask long time Great Falls residents like Jon and Sue Wickwire who showed how couples really own the dance floor when the polka music started up, although Sue modestly insisted they "just did their best."
Paula and Greg Garrison may have "only" lived in Great Falls for the past eight years, but this was their second time at the Rotary Club Oktoberfest. Greg got his authentic lederhosen gear while in Germany, and made sure that Paula was as traditionally kitted out for the event.
"I am originally from Bolivia," said Paula, "so I hope I look ok in this!" The Garrisons had other invites on the table for Saturday, "but this is so much fun, a good thing to support - and my husband really loves the German traditions."
THE ROTARY CLUB OF GREAT FALLS was founded in 2011 by Jeff Thinnes, now Chairman of the Rotary Club of Great Falls Foundation, Inc. The group welcomes "like minded people who want to give back and be involved in their communities" to learn more about the organization. The Rotary Club meets on Thursday mornings at 7:30 am for breakfast at the River Bend Golf & Country Club, and hosts Happy Hours, as well. More information is available at www.rotarygreatfallsva.org.