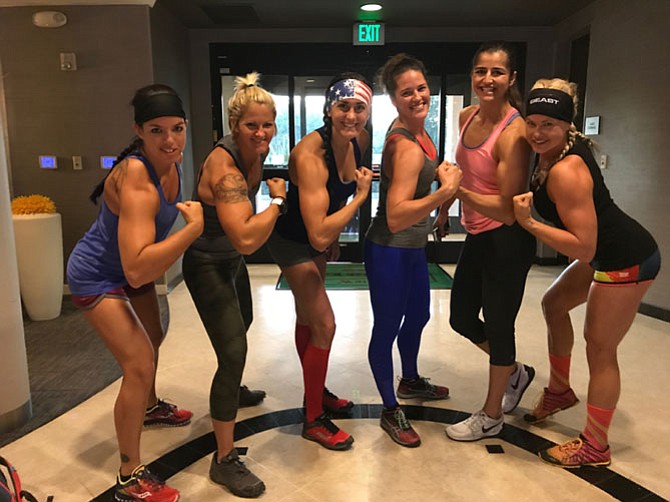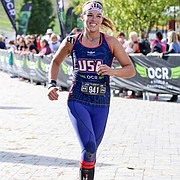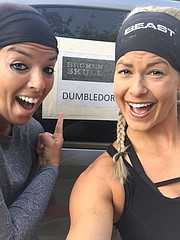 Elite athlete Stephanie Huntsman, 28, was born and raised in Clifton/Centreville. At 5-foot-8, 150 pounds, she can dead-lift 285 pounds; back squat 215 pounds; and bench press 105 pounds. She lifts weights in some form or other six days a week, runs between 10-50 miles, and bikes 70 miles a week. Her workouts last anywhere between one and four hours a day for six or seven days.
All of that helped to prepare her for the reality competition TV show called "Steve Austin's Broken Skull Challenge," where she is a contestant on Season 5. She'll be featured in the first female episode (No. 502) next Tuesday, Oct. 3, at 10 p.m., titled "The Women Bring It," on CMT (Channel 65 on Cox Cable). The show will be repeated on Sunday, Oct. 8 at 2 a.m. The season began on Sept. 26.
"It was a fantastic experience. I would definitely love to go back and play again," she said. "Everybody there was in fantastic shape. You had elite crossfit athletes, a couple of body-building professionals, and obstacle course racers. Everybody there was an elite athlete."
She continued: "It was a well-rounded competition. And any athlete who's going to take home the cake, they're going to be a great athlete — from contact sports, to agility, to moving around heavy weights."
The show received over 5,000 applicants for Season 5, and as a competitive obstacle course racer, Huntsman was hand-selected among the eight athletes to set the bar for the upcoming season, competing in head-to-head physical challenges as she represented her hometown.
"Broken Skull Challenge" features host and Hall of Fame professional wrestler Steve "Stone Cold" Austin, who dares the athletes to compete for a chance to win $10,000. The males and females battle it out with each other until only one is left standing. It features an updated and more difficult personal obstacle course called the Skullbuster.
"The show is a reality TV show without the actual reality," she said. "They pick eight elite athletes who go head-to-head in a bracket-style challenge, single elimination. So each time you're going up against one other person; then four people are eliminated, and the next round is head-to-head and two people are eliminated."
They compete in strength and dead-lifting challenges, and the winner of the bracket competes in an obstacle course race called the Skullbuster against the clock. In her show, they were positioned on top of trailers, and they raced to the top, picked up weights and raced down to see who carried them down the fastest.
To prepare for the show, she had been doing competitive obstacle course racing for three years with a lot of heavy carrying, working with sandbags, and crossfit and cross-training.
Huntsman said the part that was the most fun was being around girls with the same body type and same mentality. "That was probably the best part; I walked away from the show with seven new, fantastic friends," she said.
She got to meet host Steve Austin, she said: "He's exactly the same in person as he's on the show. He's great. He's super-humble and super-invested in you putting your best effort out there. That's really refreshing actually."
While now living in Las Vegas, Huntsman works as a performance medicine therapist for Cirque du Soleil's seven Vegas shows. She is waiting to hear whether she'll be going on tour with a show called "Luzia," where she'll assist performers with injury prevention, evaluation and emergency coverage.
In addition, the week following the CMT airing, she will be headed to Canada to represent the United States in the Obstacle Course Racing World Championships.
While growing up in Clifton, Huntsman attended Union Mill, Greenbriar West and Willow Springs elementary schools; then the Highland School in Warrenton for middle and high school. For college, she studied athletic training at Penn State; and got her master's degree in sports medicine from the University of Virginia.
Clips of Season Four are on the website. There are 10 episodes per season.
Visit www.cmt.com/shows/steve-austins-broken-skull-challenge.