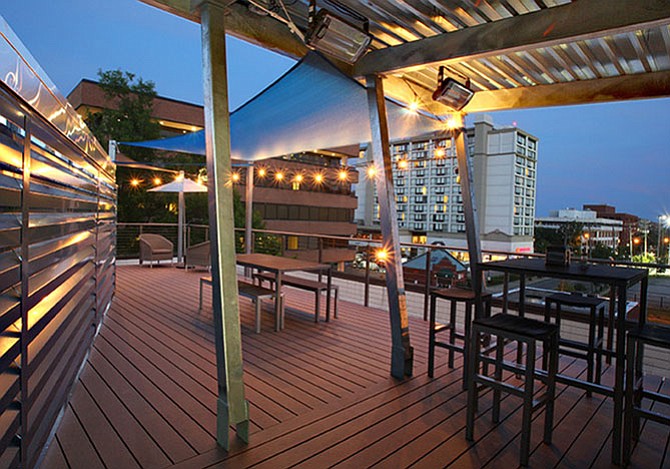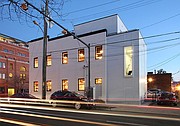 The office building at 1010 North Fairfax, directly across from Canal Center Plaza, recently received a 21st century makeover for an enhanced workplace image.

It's part of Old Town Alexandria's trend promoting adaptive reuse of existing structures for modernized office environments within Old Town's historic district.
Alexandria-based Cole & Denny Architects (C&D) has transformed the interior two floors and rooftop of this 1980s structure from single tenant to multi-use office space featuring a 9,000 sq. ft. layout. This design exposes the building's original concrete floors, steel columns, beams, joists, and HVAC systems while updating light fixtures and plumbing. Transformation of exterior brick from a light sandy color to a dark gray, installation of modern energy efficient windows, an upgraded entryway, and rooftop terrace complete the exterior makeover.
Building owner Christopher Campagna of Braddock Commercial Realty believes this new image will attract a new generation of entrepreneurs. "This revitalization effort will cater to start-ups and small businesses alike," Campagna said. "Its design will facilitate a mobile workforce that doesn't require lots of space or administrative support, where workers are not tethered to specific work areas."

Capitalizing on a trend with commercial renovations in the metro area, Campagna requested a rooftop terrace. Partially sheltered by a stairwell canopy extension, it adds 600 sq. ft. of casual outdoor space for building occupants.
Another C&D conversion project is located at 130 N. Fayette St. Formerly hosting an assortment of tenants ranging from a pool hall to a church, renovations to this early 20th century structure now accommodate an open space floor plan for workforce flexibility. C&D refurbished a total of 3,050 existing sq. ft., while a new interior mezzanine, outdoor roof deck, egress stairs, and contemporary bathrooms add another 1,030 sq. ft. of space.
Like 1010 N. Fairfax, 130 N. Fayette's upgrades also meet contemporary office needs. Architects removed interior walls and ceilings, creating work space featuring exposed wooden beams and brick, and new outlets for updated communications systems. The refurbished basement level offers cubicle-style workstations — its environment brightened by modified light wells in ground level windows. The original and exterior stairwells have been removed, replaced by a new set of interior egress stairs extending from basement to second floor, and another stairwell from second floor to the mezzanine level and roof deck.
Gene Ulm, 130 N. Fayette's owner, also requested a roof deck addition. Overlooking King and Cameron Streets, this rooftop space faces west towards the George Washington Masonic Temple.
Situated on the corner of Fayette and Cameron streets, 130 N. Fayette's exterior facade retains its original character, accented by cleaned and painted white brick, new black window trim, and a bright red main entry door.