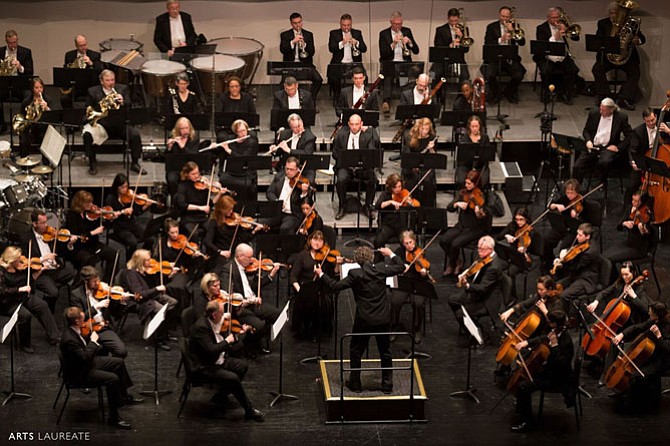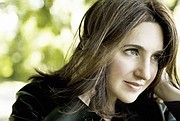 Where and When
Fairfax Symphony Orchestra presents program featuring Philip Glass, Bach, Vaughn Williams, and Elgar at George Mason University Center for the Arts Concert Hall 4400 University Drive, Fairfax. Performance: Saturday, April 21 at 8 p.m. Tickets $39, $53 and $65. (Students: $15) Visit http://www.fairfa...">www.fairfaxsympho... or phone 888-945-2468. Note: Join Music Director Christopher Zimmerman and Pianist Simone Dinnerstein for a pre-concert discussion on April 21 at 7 p.m. at GMU Concert Hall.
Northern Virginia audiences will strike music gold with the Fairfax Symphony Orchestra (FSO) as it continues to celebrate its 60th anniversary season. "We are thrilled to be giving the D.C. area premiere of Philip Glass' new piano concerto," said Christopher Zimmerman, FSO Music Director. "Philip Glass is one of the most significant, renowned living American composers.
"And, we look forward to collaborating again with Simone Dinnerstein, for whom this concerto was specifically written, and bringing it to life for our FSO audience,"
For acclaimed pianist Dinnerstein, it will be a return to perform with the FSO, this time to perform Glass' "Piano Concerto No. 3" written specifically for Dinnerstein and co-commissioned by FSO.
"Commissioning new work is central to our mission," said Jonathan Kerr, Executive Director, Fairfax Symphony Orchestra. "We are honored to be the first orchestra in the D.C. metro area to premiere this important work and collaborate with Simone Dinnerstein on such a milestone. This is another example of how the arts in Fairfax County are creating connections for the community and the world."
The FSO's April 21 program also includes Vaughan Williams' "Fantasia on a Theme by Thomas Tallis," as well as Elgar's "Introduction and Allegro for Strings" and "Bach: Keyboard Concerto in G minor, BWV 1058."
"The idea for this commission first germinated in Philip Glass's garden, where we met for breakfast one beautiful morning," said Dinnerstein. "There are almost no concertos written for piano and strings since Bach's time. Both Glass and I have a strong interest in the music of Bach and how it impacts us today." The pairing aims to create bridges between the old and the new.
"Several years ago, Simone Dinnerstein visited me at my home in New York City and played a short program of Schubert and Glass. She played with a complete mastery of technique, depth of emotion, and understanding. Right away I knew I would someday compose music for her," said Philip Glass.
With three movements, the new Glass concerto is scored for piano and strings. It is Romantic in nature. "It's as if the piano grows out of the orchestra," said Dinnerstein.
Dinnerstein has brought a number of projects to Fairfax County. One was to provide Fairfax County Public School students with access to classical music called "Bachpacking." Dinnerstein took a digital keyboard into individual elementary school classrooms, helping young children to get closer to the music.