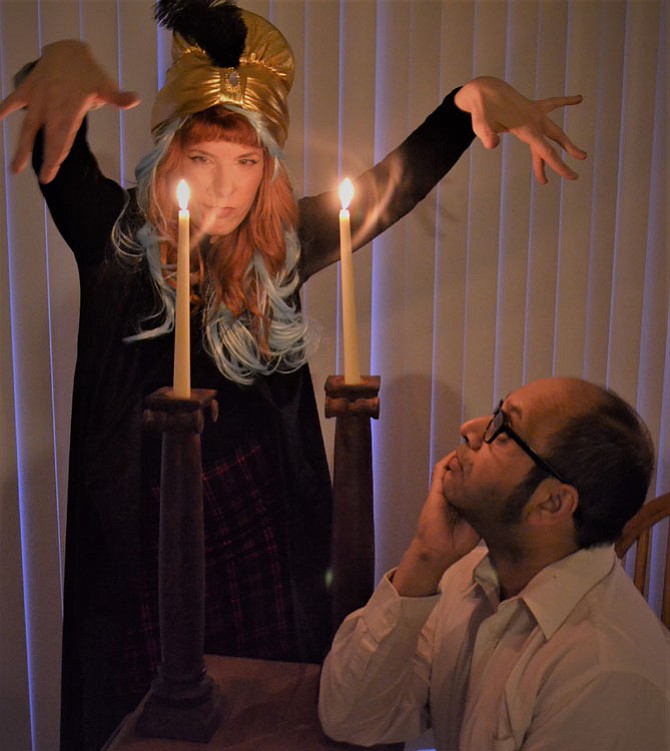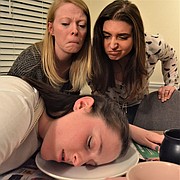 Where and When
Infinity Stage presents the Infinity Short Comedy Play Festival at Epicure Café, 11104 Lee Highway, Fairfax. Performances: Friday, April 20, 2018 at 8 p.m. and Saturday, April 21, 2018 at 8 p.m. Tickets are $20 can be purchased online at http://www.infini...">www.infinitystage... or at the door. Note: Seating is limited. Food and drink may be purchased before the show and during intermission. There is a pre-show mixer starting at 7 p.m.
From an interfering parent; to a scientist creating the "perfect" human, who then thinks she's too good for him; to planning a shopping spree with great precision; to diner staff who fall asleep in their scrambled eggs; as well as a cunning way to break up, ten new short comedies will be presented at Fairfax's Epicure Café. All courtesy of Northern Virginia's Infinity Stage.
"I wanted to showcase fresh, new writing talent," says Infinity Stage artistic director Steven W. Rodgers. "We love shows from the past as much as anyone, but there's something undeniably fresh and vibrant about seeing new work. There is such a wealth of great material out there, but no one ever sees it."
Rodgers went on to say, "the idea of a short play festival has always appealed to me. I like the variety and, if one play isn't someone's cup of tea, there's another one right around the corner.
"I wanted to concentrate on light comedies this time around, and there were plenty to choose from," added Rodgers. He helped read the 350 short plays that were submitted from places as far away as England and New Zealand. Rodgers' major regret: having to pass on a number of well-written manuscripts. "I've seen enough good material to put up three festivals, and I'd still have a lot of wonderful plays to work with."
Given the nature of short length plays, the technical requirements must be minimal. There will be set pieces to suggest a particular environment, but mostly patrons can rely on the written word and quality acting and directing."
Play titles give some sense of what audiences can expect. There is "Face Time," and "I Got You Babe." "Both pieces are simultaneously funny and tragic," said Ruben Vellekoop, who is directing both. "These two plays address loneliness and codependency—whether it be on technology or love—and how we tend to lose sight of ourselves in the process of trying to connect."

Festival comedy titles also include "The Surprise," "Just That Sort of Day," "Bard Beyond Belief," "Bench," "Black Friday," "The Unfortunate Teller," "Bridge and Tunnel," and "Regifting."
With the Infinity Stage Comedy Play Festival, "I'd like to think of this as coming home after a hard day's work…you can grab a beer, have dinner if you'd like, then settle down, and watch some fun shows," added Rodgers. "This is humor that will leave you smiling."