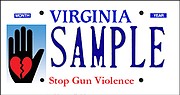 Although proponents of tighter gun control legislation are disappointed by the 70-plus firearms safety bills that died recently at the Virginia General Assembly, they celebrate one small victory: House Bill 287, a special state license plate that says "Stop Gun Violence."
Chief patron of this measure that helps promote their cause is Del. Marcus B. Simon (D-53) of Fairfax County and the City of Falls Church. He and his co-sponsors introduced this bill January in Richmond. It met both House and Senate approval last month and was authorized April 5 by Gov. Ralph Northam.
THE NEW LAW, effective July 1, states motorists can purchase a standard $10 tag or a $25 revenue-sharing license plate. The extra $15 will benefit a fund to help Virginians receive treatment for mental health, developmental and substance abuse issues. The $10 vehicle tag expires July 1, 2020 ― the same day the $25 revenue-sharing plate becomes effective. The Department of Motor Vehicles budgeted $9,376 for tag production, Simon confirmed.
He credits Falls Church activist Carol P. Luten of the Coalition to Stop Gun Violence as the "driving force" behind this bill. She started the project two years ago and collected more than the required 450 prepaid applications needed to introduce the legislation at this year's General Assembly. Luten said last fall the license plate is designed as a "moving billboard from city-to-city and state-to-state to help create awareness and a movement for change."
She said Virginia motorists can buy the tag February 2019 at their Department of Motor Vehicles. Luten received help from other grassroots activists to educate nearly 6,000 Virginians throughout the Commonwealth ― from Fairfax to Roanoke, and Winchester to Williamsburg ― about gun violence prevention. She says former Falls Church resident Robin Bray is the professional artist who designed the graphic image a broken heart held in the palm of a hand displayed on the new specialty license plate.
Learn more about their effort online at www.stopgunviolence.info.
Virginia Sen. Janet D. Howell (D-32), who represents parts of Arlington and Fairfax counties, supported Luten's effort March 14 at a monthly protest in front of the National Rifle Association headquarters in Fairfax ― at the same time students nationwide walked out of their classes for at least 17 minutes in memory the 14 teenagers and 3 adults slain Valentine's Day at the Marjory Stoneman Douglas High School in Parkland, Fla.
"Get your license plate," Howell shouts to more than 160 adults ― who line the sidewalks along Waples Mill Road in near freezing temperatures and 19 mile-an-hour winds on a cold Wednesday morning to stand up to the nation's largest gun rights lobby for the countless lives lost to gun violence.
"Let everyone know where you stand," she exclaims.
It's the 63rd such gathering at the NRA since Dec. 14, 2012 ― when a 20-year-old gunman fatally shot 20 school children and 6 adults in Newtown, Conn., with firepower online reports say included a Bushmaster AR-15 rifle.
HOWELL says her father-in-law was murdered with a handgun in the 1990s. Since then, the state senator has tried to introduce at least one gun safety bill each year at the Virginia General Assembly. Howell authored two this year ― Senate Bill 797 that keeps people with protective orders from possessing firearms and SB 442 that prevents gun owners from leaving loaded, unsecured firearms in a reckless manner within easy access to people ages 18 and younger. Both measures were requested by the governor, "who has seen firsthand the damage guns have done to kids."
Del. Kenneth R. Plum (D-36) of Reston was chief patron of four firearms bills he has tried to push through General Assembly four years in a row ― all of which have been killed in committee. Plum is a retired educator who remains steadfast in his effort to prevent more deaths from gun violence.
"We don't give up. We don't go away," he said on March 14.