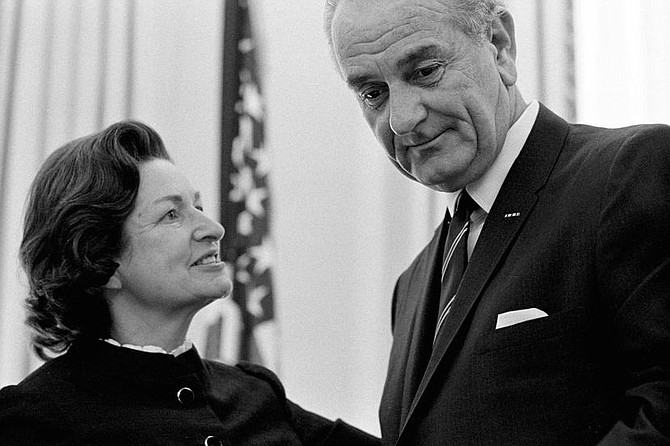 In today's world where more and more women are taking the lead on local, state, national and world stages, Potomac Community Village's speaker Joan Adams pulls back the historical curtain and reveals the real story of "LBJ - The Women Behind The Man." The presentation is on Thursday, April 19 at the Potomac Community Center, Falls Road, Potomac.
Fifty years since LBJ decided not to run for re-election, his life and legacy are still being debated. Starting with his mother, his wife, daughters and others, Adams reflects on who LBJ was and what prompted his political actions as the 36th President of the United States. This chapter in the country's political life is part of series Adams created looking at the women behind Presidents and their influence on their lives and legacies, from George Washington to George W. Bush.
Holding bachelor's and master's degrees from the University of Maryland in history and urban planning, Adams has over four decades of academic experience, including teaching middle and high school students in Prince George's County Public Schools, as an adjunct instructor for the Seasoned Adults Growing Educationally (SAGE) program for Prince George's Community College, an adjunct professor for the School of Graduate and Professional Studies at Washington Adventist University, and an instructor for the OSHER program through Johns Hopkins University.
PCV's April 19 meeting takes place at 7 p.m. at the Potomac Community Center on Falls Road in Potomac. PCV is a non-profit network of neighbors and friends geared to enabling older Potomac residents to age in place in their existing homes by creating social connections and providing volunteer services such as transportation, computer assistance and simple home repairs. For more information, to volunteer or get volunteer help, contact 240-221-1370, info@PotomacCommunityVillage.org or check out www.PotomacCommunityVillage.org or www.Facebook.com/PotomacCommunityVillage.