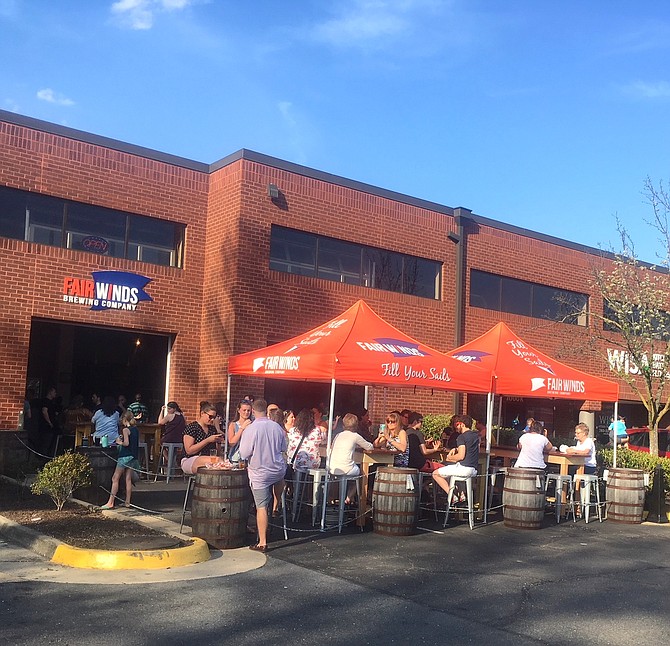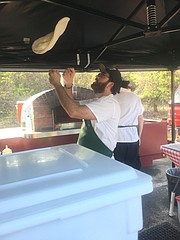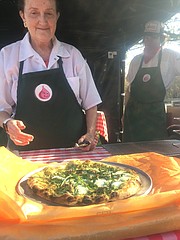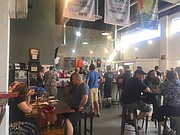 It might be the open aired, laid back warehouse atmosphere; the food trucks and tents out front; the one-lane railroad underpass nearby or the freight trains that rumble by on tracks 75 feet from the front door. Or it could be all of these that landed Fair Winds Brewing Company in Lorton a place in the top 50 fastest growing small and independent craft brewing companies of 2017, according to information released by the Brewers Association of Boulder, Colorado.
For Becky Lee, who stopped by Fair Winds on a recent "Brew Crew outing with friends," "every beer there was very tasty," she said. "I've been to a bunch of breweries and this is a good one," she added.
A hot item on their beer list is the Howling Gale IPA, a west coast style IPA, said Casey Jones, owner of Fair Winds. It won a silver medal in a beer competition as the second best micro beer in Virginia. Another beer that was just released in April, called Hells Navigator is a May Bock beer which Jones categorized as a beginning season beer, setting the scene for the coming summer beer season to go with the shrimp, crawfish and crab boils they have planned. Fair Winds has been awarded on the national, state and local level, Jones said, because of the "highest possible product quality."
According to Bart Watson, chief economist at the Brewers Association, places like Fair Winds offer a quality of beer that comes in different varieties. "Breweries often specialize in styles that may be hard to come by from other breweries," Watson said.
If you don't happen to hit it on a night when there's a boil, food trucks are part of the picture at Fair Winds too. Cipolla Rossa is a pizza place that tows their own wood oven behind a truck and fires it up in the parking lot. Chef Joshua Anson was sipping a craft brew while he spun a pizza dough in the air. "I think people love it," he said.
The food trucks vary from day to day, and offer a variety from empanadas to barbecue. "Our food truck schedule is built on relationships that we have developed with some folks who have their own restaurants and food truck businesses," said Jacquelyn Olejniczak, taproom manager.
The industrial look on the inside works in more ways than one. There are tours of the brewing process available, and the open interior can come with the doors open or closed, depending on the weather, with sports on the television screens. There is a movement for customer's proximity to the food source, whether it be a wine festival on the farm or beer tasting near the brewing tubs, as in the case at Fair Winds. "People want to be closer to the source and know where it's made," said Jones.
Watson sees that on a bigger scale at the Brewers Association. "Brewery tours are part of the draw," he said.
Even the one lane railroad underpass out front on Newington Road is part of the scenario. It is one of the only underpasses of it's kind left in Northern Virginia, and Jones uses it as a point of reference. "It's so iconic," he said.
Fair Winds Brewing Company is located at 7000 Newington Road, Suites K&L, Lorton, Tel: 703-372-2001.